Bushkill Falls: A Family-Friendly Hike with Incredible Views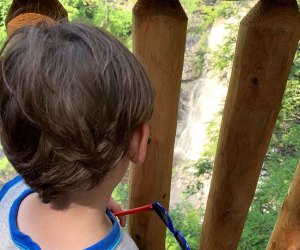 Dubbed "The Niagara Falls of Pennsylvania," Bushkill Falls lives up to the name. Bushkill Falls is a must-do for hiking and nature-loving families. Its varying trails with different difficulty levels make it accessible to most families, and every trail has an amazing view of the falls. The fun doesn't end with the hike, either. There are multiple activities and food options that make Bushkill Falls a popular destination for Northeast families.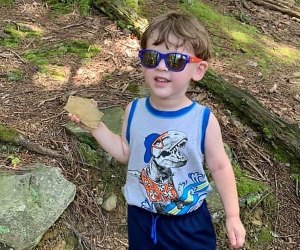 Families can explore different hiking trails, each with varying difficulties.
The season at Bushkill Falls runs from April 1 through October 31, and if you're local, it's worth visiting in each season for the differences in foliage. Start your trip by saving time at the ticket line and pre-purchasing your tickets online. You can start your day at Bushkill by exploring the entrance area, which features a large shop, a mining maze, and food. Our family likes to get right to it and tackle the falls.
Before starting your journey, you go through a small museum of sorts. It has taxidermy animals, including a black bear, that were donated for the exhibit. You'll see animals local to the area, too. There are two other exhibits, one about Native Americans featuring a longhouse, and one on the history of Bushkill Falls.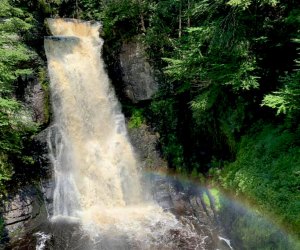 Your hike at Bushkill Falls will lead you to the beautiful Main Falls.
As for hiking, there are four trails for families to explore, each with varying difficulties. The green and yellow trail are best for beginners and those with young children. The green trail is approximately fifteen minutes and allows you to see the Main Falls. There are steps on all trails, so we don't recommend bringing a stroller. It is safe to wear your baby or small toddler strapped to you, but it can get slippery, so take extra care. The yellow trail is the one my family tackled. You see the Main Falls, Lower Gorge Falls, Laurel Glen, and Upper Canyon. We were able to accomplish this while I was seven months pregnant and our son was three years old. He did get tired at some points and asked to be carried, but for the most part he had fun pretending to be an explorer.
The two more difficult trails are the blue and red trail. The blue trail takes an hour and fifteen minutes, and allows you to also see Pennell Falls. The red trail gives you access to Bridal Veil Falls, as well as all eight falls, and spans two miles. It takes over two hours to complete, and is recommended for the avid hiker.
One thing to always be aware of is the vegetation along the trails. Many families like to explore off-trail, but remember to wear bug spray and be careful which plants you touch. Always check for ticks when completing your hike and returning to the entrance.
At the main entrance you'll find food, shops, and other activities. There are a few different sections to the main store which offer Bushkill memorabilia, Native American items, home items like soaps, and hiking gear. There is a small fudge shop with a wide variety of flavors to choose from. They also serve up hand-dipped ice cream, ice cream sodas, and sundaes. For more food, check out the Snack Bar. Here you will find burgers, pizza, and sandwiches, though you can hold out and visit Marlucas in Bushkill for something tastier and heartier. You also have the option of bringing your own food and eating at one of the picnic tables.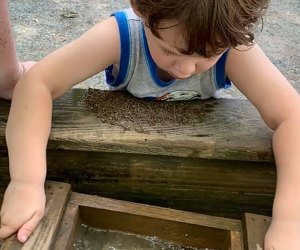 Mine for a gem!
Kids can mine for gemstones by sifting the mining rough in the water troughs. Bags of mining rough can be purchased at the Nature Nook for $15, and include a guide on what stones you might find in your bag. The Bushkill Falls Mining Co. Maze is a timed maze race, with competitors who have the best completion times receiving small prizes. The first run is $5 and additional runs are $2.
Bushkill Falls is just over a two-hour car drive from both Philadelphia and New York City. Weekend tickets are $18 for ages 11 through 61, $9 for ages 4 through 10, and $17 for ages 62 and older. Weekday tickets are the same for kids, $15 for ages 11 through 61, and $14 for over age 62. Children 3 and under are FREE!
Photos by the author