SPONSORED
New Construction-Themed Water Park, The Water Main, Now Open at Diggerland USA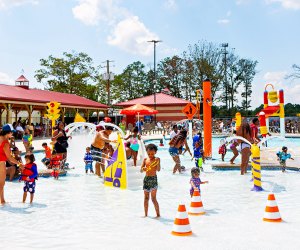 Yes, the country's only construction-themed amusement park is now serving up some serious aquatic fun with two acres of splash pads, water slides, family and leisure pools, and other attractions for all ages. The brand new water park at Diggerland USA, appropriately dubbed The Water Main, has officially opened its doors just in time for the rising temperatures. With the purchase of regular admission or a season pass, you actually get access to both parks.
When I heard there was an opportunity to head to The Water Main for opening weekend, I jumped at the opportunity to take my two daughters, ages 5 and 7. We packed up the car and headed out to West Berlin, New Jersey to splash, slide, and soak up everything the brand new water park has to offer. Read on to learn all about the park's main attractions, what to expect on your visit, and how to prepare for your big adventure.
Top Attractions at The Water Main
There is truly something for everyone at The Water Main, from wading pools for little ones to full-on aquatic obstacle courses! As you *dig in* to the details below, keep in mind that most of the attractions have no height requirement—with just one for kids at least 40 inches tall and another for those 42 inches and up. That said, children under 36 inches do need to be accompanied by an adult.
Jackhammer Bay
Prepare to be splashed from all sides at Jackhammer Bay! Traffic cones rise up from the shallow pool with surprise bursts of water and intermittent downpours fall from huge barrels overhead. The water is only two-feet deep in this area of the park, plus there are mini slides, geysers, and more.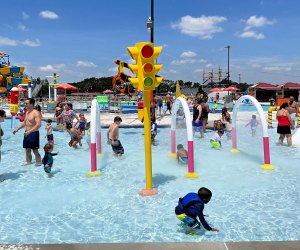 There's loads of construction-themed interactive fun to be had at Jackhammer Bay.
Bulldozer Bay
This three and a half foot deep wading pool is surrounded by swim-up seating where parents can lounge while watching their kids swim. There's plenty of space to splash or relax!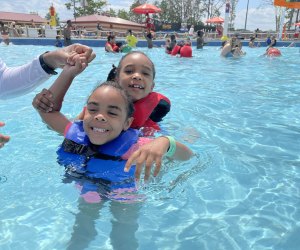 Kids happily swimming in Bulldozer Bay's three-and-half-foot-deep wading pool.
The Pipeline
Standing three stories high, this is the park's feature slide—and riders can choose to zoom down the open or enclosed route. Pipeline goers do have to be at least 40 inches tall.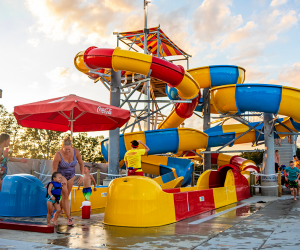 Slip and slide down The Pipeline's open and closed flumes. Photo courtesy of Diggerland USA
Rip Rap Run
This attraction will have your kids jumping, climbing, and splashing their way through a floating inflatable obstacle course, which is actually the length of one and a half tractor trailers. The course has a height requirement of 42 inches.

Try to get across Rip Rap Run without wiping out! Photo courtesy of Diggerland USA
Aqua Shot
How about a game of hoops with the family? Aqua Shot features three basketball nets in a four-foot-deep pool area.

Channel your inner Lebron James at Aqua Shot.
Digger River and Vortex
Ride the mild current along Digger River and watch out for the multitude of sprayers along the way. There's also the Vortex, a smaller separate pool area right off the river with a whirlpool effect that carries you around in a circle. The Vortex current is mild enough that even younger kids will have some control and won't feel swept away.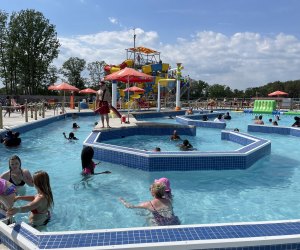 A short lazy river and enclosed whirlpool add to the fun.
Downpour Derby
Get in on the game at Downpour Derby, a fun four player challenge where the object is to fill your opponent's bucket first, so that it tips and splashes them from above.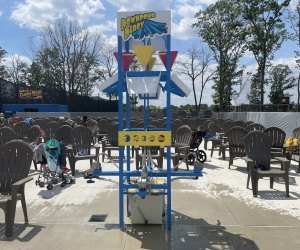 Last one to fill their bucket is a soaking wet egg at Downpour Derby!
What to Bring and What to Expect On Your Visit
A swimsuit, a change of clothes, sunscreen, a towel, and swim diapers (if needed) are the primary must-haves for your visit to The Water Main. Thankfully, both towels and swim diapers are available for purchase at the park if you find yourself in a bind. Water shoes or aqua socks are recommended, but while they may be a good idea once the concrete heats up later in the summer, we didn't find that we used ours much. Life vests are also required for children who can't swim or who are under 36 inches tall, and are provided free of charge on a first come, first serve basis. When we visited, there were plenty of reserves, but I can see the vests going pretty fast on a more crowded summer day, so bringing something from home is probably your best bet. Just note that only US Coast Guard approved Personal Flotation Devices are allowed—no noodles or inflatables.
If you don't want to leave your belongings on the park's free poolside chairs while you splash around, there are lockers available to rent for $10 per day and private cabanas for up to five people for $129 a day. The park prohibits outside food and asks guests to bring in no more than one bottle of water, but there are plenty of places to dine or snack around the park. At the newest dining location, The Tool Box, you can take a break from splashing to chow down on pizza, burgers, chicken tenders, and other park fare. Or, if you prefer to pack a lunch, you can eat outside the park gates in your car or at their picnic tables. As long as you keep your admission wristband on, you can enter and exit the park as you please. Conveniently, parking is free and very close by.
All the attractions at The Water Main are outdoors, so most COVID-19 restrictions have been lifted per state guidelines. Masks are no longer required and social distancing is voluntary, but continued practice of hygiene etiquette is encouraged. As with just about everywhere, anyone who is exhibiting symptoms of COVID-19 or who has had contact with someone who recently tested positive should stay home.
Even though there's enough excitement to fill a whole day, the size of the park is very manageable, and ideal for families with small kids and strollers. Make sure to check the forecast when choosing a day to visit and reapply that sunscreen if you get a super sunny day like we did!
How to Get Tickets for The Water Main
It's rare to find an amusement park twofer these days, but that's exactly what you get at Diggerland USA and The Water Main. For $44.95, you get entry into both parks, plus kids under 36 inches and parking are always free. Meanwhile, season passes offer unlimited entry throughout the year and a host of discounts for $129.95.
Diggerland USA and The Water Main are open every weekend until June 11, 2021, when they'll start operating daily through September 8, 2021. Online tickets guarantee entry and a number of at-the-gate tickets are available each day. Learn more about the parks, check the calendar, and purchase tickets or season passes on The Water Main website!
All photos by author, unless otherwise noted