Scale the Long Island Aquarium's New Treehouse Dubbed the Eye Opener
The Long Island Aquarium has opened a massive treehouse-like outdoor exhibit overlooking the bucolic Peconic River. The Eye Opener stands 60 feet tall and has five levels for visitors to explore. With a new seal pup and penguin chick, added animal encounters and more, Long Island's only aquarium is seeking to engage new and returning guests with innovative and engaging exhibits and activities.
Check our articles on petting zoos and nature centers for more local animal fun.
Subscribe to our newsletters to get stories like this delivered directly to your inbox.
This experiential tree activity in the rear of the Long Island Aquarium has five levels of activities, suspension rope bridges, cargo and climbing nets, and 13- and 18-foot-tall enclosed spiral slides. The four of us were able to easily navigate around; however that's not the only way to the top. A center-based spiral staircase will also get you to the peak, where you can soak in a bird's-eye view of the Peconic River. Enjoy an instant aura of calm here as well. An aquarium guide noted that each level will have educational tie-ins to the Peconic Estuary and other Long Island habitats.
RELATED: Long Island Aquarium Offers More Than 100 Exhibits and Interactive Adventures

A spiral staircase is another way to the top of the Eye Opener.
Eli Fishman, the aquarium's exhibits manager, was instrumental in the planning and execution of this wood-based structure that offers an epic treehouse adventure. My sons made up a timed obstacle course game while exploring it, and I certainly racked up some exercise minutes on my Apple watch on the ascent.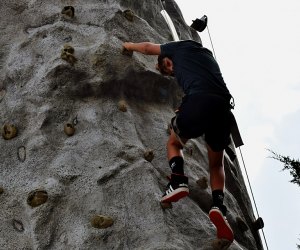 Test yourself on the rock wall.
Children 45 inches or taller can roam the Eye Opener solo, but those under 45 inches must be accompanied by an adult. The separate admission fee also includes four climbs on the rock wall, which is adjacent to the Eye Opener. There are four harnessed areas on the wall for climbing, each with varying difficulty levels.

The Eye Opener is the aquarium's latest treehouse-like addition.
Other recent aquarium add-ons include coati and bug encounters or having a sea lion paint you an original work of art during a meet-and-greet. A buzz-worthy bee exhibit is also now housed with the butterflies, birds and bugs. You can even score local honey for sale on your way out.
Be sure to explore the rest of what Riverhead has to offer before or after your aquarium visit. Keep up to date with East End happenings with our Hamptons & North Fork Guide.
All photos by author