50 Free Things To Do on Long Island this Summer with Kids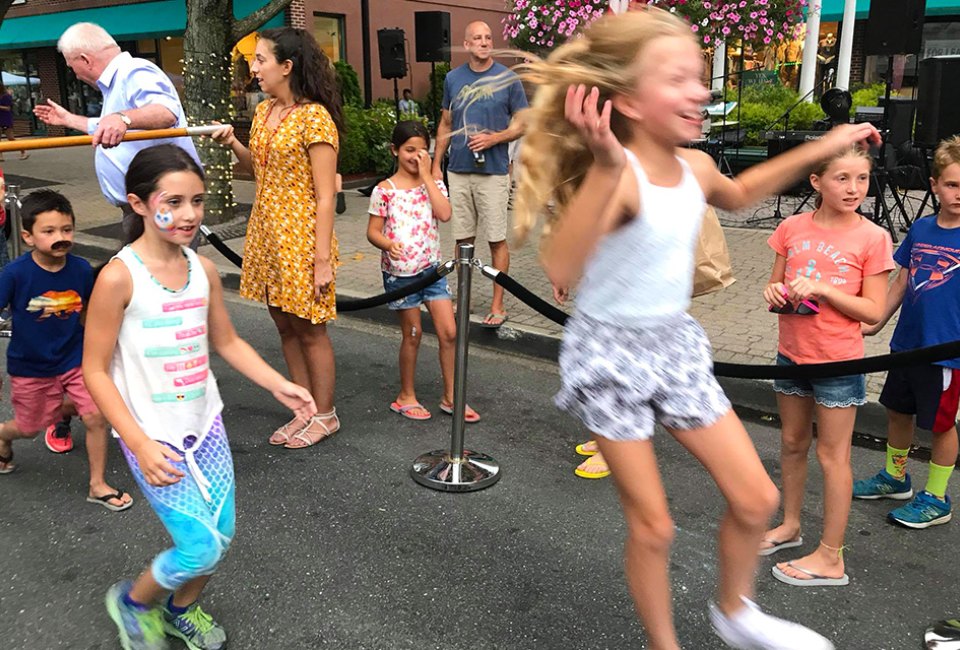 6/2/23
- By
Jaime Sumersille
Looking for FREE things to do on Long Island this summer? Here are some family-friendly events and activities to add to your list.
Does the thought of summer vacation make you dread an ever-diminishing bank account? From summer camps to weekend trips, the next two months can be costly. But summer doesn't have to drain your wallet. We've compiled a list of 50 FREE things to do for Long Island families. From outdoor concerts and movies to museums, classes, and festivals, Long Island has something FREE going on all summer long.
Find even more bucket-list seasonal fun in our Ultimate Long Island Kids Summer Vacation Guide, including our stories on top beach playgrounds and the best family-friendly outdoor restaurants on Long Island.
2. Have a Picnic on the Water
Pack a picnic at Greenport's harborfront Mitchell Park. The Greenport Carousel is on-site and only costs $2.50 a ride.
3. Celebrate Friday Nights
Every Friday this summer, enjoy themed nights such as St. Patrick's Day or '80s Night at Friday Night Promenade in Garden City.
4. Build Something for Free
Prefer using a hammer? Home Depot has kids' workshops on the first Saturday of the month.
5. Explore Riverhead
Waddle over to Riverhead and visit the iconic Big Duck. It's a prime family selfie location.
6. Go Back to the School Playground
School's out, and your local elementary building grounds have unique playground equipment, fitness stations, swings, and more to explore. If you are trying to beat the heat, check out these cool playgrounds with shade.
RELATED: Best Things to Do in Long Beach with Kids

Go fishing on Long Island this summer.
7. Go Fishing
Cast a line and catch some fun as you fish from these Long Island piers and beaches.
8. Listen To A Free Story
The Next Chapter, an indie bookstore, hosts free storytime events every Monday throughout the summer that include a craft for little ones.
9. Make a Craft
Our list of Boredom Busters is chock full of recipes, games, crafts, and more using commonly found household items.
10. Discover Sagamore Hill
Visit the lush grounds of Sagamore Hill, the former home of Teddy Roosevelt. The 366-foot Eel Creek Boardwalk leads to expansive views of Centre Island and Lloyd Harbor. After your trip, stroll through historic Oyster Bay.
RELATED: 27 Water Games for Kids To Play All Summer Long

Check out the Jones Beach Fireworks. Photo courtesy of the event
11. Catch the 4th of July Fireworks
It's not July 4th without fireworks. Read on to see where you can get the best views.
12. Meet Farm Animals
The resident furry friends at Catapano Dairy Farms in Southold are eager to greet visitors. The Suffolk County Farm and Education Center in Yaphank is another farm with free admission for everyone.
13. Feed the Wild Birds
Go on a kid-friendly nature walk at the Elizabeth A. Morton Wildlife Refuge. Pack birdseed and watch these feathered friends nosh right from your hand.
14. Enjoy a Day in Port Jefferson Village.
Stroll around Port Jefferson village and make a stop at Rocketship Park, one of the best themed playgrounds on Long Island. After, grab an ice cream cone nearby at Port Jefferson Ice Cream Cafe.
15. Take a Virtual Trip
From Mt. Everest to Buckingham Palace, visit some of the world's most famous landmarks, all from the comfort of your couch.
16. Eat Some Ice Cream
East Hills hosts a variety of kid-friendly events during their Kids in the Park summer series event. Plus, every Monday in July and August kids can make their own ice cream sundae.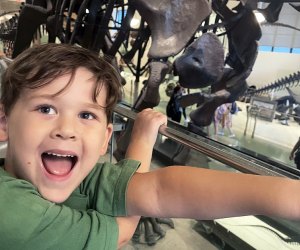 Jump on a train to NYC for a trip to a museum on a free museum day. Photo by Gina Massaro
17. Visit a Museum for Free
Take the LIRR into the city and visit these NYC museums on their free days.
RELATED: Awesome Amusement Parks on Long Island for Families

Visit a nature center. Photo courtesy of the Sweetbriar Nature Center
18. Get Wild at a Free Nature Center
Check out some FREE nature centers, like the Holtsville Ecology Site & Animal Preserve, Sweetbriar Nature Center, or Garvies Point Preserve, which charges admission to the museum, though its walking trails are open for all.
19. Splash at a Free Sprayground
Cool off at a FREE Long Island sprayground. Favorites include Blumenfeld Family Park in Port Washington, Clark Street Playground in Long Beach, and Port Jefferson Harbor.
20. Search for Sea Shells on the Shore
Most state parks and beaches are FREE after 6pm on the weekends and holidays, and after 4pm on weekdays. Go for an evening stroll along the shore and see what sea treasures you can find.
21. Discover Art After Dark
On four evenings this summer and fall, Grangebel Park in downtown Riverhead is a walkable art-after-dark experience.

Explore the Mashomack Nature Preserve.
22. Explore an Island
While you have to pay for the ferry ride to Shelter Island, there's plenty to explore for FREE once you arrive. Try hiking the majestic Mashomack Preserve.
23. Hit the Trail
Long Island has many family-friendly hiking trails, including some that offer beautiful views of Long Island. Some parks charge for parking.
24. See a Live Show
The Huntington Summer Arts Festival brings a roster of exciting performing artists to the Chapin Rainbow Stage in Heckscher Park each year.
25. Wander Through a Sculpture Garden
Experience colorful works of art at the always-free sculpture gardens at the Nassau County Museum of Art, the Parrish Art Museum, or the Hofstra University Museum, which provides FREE kids' activity packets.
RELATED: Family Day Trips and Weekend Getaways for Long Island

See where two wheels take you this summer.
26. Hit the Bike Trails
Pack up the bikes and see where two wheels can take you.
27. Join the Street Fair Fun
Riverhead's Main Street is the place to be for Alive on 25, an annual street fair with music, food trucks, kids activities, and more on Fridays, July 1,15, 29, and August 12. Bonus: A free fireworks show will be held on the first evening.
28. Explore a Living Museum and Garden
Take a stroll through a flourishing garden. Alberston's Clark Botanic Gardens is a 12-acre living museum and educational facility that is completely FREE.
29. Take Advantage of All the Library has to Offer
Many libraries offer FREE museum passes and other perks to their members, where families can check out places like the Long Island Children's Museum and Cradle of Aviation, both in Nassau County. Some even lend out Empire State Parks passes to our local beaches.
30. Hit the Playground
Check out a new playground on Long Island such as Garvies Point Playground in Glen Cove which offers play areas for big and little kids as well as expansive views of Hempstead Bay.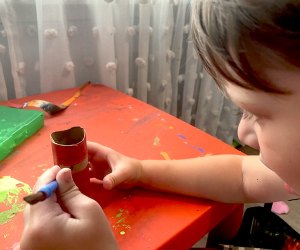 Use recycled materials to make a fun and free craft. Photo by Gina Massaro
31. Learn to Craft
Through Michaels FREE Camp Creatology program kids and adults can learn how to do different crafts.
32. Knock Down Some Pins
The Kids Bowl Free summer bowling program is open to all school-aged kids. Several Long Island bowling alleys are participating.
33. Step Back in Time
Step back in time to the Southampton History Museum. It offers FREE programs and activities at various times each week. After your history lesson, enjoy a few kid-friendly activities that this beach community has to offer.

Explore wetlands like the Marine Nature Study Area.
34. Experience the Wetlands
The Marine Nature Study Area in Oceanside has boardwalks that meander throughout a 52-acre marshland. Look down for marine life and up for cranes and osprey, who call this waterfront oasis home.
35. Hunt For Treasure
Whether it's indoors or outdoors, use these cute printables to create a scavenger hunt.
36. Batter Up
Get your little sluggers in the backyard and try some Little League Drills.
37. Enjoy Nature
Take a short hike among the pine barrens and stop in to visit the animals at Quogue Wildlife Refuge.
RELATED: Family-Friendly Hotels in the Hamptons and North Fork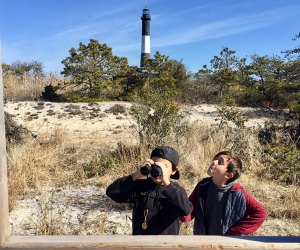 Admire the scenery on Fire Island.
38. Spend the Day on Fire Island
The Fire Island National Seashore visitor center hosts free hikes and other family-friendly nature education programs.
39. Learn to Code
The whole family can learn a new skill together via these free and cheap websites.
40. Talk to the Animals
Head to Goodale Farms and pal around with some goats, cows, and chickens before heading inside for some farm-fresh goodies.
41. Enter a Boat Race
With cardboard, tape, and paint being the only allowable materials, see how durable the entrants in the Riverhead Cardboard Boat Races really are on Saturday, August 5.
42. Play Scientist
Get elbow-deep in STEM fun with these 64 Easy Science Experiments for Kids to Do at Home.
43. Buy from the Source
Visit your local farmers' market to see what's in season. Many markets offer FREE entertainment and music.
44. Catch a Baseball Game
Travel back in time and see how athletes used to play baseball in the 19th century. Catch a home game for the Atlantic Base Ball Club at the Smithtown Historical Society.

Walk, ride, or scoot along one of the many boardwalks on the Long Island Shore.
45. Take a Walk on a Boardwalk
Stretch the family's legs and take in the sea air on these Long Island boardwalks.
46. Hang with the Cool Kids
Carve an ollie or pop a wheelie at one of these skateparks. Tell mom not to look!
47. Discover Aztec Culture
The Paumanauke Pow-Wow returns to Babylon Township this year, and kids under 12 are free.
48. Have an Adventure Close to Home
Plan a backyard camping trip. Don't forget the s'mores!
49. Cuddle up and Watch a Movie
Whether you have a big-screen TV indoors or an outdoor projector, we have your family movie night blockbuster hits all queued up.
50. Visit the Most Unique Museum on the Beach
After the standard beach parking fee, the Jones Beach Energy & Nature Center is FREE to explore. It also offers programs for a nominal fee.
This piece is updated annually.
Unless noted, photos by the author
Sign up for the Mommy Poppins Newsletter today!