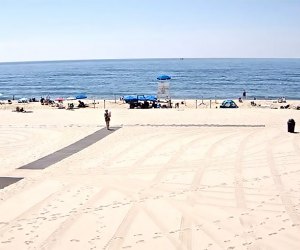 Southampton With Kids: Fun Things to Do in This Hamptons Beach Community
Southampton Village sits along a stretch of shoreline on the South Fork of Long Island's East End. Nestled between Hampton Bays and Water Mill, sandy beaches and celebrity sightings are where it's at, especially in the summer. It's an ideal destination for a family day trip, and visiting on weekdays or getting an early-morning weekend start will save you hours in Hamptons traffic.
Read on for our family-friendly guide to what to do and see, which beaches to visit, and where to eat and play.
Not to be confused with vastly larger Southampton Town, only one main road, Montauk Highway, runs east-west through the village. Locals know of options unfamiliar to Waze, but if you're driving from out of town it's best to be patient on summer weekends. The Long Island Rail Road's Southampton station offers service on the Montauk branch from Penn Station and Jamaica.
For more kid-friendly activities on the East End, check out our roundup of 50 things to do with kids in the Hamptons and North Fork, or head over to our local day trips guide to explore another community.
OUR LATEST VIDEOS
Beaches and Parks
Agawam Park
Jobs Lane, Southampton
With 60 acres of fresh water to explore, this is a naturalist's dream. Park for FREE, pack a pincic lunch for one of the onsite tables and enjoy the playground. Restrooms are on site too. FREE evening music is offered throughout the summer.
Coopers Beach
268 Meadow Lane, Southampton
Among the East End's best beaches, this sandy South Shore spot is super clean, with bathrooms, a snack bar, picnic tables and lifeguards. Leave the beach buggy at home and rent chairs and umbrellas. Coopers Beach has decent waves too, so be extra cautious with inexperienced swimmers. Spend the day and stay for an evening of musical entertainment. However, be ready to fork over a hefty summer parking fee of $50 daily if you are a nonresident. Free parking resumes in September. Be sure to drive around Meadow Lane and peep what life is like for the rich and famous. Ahhh, a mom can dream!
Road D Beach
Road D, Southampton
Arrive early to nab an elusive FREE parking spot. It's a hidden gem along Meadow Lane that boasts soft sand and clear water, but that's where the beach frills ends. Besides a restroom, it's a bare bones environment.
Shinnecock East County Park
This relatively new and popular county park sits opposite Shinnecock Inlet from Hampton Bays. It's a haven for sport fishermen and campers. More than 100 outer-beach campsites are available to those with a county Green Key. The north side of the park abuts Shinnecock Bay, whose shallow and serene waters are ideal for novice swimmers. The park is also a popular destination for migating seabirds, so bring your binoculars.
Things to Do in Southampton Village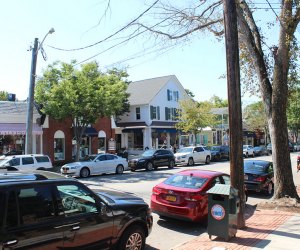 Stroll along Southampton's charming Main Street for eats and treats. Photo by Shinya Suzuki via Flickr
Elias Pelletreau Silversmith Shop
80 Main St., Southampton
History buffs, this place is for you. Built in the late 1600s, it is one of the oldest buildings remaining on the East End. Resident jeweler and silversmith Eric Messin practices his art while educating visitors about old-world silversmithing. It's open daily, except for Mondays.
Main Street
The heart of Southampton lives along Main Street. A vibrant mix of art shops, eateries, boutiques, and more make this downtown sizzle. If you stop here first and need to gear up for the beach, Flying Point Surf & Sport can outfit the whole family.
Rogers Memorial Library
Rogers Memorial Library, which dates to 1893, is an activity epicenter for children of all ages with a calendar of events that is updated daily. The interactive children's section is filled with toys and toddler books while the teen center contains a research area ideal for summer or school-year projects.
Southampton Cultural Center
25 Jobs Lane
From music and movies under the stars to theater, and more, the Southampton Cultural Center supports local performing arts for all ages.
Southampton Recreation Center
Supported by town government, this facility on Majors Path offers tweens and teens swimming, chess, game nights, arts and crafts, movies, and more. There is also an indoor gym for basketball and running. Swimming classes are offered in the summer; in the winter, the mild hills and expansive terrain provide an ideal environment for sledding.
RELATED: Great Rainy-Day Activities in the Hamptons and North Fork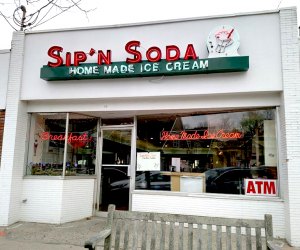 Creamy milkshakes and a retro vibe await at Sip 'N Soda. Photo courtesy of the restaurant
Family-Friendly Places to Eat in Southampton Village
The Golden Pear Cafe
99 Main St.
Easy style and charm sets the Golden Pear Cafe apart on Main Street. It serves up breakfast, lunch, homemade baked goods — and, of course, coffee. It offers a daily soup, chili, and entree as well as quiche specials that are worth a peek before ordering off the regular menu.
The Fudge Company
67 Main St.
As if I'd even have to sell this ooey, gooey confectionary storefront to you. This family-owned, decades-old business makes rich chocolates, exotic fudge, salt water taffy and hard-to-find penny candies.
Hampton Coffee Company
749 County Road 39A
Brewing local java, espresso, foamy latte drinks, and freshly made juices, Hampton Coffee Company also sells fresh baked muffins, scones, yogurt parfaits, oatmeal and grilled-to-order paninis and wraps. Call in your order ahead to save time or relax in cozy leather armchairs. Bonus: Enjoy free WiFi to keep your family connected — or the kiddies entertained while you sip the nectar of the gods in peace.

Sip 'N Soda
40 Hampton Road
Step back in time for a nostalgic dining experience. Opened in the late 1950s, this family-owned luncheonette and diner offers old-fashioned soda fountains, milkshakes and American diner fare. Be sure to try its famous and refreshing Lime Rickey drink. Score a sweet deal for families on Monday nights, while Fridays are Sundae Nights and include unlimited toppings. Go nuts.
RELATED: Great Things to Do in Montauk With Kids

Beach lovers will thrill to the view from Tiki Joe's at Meschutt Beach. Photo by Edward D.
Nearby Attractions
Southampton can be a home base to explore much of the East End in the summer. For example, enjoy these two beaches in Southampton Town, outside of the village.
Meschutt Beach
Canal Road and North Old Highway, Hampton Bays (near Shinnecock Canal)
This stillwater beach on Peconic Bay also has a lifeguard on duty, restrooms and a food stand. Windsurfing and sailing are available for you adventurous types. On site is Tiki Joe's Beach Club, a buzzy waterfront restaurant/bar with an island vibe. It's family friendly with live music daily, including an occasional visit from kids' favorite Darlene Graham.
Pikes Beach
765 Dune Road, Westhampton Beach
Boasting 400 feet of shoreline, this beach has bathrooms and lifeguards on duty during the summer months. The nonresident daily parking fee is only $15.
RELATED: Fun Things to Do as a Family in Greeenport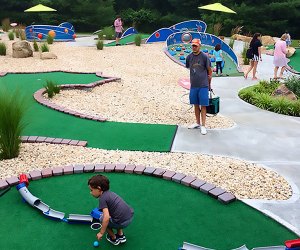 Play and learn at the mini-golf course at the Children's Museum of the East End. Photo by the author
Bridgehampton is full of family-friendly fun, beaches, and more. Check out our guide for options.
Children's Museum of the East End
376 Bridgehampton Sag Harbor Turnpike
This 7,000-square-foot play space is loaded with creative activities. Give the resident pet bunny a friendly pat on the head before kicking off your shoes to run wild in the play room. Climb, jump, and bounce away some energy, and then head into the fully immersive exhibits. There's a faux grocery store and diner, a stocked library, firefighting station and two-story pirate ship. Tie on a smock and have your little one channel his or her inner Picasso in the art room. For crawlers, there's a separate, safe play area. BONUS: The outdoor nine-hole miniature golf course is fun, but also offers sneaky lessons in physics. Signage displays math lessons in multiple languages, and most holes are interactive in some way. One even plays music. It's just $5 per person and in summer enjoy a BOGO free deal on Wednesdays.
Good Ground Park
9 Squiretown Road, Hampton Bays
Opened in 2017, this passive recreational park has an amphitheater that offers music and movies under the stars. Wooded walking trails complete a one-mile circuit and a toddler playground is also on site, as are comfort stations. Need to unwind? The park also features a labyrinth walk, where you can clear your mind from parenting and professional stress.
South Fork Natural History Museum
377 Bridgehampton Sag Harbor Turnpike
This animal- and nature-fueled natural history museum offers kids hands-on experiences and immerses them into nature. Entering the building, you're surrounded by murals of the natural works, including forests and freshwater ponds. Downstairs, kids will thrill to sink their hands into the touch tank and perhaps feel a prickly sea urchin. Reptiles, frogs, and more live exhibits are available too, and so is an outdoor butterfly garden. Take a guided nature walk on the grounds or check out one of the many family-friendly events and workshops happening this summer.