Best Sledding Hills on Long Island for Families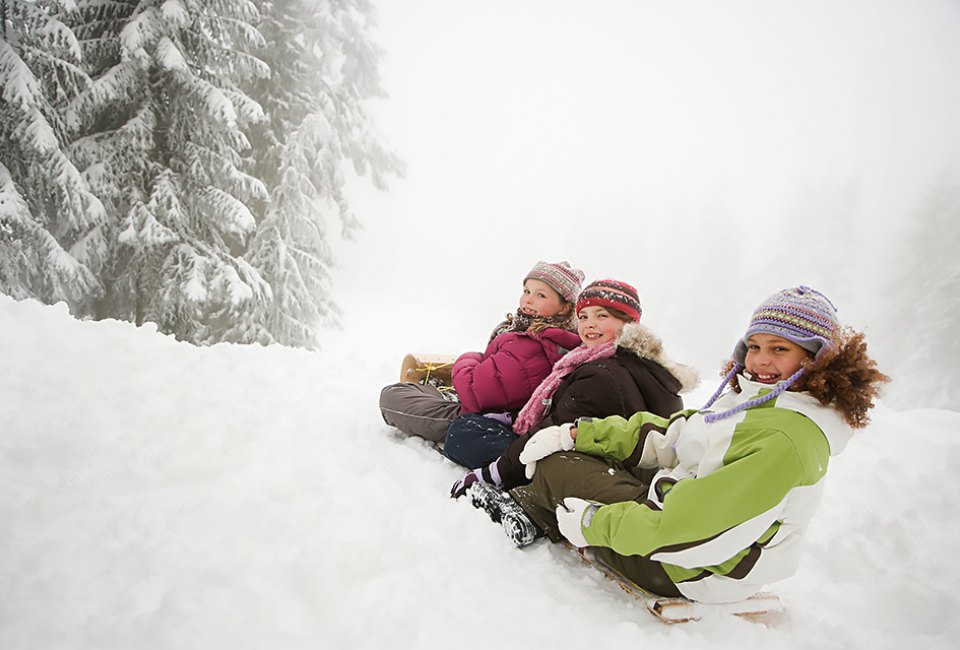 2/27/23
- By
Ian Stark
These sledding hills on Long Island mean parents with kids eager to brave the winter elements can catch some wintertime thrills close to home. We've rounded up a host of local sledding hills on Long Island where you can challenge the powder.
Before sending kids careening down these Long Island sledding hills, be sure to check the surroundings for sticks, rocks, and other hazards. We recommend wearing helmets and proper snow gear for your sledding adventure, too.
We've got tons more seasonal fun in our Winter Fun Guide, which has local skiing and snowboarding destinations, the scoop on local ice skating rinks, and more.
Subscribe to our newsletters to get stories like this delivered directly to your inbox.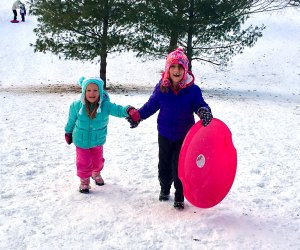 It's easy on the way down, but a steep climb up some of the sledding hills at Cedar Creek Park. Photo by Dara Addonizio.
Best Sledding Hills in Nassau County
Hilly and expansive, sledders can enjoy this southeastern Nassau wonderland without feeling cramped. Sledding hills are neither too high nor too short and the absence of trees offers an unobstructed run to the bottom. Sledding hills are open in January and February, weather permitting.
The state park opens parts of its five golf courses to sledders from December 1-March 31 annually as long as the sweet stuff is on the ground. It's tranquil, picturesque, and perfect for sledders of all ages and abilities. Be warned: Inflatable sleds aren't permitted; it's steerable sleighs only. On the morning after a big snowfall, the park staff asks that you give it a couple of hours to clear out the parking lots before heading over. Park staff organizes sledding and asks potential visitors to call ahead.
This park has plenty of space for everyone and sledding hills that are perfect for little ones. When you need a break from the action, head down to the beach for unobstructed water views.
Head to "Sled Hill" near Parking Field 1 when the right amount of flakes have fallen. The sledding hill is a wide, safe thrill for both children and adults. The park closes at dusk and is a bunny jump away from the Northwell Health Ice Center where you can go ice skating on one of its indoor or outdoor rinks.
Easy to overlook but hard to avoid, this park is near some of the hilliest terrain in Nassau County making it a popular local spot to go sledding.
This 35-acre, sports-oriented county park transforms into one of south Nassau's top sledding hills once snow hits.
Locals know the sledding hills here as some of the best around. The high school is conveniently just off the Long Island Expressway on Shelter Rock Road.
Who knew sledding near a flat football field could be such fun? It's safe and popular. On weekends the snow is smooth, and the field is empty, providing the perfect sledding hill and formula for winter fun.
This popular destination is known for the steep sledding hills around the sunken baseball fields. There are also lots of benches and restrooms for moms and dads in need of a break.
RELATED: Best Snow Tubing Spots near New York City

An old-school saucer sled works fine on the steep sledding hills of Newbridge Road Park. Photo courtesy of Jason Weissman
Don't let the single sledding hill fool you: Newbridge offers a steep climb and descent, perfect for daredevils. Newbridge Road Park is open daily from 8am-7pm and is home also to Newbridge Ice Arena.
Top Sledding Hills in Suffolk County
11. Bald Hill – Farmingville
One of the highest points on Long Island, Bald Hill thrills sledders with long runs and maximum elevation. The former home of the Bald Hill Ski Bowl is easily accessible and less than a mile from LIE at Exit 63.
This 463-acre state park offers a perfect sledding hill for novices, but avoid the hills near the large lake.
A gentle sledding hill, perfect for beginners, the Grange is a popular choice for families who live in an otherwise flat part of southern Suffolk County.
The sledding hills here are a popular place to swoosh and slide. Visitors take note, when you are at the top of the sledding hill, the steeper terrain is to the left. The park also offers restrooms and free Wi-Fi access.
This park is a small space, but residents of northwest Suffolk swear by its steep sledding hills and lengthy runs. Four trees dot the primary run, forming ideal lane dividers.
A popular warm-weather destination in the Town of Smithtown, savvy locals know Hoyt Farm Nature Preserve is a paradise for dedicated sledders come the winter. As soon as you pull into the parking lot, you will see kids sledding right on the front field. The sledding hill at this park is open to Smithtown residents and their guests only.
North Forkers have flocked here for generations, but be wary of the traffic as you cross the region's busiest street.
This expansive property—complete with sledding hills—in the Hamptons is set off from busy streets and ideal for young children.
The sledding hills at the SHUFSD Offices on Weston Street are perfect for little legs. The hill isn't too steep and there's plenty of room for everyone.
There are a number of potential sledding hills in Commack, but steep elevation changes near the community Little League field make this a favorite. It was formerly known as Wicks Road Park.
Of course, there are plenty more potential sledding hills across Nassau and Suffolk counties. Most area parks have FREE parking and are open as the weather permits. Some have accumulation rules, so call in advance before you bundle up the kids and head over.
This article, first published in 2013, is updated annually.
Sign up for the Mommy Poppins Newsletter today!
i