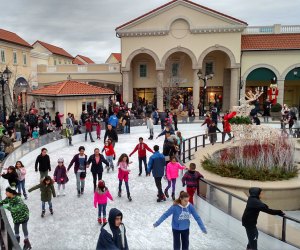 Outdoor Ice Rinks on Long Island for Family Skating
Sure it might be cold this time of year. But if your kids like the outdoors there's no reason not to enjoy one of Long Island's outdoor ice skating rinks this winter.
From Nassau County to the north shore of Suffolk and out to the East End, we've put together a list of the top outdoor skating venues on Long Island. Most are inexpensive and offer skate rentals, as well as lessons for those still mastering their steps and stops. Weather permitting, most of these rinks are open until the beginning of spring. All are open to the public without significant restrictions, but keep in mind admission can be higher for nonresidents.
If the weather doesn't cooperate, there are plenty of indoor rinks across Long Island worth a try. So if the weather is nasty or it's offseason, families can skate all year long, even during beach weather.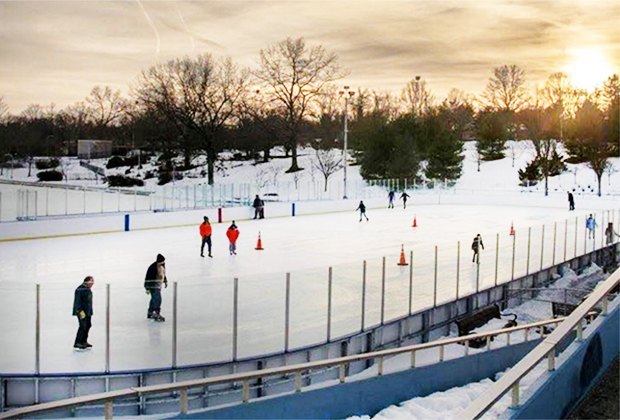 The rink at Christopher Morley Park, a Nassau County facility, has delighted skaters since 1961. Photo by LMRose Photography
Nassau
Christopher Morley Park — Roslyn
The rink at Christopher Morley County Park has been a popular Nassau County destination since 1961. It's a regulation-sized 200 feet by 80 feet. Open-skating sessions are offered six days a week (not on Thursdays), and skate rentals are available.
Grant Park Rink — Hewlett
Another Nassau County park, ­the rink at Grant Park is open five days a week (closed on Tuesdays and Wednesdays) with night skating from 7 to 9pm on Friday and Saturday nights. Skate rental is available.
Marjorie R. Post Community Park Ice Rink — Massapequa
A Town of Oyster Bay facility, public skating sessions here are held Fridays, Saturdays, Sundays, and holidays. There are expanded public skating sessions during school vacation weeks. Skate rental is available.
The Rink at RXR Plaza — Uniondale

If you're holiday shopping at Roosevelt Field mall, why not detour to this corporate park near Nassau County's Museum Row? Warning: It's a short season here, often closing right after New Year's Day.
Syosset-Woodbury Community Park Ice Rink — Syosset
With an easily accessible location not far from major highways, Jericho Turnpike, and the Long Island Expressway, this Town of Oyster Bay rink offers FREE skating for kids 2 and younger. Public skating sessions are held Fridays, Saturdays, Sundays, and holidays with expanded sessions during school vacation weeks.
RELATED: Winter day trips for Long Island families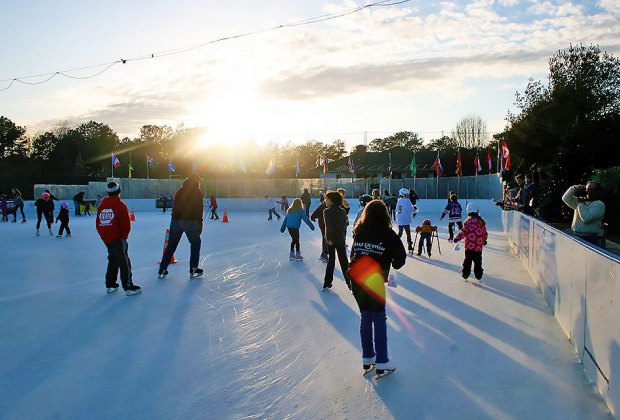 Top-notch amenities at Buckskill Winter Club make a trip to East Hampton worthwhile.
Suffolk
Buckskill Winter Club 
— East Hampton

Located just north of Montauk Highway, this upscale facility offers public skating seven days a week. It's pricier than many rinks —admission ranges from $12 to $17 weekdays and $15 to $27 on weekends — but the amenities are top-notch, and skaters are welcome to stay all day and into the evening. Perks include a cafe with fireplace, changing area, regular ice resurfacing, skate and helmet rentals, and "Helping Hand" skaters to assist young, inexperienced skaters.
Mitchell Park Ice Rink — Greenport
Located in downtown Mitchell Park, which also houses the village's century-old carousel, this outdoor rink on the waterfront offers public skating sessions 3-5pm Mondays to Fridays and 11 am-5pm on weekends and holidays, weather permitting. Skate rentals and lessons are available.
The Rinx at Harborfront Park — Port Jefferson
Port Jefferson Harbor is beautiful, and Harborfront Park offers a smaller rink with a big view, where you can skate seven days a week. It also offers rink rentals for parties. The rink is located in the center of the village and within walking distance of eateries and other spots to warm up. Lessons and locker rentals are available.
Southampton Ice Rink — Southampton
This semi-enclosed facility, adjacent to Southampton mini-golf and driving range, opened in 2014. It quickly became a South Fork winter destination. The rink is refrigerated so it can remain open when nearby ponds and rivers have melted. As a result, its season extends into April. Amenities include skate rentals, after-school lessons, hockey leagues and more. Public skating sessions are held six days a week (closed Mondays) and skate rental is available.
Tanger Outlet Ice Rink at the Arches — Deer Park
Surrounded by stores and restaurants, including a kid fave, Johnny Rockets, the whole family can enjoy skating at this shopping mecca. As of 2019, admission is $10 and skate rentals are $4. Teens can show their school IDs for discounted skating on Tuesdays; there's also a DJ on Friday nights. Children younger than 5 skate FREE. Join the TangerClub and skate rental is FREE. Party packages and skate lessons are available. Open-skating hours vary; see the website for the current schedule.
A version of this article was first published in 2013. It was updated by writer Gina Massaro in December 2018.
Unless noted, photos are courtesy of the rinks.