Outdoor Ice Skating Rinks on Long Island for Families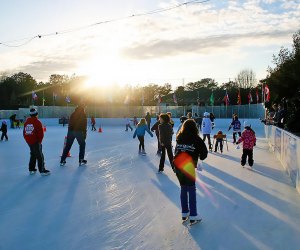 Don't let winter's chill scare you away from outdoor recreation. Long Island's outdoor ice skating rinks are ready to welcome visitors for wintertime fun.
We've put together a list of eight outdoor ice skating rinks on Long Island that have opened for the season or plan to do so soon. Most are inexpensive and offer skate rentals, as well as lessons for those still mastering their steps and stops. Weather permitting, most of these rinks are open until the beginning of spring, and all are open to the public.
If the weather doesn't cooperate, there are plenty of indoor rinks across Long Island, too, giving families a chance to skate all year long. Find more fun seasonal destinations in our Winter Fun Guide.
Editor's note: Be sure to click through to each venue to verify operating hours and reservation requirements before heading to the rink.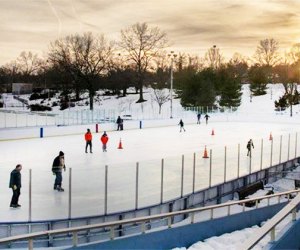 The rink at Christopher Morley Park has delighted skaters since 1961. Photo by LMRose Photography
Outdoor Ice Skating Rinks in Nassau County
Christopher Morley Park's ice skating rink is a regulation-size 200 feet by 80-feet. Open-skating sessions are offered every day except Thursdays and skate rentals are available. Please contact the rink at 516-571-8123 before heading out to confirm availability.
The rink at Grant Park holds public sessions Wednesdays through Sundays and night skating on Fridays and Saturdays. Skate rentals are available, too. There is limited seating near the ice but ample indoors, which offers a great view of the skaters.
A Town of Oyster Bay facility, public skating sessions here are held Fridays, Saturdays, Sundays, and holidays. There are expanded public skating sessions during school vacation weeks. Skate rental is available.
With an easily accessible location not far from major highways, Jericho Turnpike, and the Long Island Expressway, this Town of Oyster Bay rink offers FREE skating for kids 2 and younger. Public skating sessions are held Fridays, Saturdays, Sundays, and holidays with expanded sessions during school vacation weeks.
Located inside Eisenhower Park, the Northwell Health Ice Center boasts two indoor and one outdoor rink. Here, kids and grown-ups can skate where the New York Islanders train. Rinks are open to the public on weekends at various times. The number of skaters is limited so reservations are recommended.
RELATED: The Best Local Sledding Spots on Long Island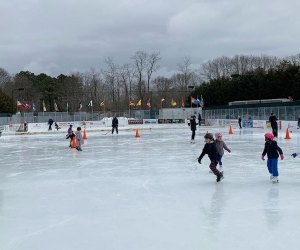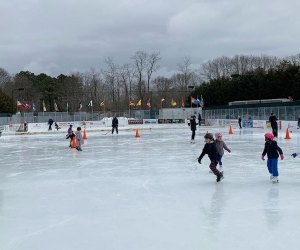 Top-notch amenities at Buckskill Winter Club make a trip to East Hampton worthwhile.
Outdoor Ice Skating Rinks in Suffolk County
Located just north of Montauk Highway, this upscale facility offers public skating seven days a week. It's pricier than many rinks — admission ranges from $20 to $25 — but the amenities are top-notch, and skaters are welcome to stay all day and into the evening. Perks include a cafe with fireplace, changing area, regular ice resurfacing, skate and helmet rentals, and "Helping Hand" skaters to assist young, inexperienced skaters.
Port Jefferson Harbor is beautiful, and Harborfront Park offers a smaller rink with a big view, where you can skate seven days a week, including night sessions on Fridays and Saturdays. The rink is located in the village center and within walking distance of eateries and other spots to warm up. Lessons are available.
RELATED: The Best Northeast Ski Mountains For Families, 2021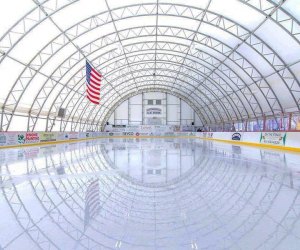 Semi-enclosed Southampton Ice Rink provides a bit of cover from the elements.
This semi-enclosed facility, adjacent to Southampton mini-golf and driving range, opened in 2014. It quickly became a South Fork winter destination. The rink is refrigerated so it can remain open when nearby ponds and rivers have melted. As a result, its season extends into April. Amenities include skate rentals, after-school lessons, hockey leagues, and more. Public skating sessions are held seven days a week. Skate rentals are available. Reservations are required for weekend and holiday sessions and can be made online up to two weeks in advance.
A version of this article was first published in 2013. It was updated by writer Kristen Markel in December 2021.
Photos are courtesy of the rinks.