Affordable Swim Lessons for Kids in the Hamptons and North Fork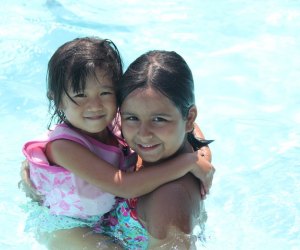 Eastern Long Island boasts some of the Northeast's most captivating beaches, perfect for summer fun. However, parents of young children may want to invest in swimming lessons from qualified instructors in order to put themselves at ease amid all the oceanside activity. Happily, there are some affordable kids' swim programs on both forks. Classes do fill up quickly, though, so you'll want to enroll your children ASAP.
Note: Most town-sponsored, outdoor programs begin in July. YMCA and Southampton Youth Services programs continue year-round.
East Hampton Town
Lessons offered in Amagansett, East Hampton Village, Montauk and Sag Harbor
631-324-2417
The town's Department of Recreation offers swim lessons for children 4 and older in ability levels that range from beginner to advanced. Instruction is offered in four sessions. Classes are free for town residents. Instructors will evaluate each child during the opening week and place him or her in an appropriate ability level. Children must bring goggles and water shoes (no Crocs).
YMCA East Hampton RECenter
2 Gingerbread Lane, East Hampton
631-329-6884
The RECenter operates as a collaborative effort of the Town of East Hampton, East Hampton Village and the YMCA. Its 21,000-square-foot facility features two indoor pools and instruction begins with parent-and-child programs at 6 months. Lessons progress as children age and master basic strokes and safety essentials. Youngsters eventually can join the East Hampton Y's RECenter swim team. The RECenter offers year-round instruction; all teachers are Red Cross-certified and YMCA membership is required. Memberships begin at $80 for East Hampton Town residents, $140 for nonresidents, and class fees of $125-$155 for the eight-lesson series apply. Financial assistance is available to families who qualify.
Riverhead Town
Lessons offered in Jamesport, South Jamesport and Wading River 631-727-5744
The Town of Riverhead offers a series of group lessons for children as young as 3 at locations throughout the town, including in the North Fork communities of Riverhead (Reeves Beach) and South Jamesport (South Jamesport Beach). Other locations include Wading River Beach in Wading River. Children must be registered with Riverhead's Department of Recreation prior to being evaluated by certified instructors; see the website for instruction schedule and locations. Town residents pay $25 per two-week session; non-residents are welcome subject to availability at a cost of $35 per session. Individual lessons are also available at $150 per session for residents and $160 for nonresidents.
Southampton Town
Lessons offered in East Quogue
631-728-8585
Southampton Town offers summer swim lessons conducted by Red Cross-certified instructors at Tiana Beach in East Quogue. Dates and times are pending but the town is hoping to announce its summer schedule by mid-May. Lessons have traditionally run for two weeks at a cost of $10 per week for town residents and $25 per week for nonresidents, who are welcome subject to availability. Classes are capped at eight students and are divided by age group (3-4, 5-6-year-olds etc.) and ability levels. All parents must register their child at the Department of Recreation office on Newtown Road in Hampton Bays prior to enrolling in classes. Residents should bring a driver's license, current town tax bill and your child's birth certificate to registration.
Southampton Youth Services
1370A Majors Path, Southampton
631-287-1511
Group, semi-private and individual lessons are available in the outdoor pool, just one part of this 55,000-square-foot,15-year-old recreation center located near the hamlet of North Sea. Classes are held Mondays-Thursdays for two consecutive weeks and children are grouped by age and ability levels. Sessions are held June 27-July 8 (no 7/4), July 11-July 23, July 25-August 4, August 8 -August 18 and August 22-September 1. SYS members pay $95 per session; non-members pay $115. SYS instructors also offer lessons at your family's pool; call for more information. Classes are capped at five students; children must be potty-trained. Parents are urged to register at least one week before the start of their desired session as sessions sell out quickly.
Updated 5/23/2016