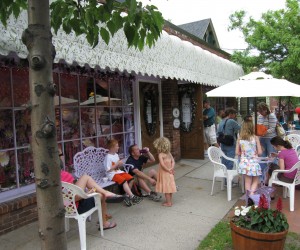 Cold Spring Harbor for Kids and Families
As we continue featuring some of our favorite Long Island towns to visit, this month we're spotlighting Cold Spring Harbor. Located on the North Shore, just across the Suffolk border, CSH is about as charming and delightful as any small town can be. Don't be fooled by its size, though; this town, famous for its rich whaling past, has an equally rich present. With its diversity of shops, magnificent coastline and world-class science exhibits, there's more than enough here to keep an inquisitive family busy for days. We've got you covered with all the best ways to take it all in for a fantastic spring outing.
What to Do:
Stroll down Main Street and browse the variety of fun and trendy shops along the way, including Heritage Candle and Home, Whimsey, and the Cold Spring Harbor Pharmacy.
Enjoy a picnic in Cold Spring Harbor Park. It's walking distance from the shops on Main Street and features an expanse of grass along the waterfront. Pack a lunch or grab a bite a sandwich from the Gourmet Whaler or the Cold Spring Harbor Deli.
More tips on things to do with your kids in Cold Spring Harbor upcoming throughout the month, including information on the Whaling Museum and the Fish Hatchery.
What to See:
The Cold Spring Harbor Library and Environmental Center is worth a visit, no matter how tight your schedule. Far from your ordinary library, the building houses an art gallery, an environmental education center, and a children's room that overlooks the harbor. The play area is amply stocked with blocks, puppets, and other toys and an outdoor garden provides a living resource for nature enthusiasts. The story-time amphitheater is surrounded by The Habitats of Cold Spring Harbor, a mural painted by local artist Lillith Jones. The circular design of the room allows for an echo to be heard when you are standing in the center, adding to the enchantment of this treasured spot.
Where to Eat:
Grasso's
134 Main St.
631-367-6060
Grasso's offers a variety of American dishes, including pasta and burgers. Sunday brunch is accompanied by live jazz.
Gourmet Whaler
111 Main St.
631-692-9646
This quaint spot, right on Main Street, is ideal for those looking for a quick bite, a sandwich, soup, or the shop's specialty fish taco. It serves great coffee and baked goods as well.
Cold Spring Harbor Plaza Delicatessen
15 Harbor Rd.
631-367-6060
There is no seating here, so grab a sandwich here and head across the seat to the park overlooking the water for a picnic.
Sweetie Pies
181 Main St
631-367-9500
Located at the eastern end of the shopping district, Sweetie Pies offers an array of baked goods, serendipiTea brand teas, and Georgio's coffee. Whole pies and slices are available from Young's farm in Old Brookville. The shop also offers a fine selection of gifts for any tea lover. Seating is available in the shop or in the garden.
Coming up: Cold Spring Harbor's museums and its great outdoors.