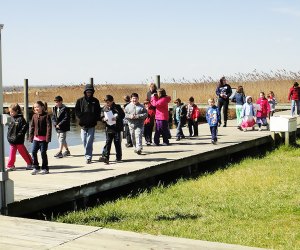 Sayville With Kids: Explore This Four-Seasons Destination in Suffolk
Nestled comfortably on the South Shore between Nassau and the East End, Sayville makes a great day trip any time of the year. Whether you're searching for something to do with littles younger than 5 or looking to entertain your teens, Sayville would seem to do it all.
About 5 miles west of Patchogue, Sayville might be overlooked for the more popular central Suffolk destination. However, Sayville also has a booming downtown area full of restaurants and shops, as well as ferry service to central Fire Island. With delicious eateries, seasonal festivals, and play areas for kids, you can find something for every member of the family.
Once you're done exploring all Sayville has to offer, check out one of Long Island's other great family-friendly communities, such as Port Washington, Glen Cove or Port Jefferson.

Things to Do
Sayville boasts multiple playgrounds, but you won't be disappointed in a trip to Sayville Marina Park. There you will find a large playground with apparatuses for children of all ages, as well as a lovely walking trail and waterfront access. The beach is open to swimmers in the summer, but be advised parking fees vary based on residency status. The marina is jacross the street from the playground and beach, so nautical-loving littles will have a great time watching the boats go in and out.

"Grill up" some indoor fun at Adventure Kids. Photo by the author
During rainy or cold days, kids younger than 5 will love Adventure Kids, an indoor play space with water play, Legos, cars, a section for crawlers, and even a rock climbing wall. It holds events throughout the year, which often feature a visit from some of your child's favorite cartoon characters.
RELATED: Long Island cafes with kids' play spaces

Even little players can take a swing at Sayville Falls Miniature Golf. Photo courtesy of Sayville Falls
From spring to fall, the whole family can enjoy a few rounds at Sayville Falls Miniature Golf. Sayville Falls claims to have the longest 18-hole mini course on Long Island. In addition, it's impeccably kept, with families of turtles roaming the course. Kids are welcome to feed the turtles and fish who call the golf course home. Check out its website and Groupon for deals.
Movie lovers can take in a flick at Sayville Cinemas. A throwback to older theaters, you won't find more than four movies playing here. What it lacks in space, it makes up for in charm and price. You'll be hard-pressed to find a better deal on tickets, especially when compared with the larger theater chains.

Tour Fire Island's one-of-a-kind Sunken Forest after a ferry ride from Sayville. Photo by Jill Peters for the National Park Service
For beach bums and nature buffs, Sayville is your family's direct connection to Fire Island, specifically Sailor's Haven and Sunken Forest. At Sailor's Haven you'll find a pristine beach with all the amenities your family needs, including concessions and restrooms. Sunken Forest is just what it sounds like, a forest alongside the beach. It's a must-see for nature lovers. For fares and schedules, check the Sayville Ferry website. A one-way trip takes about 20 minutes.
RELATED: Great family-friendly museums on Long Island

Islip Grange in Sayville offers a glimpse of life in 19th-century Long Island. Photo courtesy of the National Park Service
The Islip Grange is a hidden historic gem, featuring pre-Civil War era buildings moved to the 12-acre site in 1974. Structures include a mill, Dutch Reformed church, and a barn. It's a wonderful representation of what Town of Islip hamlets looked like in the 19th century. There are periodic Civil War re-enactments: Check out this schedule for more information.
The Long Island Maritime Museum in nearby West Sayville is the place to learn about Long Island's sailing roots. There is an exhibit dedicated solely to the history of boating, fishing and maritime rescue on Long Island, as well as offshore wrecks. Kids will have fun firing off a cannon or sailing a virtual ship through treacherous waters. Each year, on Father's Day weekend, the museum hosts its Pirate Festival, complete with roaming pirates, live music, costume contests, and more. In late August, the museum hosts its popular Seafood Festival with music, children's games, crafts, and more.
No matter the season, there is always a festival to look forward to in Sayville. The Spring Festival in late April features events for children, including a petting zoo and face painting. Summerfest in August boasts carnival rides, a four-mile race, and a classic car show. The October fall festival includes a Halloween parade for kids. Miracle on Main, the holiday season kickoff in late November, welcomes Santa and live reindeer. It's a do-not-miss!
RELATED: Long Island restaurants where kids eat free

Grab a tempting brick-oven slice from La Tavola. Photo courtesy of La Tavola
Where to eat
Get ready to delight the family's taste buds. Main Street is lined with restaurants and places to grab sweet treats. If you're craving Italian, check out La Tavola, where you'll find country dishes and brick-oven pizza. Recently rebranded, Cafe Joelle offers a mix of American, German and Italian food, making it a good stop for families with differing tastes.
Off the Block Kitchen & Meats focuses on quality meat dishes and locally grown produce. There is also a butcher counter, where you can take some of that juicy meat home to prepare yourself. Downtown Burger at Five Points Cafe is to go-to spot for gourmet burgers and brews (for adults, of course). There is outdoor seating, perfect for people watching in the warm weather.
Sweet treats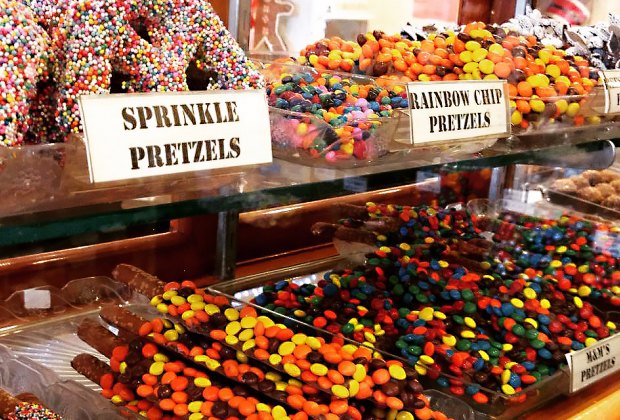 Enjoy specialty candy and more at the Sayville Chocolatier. Photo courtesy of the shop
If your kids are ready for dessert, check out Sweet Gourmet, the local candy shop. For a chocolate fix, look no further than Sayville Chocolatier. Here you will find chocolate-covered strawberries. truffles, and other delicacies. For something more traditional, pop-in for some ice cream at Carvel or italian ices at Ralph's.
RELATED: Satisfy your sweet tooth at these LI candy stores

The Sayville General Store is just one of many quaint Main Street shops. Photo courtesy of the store
Neighborhood shopping
What's a trip without some shopping? Sayville's Main Street is full of unique and charming shops. Sayville General Store has a bit of everything, from home goods, to jams and jellies, to a baby and toy section. Little ones won't complain about sore feet or boredom when they see shelves lined with wooden cars and dolls. For unique baby and toddler clothing, stroll in to Poor Baby Ltd, where you'll find outfits you won't see in big-box stores. Irish Crossroads Ltd is a Celtic wonderland. While adults shop for collectibles, clothing and jewelry, kids can keep themselves busy eyeing the candy and food section.
Athletes of all kinds will have a field day on Main Street. Lacrosse Unlimited and Sayville Running Company are just some of the specialty athletic shops. Bunger Sayville caters to surfers, skateboarders, and snow boarders, selling gear, accessories, and clothing.
Getting there
Sayville is roughly an hour and 15 minutes from Manhattan by car minus traffic. Take Exit 50 of the Sunrise Highway and travel south on Lakeland Avenue. Alternatively, take the Long Island Expressway to Exit 59 South and head south on Lakeland Avenue. Parking is available along the streets or in several municipal metered lots. Sayville is on the Long Island Rail Road's Montauk branch. If coming from the west, you will likely need to transfer at Babylon. Main Street is less than a half-mile south of the Sayville station.