LI Day Trip: Fun Things to Do With Kids on Shelter Island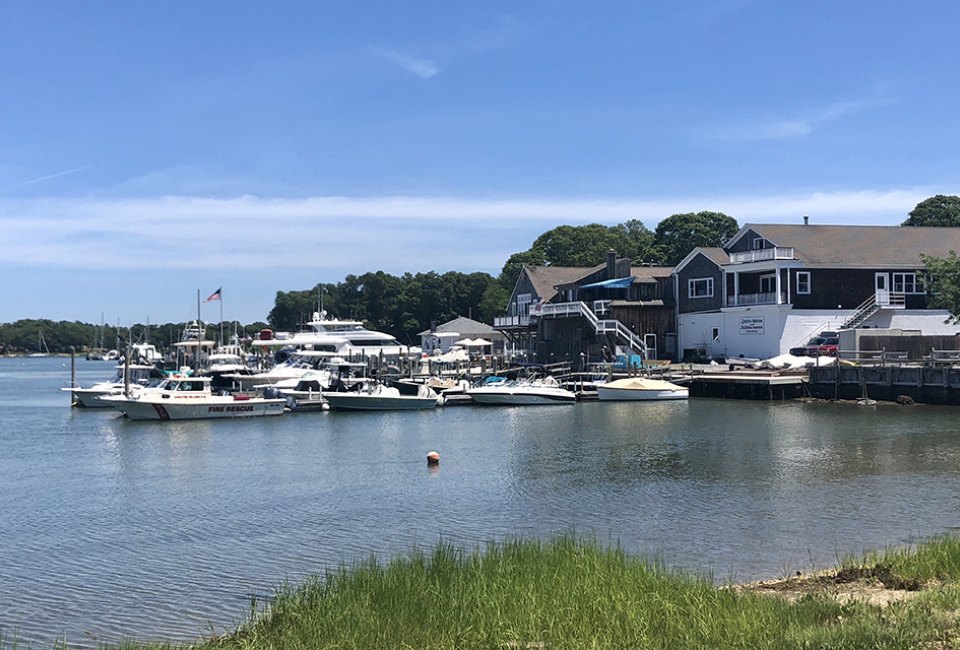 7/26/18
- By
Jaime Sumersille
As if a ferry ride itself isn't enough excitement for your little ones, there's plenty more to explore on Shelter Island. Nestled between the two forks on the East End of Long Island, this 27-square-mile island boasts family-friendly activities, spectacular views and a host of wildlife. Just a seven-minute ferry from Greenport or North Haven (near Sag Harbor) will get you there. The north ferry leaves you in Shelter Island Heights while the south ferry drops you off at the opening of Smith Cove.
Our Hamptons and North Fork Guide is packed with family-friendly activities on Shelter Island and all of the East End of Long Island, including 50 ideas of what to do and where. Drum up ideas for other summer day trips to places like New York City, the Hudson Valley and more.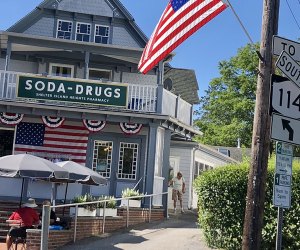 Shelter Island Heights Pharmacy is a good first stop for last-minute necessities.
Once you're arrived on the island, Shelter Island Heights Pharmacy on Grand Avenue is a good first stop for last-minute sunscreen, gum, or other trip necessities. Here you can pick up a free map of the island. Then, venture on! You can easily navigate the roads with your own vehicle, and parking is ample. Or stop at Piccozzi's Bike Shop for a rental and zip around the island on two wheels instead of four.
RELATED: 25 great things to do with kids in Montauk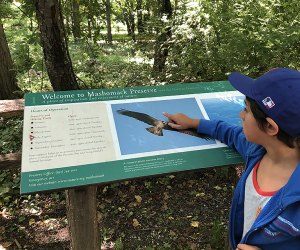 Discover the wildlife that call Mashomack Preserve home.
Mashomack Preserve
Located three miles from the south ferry, Mashomack Preserve boasts 12 miles of coastline and acres of creeks, woodlands, and fields. Start out at the field house for interactive exhibits of the ecosystem on site. There are several trail options, from one to 10 miles, so choose wisely as to which you think your brood will handle best. We managed to do two miles with my boys, ages 7½ and 10. The terrain was steep at times and bumpy, so tread carefully. Be sure to catch the bird feeding area inside as well. The preserve is open 9am to 5pm from March through September; 9am to 4pm October through February.
Sylvester Manor Farm
This education farm boasts rolling green hills, historic structures, a windmill, and a manor house. While the grounds aren't usually open to the public, you can call ahead to plan a private visit. Public tours of the Manor House are offered on various Saturdays throughout the summer. Additionally, the farm stand is open from Wednesday through Sunday. The archaeology display has a wealth of artifacts, including wampum production and other evidence of pre- and post-contact Native American occupation; African pottery blended with European design elements; Dutch building materials; various European coins; English and Dutch pipes; multiple building foundations; and more, all of which remain an ongoing source of study.
RELATED: Family-friendly hotels on Long Island's East End

Aim for a hole-in-one at the Whale's Tale mini-golf course.
Mini-Golf
The Shelter Island Whale's Tale Dessert Cafe & Miniature Golf Course is an 18-hole mini-golf course. It's rather simple, yet the design reminds you of a simpler time. There's a large water feature, but no mechanical or moving holes. Fiberglass figures of mermaids, turtles, and a water-spouting whale greet you at various holes. There are cute wooden cut-out photo booths on site, too. It also has picnic tables with umbrellas and a full Hershey's ice cream shop inside, as well as some retro video games.
Good Eats
Stars Café
Located right near the Pharmacy, this cafe serves up fresh baked pastries and appetizers. Pick up an energy-boosting smoothie for your trek around the island. Its casual atmosphere is perfect for families. Enjoy breakfast or lunch, while a Mexican-style dinner is served three nights a week.
The Islander
This resident-tourist spot is perfect for family-friendly meals. The staff is über-friendly and kids get an activity placemat to keep them occupied. Finger tattoos in the form of mustaches make for a fun way to pass the time as well. Breakfast is served all day long, so my boys enjoyed French toast and Oreo pancakes for lunch. You also can eat outside.
RELATED: Long Island restaurants where kids can eat FREE

Grown-ups can enjoy an adult beverage at Shelter Island Craft Brewery, while adjacent Maria's Kitchen serves up tacos for the family.
Shelter Island Craft Brewery/Maria's Kitchen
Ice cold brews and German pretzels hit the spot at this quaint brewery. Got a hankering for more roadside grub? Maria's is adjacent to the brewery and serves up tacos and salads, as well as kid-friendly staples, burgers, and chicken fingers. It's perfect for a quick pit stop to or from the ferry.

Take in the amazing harbor views while dining at Salt.
Salt
Sit harborside at the Island Boat Yard and marvel at the boats puttering in and out. There are plenty of shaded tables, and the menu is ideal for seafood and raw bar lovers, as well as guppy grub for your wee ones.

At the easternmost tip of Shelter Island sits Reel Point Preserve, a shell seekers paradise.
Hit the Beach
Beaches are located all along the island's coastline, and there is even an inland beach at Fresh Pond. A resident beach sticker is required for any vehicle that parks at a town beach. Since 2015, $25 daily beach passes have been available for purchase at Town Hall. Note: Crescent Beach is closest to the north ferry and Wades Beach, near the south ferry, is the most popular for families. On our first trip in 2014, we opted to head southwest to secluded Shell Beach. A hook-shaped, one-lane dirt road leads to panoramic 360-degree views of West Neck Harbor and Shelter Island Sound. It's a great place to picnic and collect shells, as well as swim. However, there are no lifeguards on duty. Most recently we visited Reel Point Preserve in Ram Island County Park. Located at the easternmost tip of the island, this beachy peninsula is laden with rocks and shells ripe for the picking. We were able to amass a sweet collection of jingle shells. You'll also see osprey, piping plovers, Monarch butterflies, and more.
RELATED: The best beach playgrounds in the Hamptons and North Fork

A seven-minute ferry ride takes you to Shelter Island, situated between Long Island's twin forks.
Complete the journey and ferry across to the South Fork, where you can explore Bridgehampton on your way home.
A version of this article was posted in 2014. It was updated in July 2018.
Photos by the author