15 Toddler-Friendly Hiking Trails on Long Island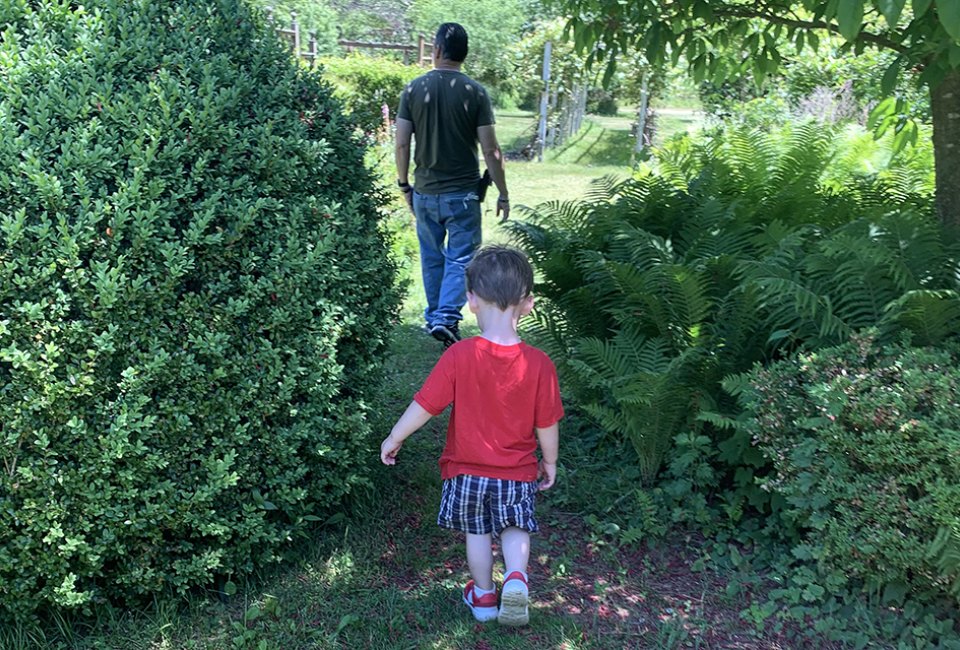 8/7/22
- By
Gina Massaro
Toddler-friendly hiking trails and nature walks are ideal after your baby officially graduates from a stroller and starts to assert independence, and Long Island is home to many amazing parks and preserves.
Read on for our roundup of 15 trails across Long Island that aren't too taxing for little legs. All are sure to exercise your little one's muscles and stimulate their brain.
For other outdoorsy-activity ideas, be sure to check out our Guide to Playgrounds & Parks on Long Island.
Sign up for our FREE newsletters to have posts like this delivered to your inbox.
Toddler-Friendly Hiking Trails and Nature Walks in Nassau County
Also known as Baxter's Pond, the walking trail hugs the pond, which is surrounded by flowers and vegetation. This scenic trail is short enough for little legs, and there are plenty of benches that offer an opportunity to rest. This is a favorite spot for Canadian Geese and ducks, but remember not to feed them. The trail along the pond is brick, while the trail leading into the wooded area is dirt. There are no restrooms on-site. This park is FREE.
There are many trails to choose from at this botanical garden. There is the children's garden, rose garden, tropical garden, and so much more. Visit the upper pond area to see frogs and turtles. While flowers will be blooming in spring and summer, the grounds are open year-round. Admission is a donation of the amount of your choosing. There are bathrooms on-site.
Stay on the lower, circular trail for the most toddler-friendly hike. One of the most exciting parts of this walk is all the different wildlife you can see. From nesting birds to red foxes, plus the goats who call the preserve home, walking the trails here feels like an adventure, especially for little ones. Sometimes the goats even freely roam the paths. There are bathrooms on-site, but they aren't always stocked with toilet paper. It's best to have wipes or tissues on hand when visiting. This park is FREE.
Squirrel Nut and Hickory Nut trails are designated just for kids. It allows them to take in the sights, sounds and smells of nature without exhausting themselves. The other walking trails are not particularly long either, for those little ones who are used to walking. The main park trail is 1.36 miles, while the children's trail is .15 miles. There are also playground areas and bathrooms on site. There is a daily $8 parking fee from Memorial Day through Labor Day. April through May, and September through Columbus Day the fee is only collected on weekends and holidays. The park is FREE in the off-season and for empire pass holders.
Adjacent to Whitney Pond Park, Manhasset Valley Park has a trail following the stream. This picturesque walk isn't too hard on toddler feet. There is also a playground and bathrooms on-premises. This park is FREE.
RELATED: Botanical Gardens and Arboretums on Long Island for a Family Day Trip

Take a leisurely walk around Mill Pond and spot raccoons, waterfowl, and other local wildlife while you wander.
Mill Pond is right on Merrick Avenue, just past the entrance to Wantagh Park. Mill Pond's trail goes from paved to dirt, but it's a relatively short walk and easy for toddlers to do. The walk around the pond is surrounded by trees, bushes, flowers, and other vegetation. Raccoons have been spotted sleeping in the trees during the day. There is plenty of waterfowl to watch as well. This park is FREE, but there are no bathrooms.
This park has to make the list because of the waterfront walk. While walking the whole park would be daunting for toddlers, parking up by the pool and walking along the water is easy for them. There is even a little shoreline to investigate. Another option is to park down by the first playground and then walk to the playground near the skating rink. It's a short walk back and forth but allows toddlers to experience both playgrounds without having to buckle them back up in the car seat. The park is FREE for Nassau County residents. There are multiple bathrooms.

Explore nature and see what you can find at Bayard Cutting Arboretum.
Toddler-Friendly Hiking Trails and Nature Walks in Suffolk County
The trick to keeping these trails toddler-friendly is not to explore too far from the manor house. Stick with the Royce Rhodedron trail, pinetum trails, and part of the river walk to keep little ones from getting exhausted. There are many beautiful flowers, trees, and native wildlife to see. There are also many scenic locations ideal for taking photos. Parking is $8 from May through Labor Day. Weekends and holidays from November through April are $8. Admission is FREE for Empire Pass holders, walkers, or anyone dropped off without a car.
RELATED: 15 State Parks on Long Island Worth Visiting With Your Family

Toss pebbles and rocks into the water for a splash at Belmont Lake State Park.
Park close to the playground to cut your walk short and travel only around the lake. If you wish to start on the trail, park 1/3 of the way into the parking lot near the woods. The trail is nicely shaded, and there are plenty of things to do. Tossing rocks into the water under the bridge is a favorite. Save time for the playground, which is perfectly sized for toddlers. Ice cream trucks usually set up shop near the playground in the warmer months. There are bathrooms near the playgrounds as well. There is a daily $8 parking fee from Memorial Day through Labor Day. April through May, and September through Columbus Day the fee is only collected on weekends and holidays. FREE in the off-season and for Empire Pass holders.
Take a walk around the scenic pond, surrounded by historic houses and an old watermill. Venture off the path into the wooded area to see some of the preserve. There is a small pond and garden with flowers. There is no bathroom on-site and limited parking, but the peaceful and serene walk is worth it. This park is FREE.
RELATED: Fishing Lakes Near Long Island and More Kid-Friendly Places to Go Fishing

Race down the path to get to the Great South Bay at Gardiner County Park.
Toddlers and dogs will love Gardiner County Park. For the easiest walk, travel straight down to the Great South Bay. If you're feeling adventurous, you can travel down one of the wooded paths, though if you're not familiar with the trails it's easy to get lost. The park also has fenced-in agility courses for small and large dogs and a playground for kids. There is a playground, a pond, and restrooms on-site. Most of the paths have ample shade, making it a good choice on sunny days. Gardiner County Park is FREE.
RELATED: 15 Seashell Crafts: Easy Summery Crafts for Kids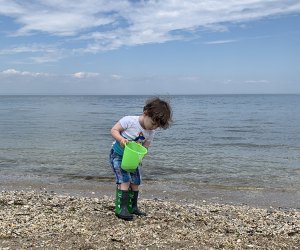 Don't forget to explore the shoreline at Sunken Meadow State Park.
The boardwalk at Sunken Meadow is perfect for toddlers. It's just 3/4 mile long, so depending on where you start, you can keep your walk at just around a mile. The trip to the shore is also quick, so bring your buckets. There are lots of minnows to scoop up and plenty of seashells to collect. There is a large playground just in front of the parking lot on the east side, and there is equipment suitable for a toddler. Bathrooms are just before the boardwalk. In the summer months, a concession stand sells basic fare like ice cream and hot dogs. Parking is $10 per vehicle in the summer, from Memorial Day weekend to Labor Day. April to the day before Memorial Day weekend, and the day after Labor Day to November 6, an $8 fee is in effect on weekends and holidays. FREE in the off-season and for Empire Pass holders.
This is a hike for little adventurers. Visit with the resident-rehabilitated wildlife near the main house before heading on the trail toward the barn animals. Take a look at the trail map to keep from getting lost. There is a fun natural play area off the main house that features a hobbit house. Sweetbriar also offers classes and events featuring its wildlife inhabitants. Bathrooms are located in the main house. Admission is $10 per adult and $5 per child.
Toddler-Friendly Hiking Trails and Nature Walks on the East End
This 1.1-mile hike loops around the wetlands, which is part of the natural drainage of the Peconic River. It was formerly a cranberry bog, and about three-quarters into the walk, you'll come across the old pump house. There is a lot of nature to take in, including multiple wetland ecosystems such as the marsh and bog. Plenty of animals call these places home, especially birds like kingfishers and great blue herons. There are no restrooms on-site, but the park is FREE.
Located on the beautiful North Fork, Hallock State Park Preserve's trails aren't overwhelming. The longest loop, the blue trail, is 1.1 miles. This hike takes you around Hallocks Pond. Take the .2-mile gravel beach trail to see the Long Island Sound. There is 1 mile of sandy shore to explore here. There are no restrooms located near the trails. The parking fee is $8 per car.
Photos by the author
Sign up for the Mommy Poppins Newsletter today!