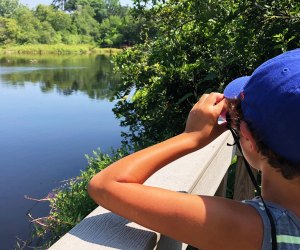 Quogue Wildlife Refuge: Get Up Close With Nature, Animals
The Quogue Wildlife Refuge is one of our favorite hidden Long Island gems. Set back from a curved road, the 300-acre nature preserve on the East End boasts FREE family fun via wildlife, water, and wonderment.
Continue to foster a love of learning outside with our favorite outdoor classrooms and nature centers. Looking for more ways to experience nature? How about a visit to one of our favorite places to interact with birds and butterflies on Long Island? Or consider our favorite family-friendly hiking trails and bikes trails for Long Island families. Of course, you can keep exploring with our guide to more day trips on and near Long Island.
Upon entering the Quogue Wildlife Refuge property, visitors find a century-old wooden barn that houses ice harvesting tools — be sure to make the Frozen connection to the kiddies. Recently renovated after a devastating fire, the two-story complex has been restored and reopened to the public. But don't Let it Go just yet: There's more to explore.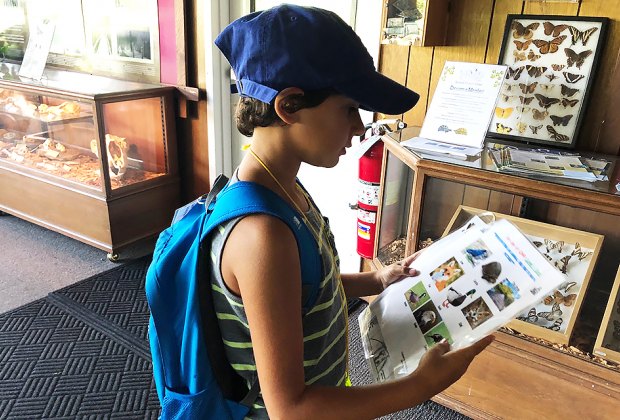 An explorer's backpack will help you navigate the scavenger hunt course.
Stroll onto the grounds and you're greeted by the idllyic Old Ice Pond — and some very chatty ducks and geese. Head into the Nature Center building and marvel at the floor-to-ceiling picture windows that hang over the pond. Small reptiles and critters can be found caged (thank goodness!) off to the side of the main room. Ask staff to borrow an explorer's backpack before you head out on the trails. Equipped with binoculars, a compass, and other tools, it'll be easier to cross items off of the Refuge's scavenger hunt.
RELATED: A visit to Oceanside's Marine Nature Study Area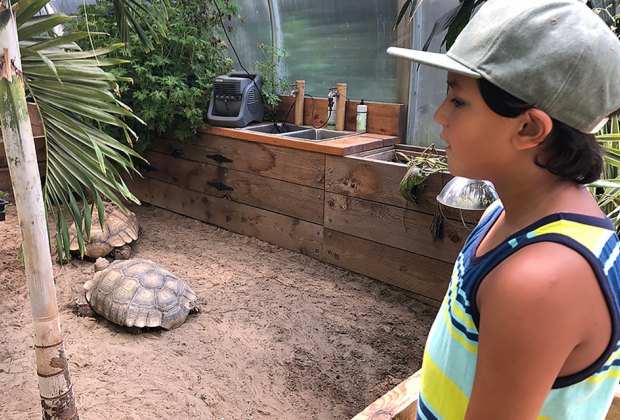 Visit the resident tortoises in their indoor sauna-like habitat.
The Outdoor Wildlife Complex houses permanently injured wildlife that can not be released into the wild. Its chain-link enclosures allow visitors to encounter owls, falcons, eagles, foxes, and more, and to learn the back stories of these "educational ambassadors." A short walk away brings you through a pebbled brook, and whimsical gated butterfly garden. Four African spurred tortoises and one red-footed tortoise are housed in a steamy greenhouse building.
RELATED: The Sensory Garden in Shoreham is a kid-friendly, immersive adventure.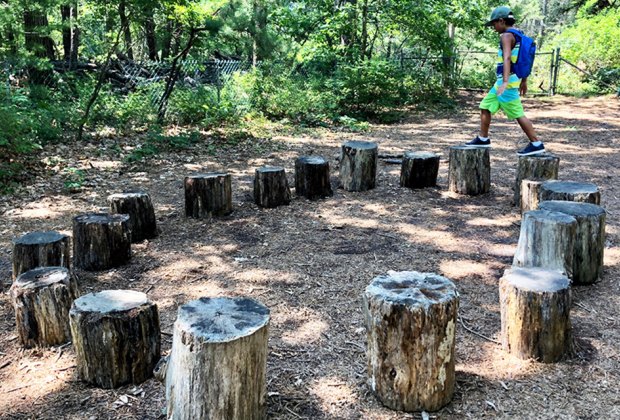 Take a seat mid-hike in the tree stump area, perfect for photo-ops.
Explore three different trails that make up seven miles of hikes through habitats, including pine barrens, bogs, wetlands, a field, and a tidal estuary. The main trail is wheelchair- and stroller-friendly. You are covered by a canopy of trees, but be sure to give you and your brood a healthy dose of bug spray. Seek out some marked vantage spots to take a break, read about the land around you, and more. Near the end of the main trail you'll find a teepee constructed with tree brances and tree trunk stools: It's a picture-percent photo-op. Another trail boasts the Fairy Dell Boardwalk, a catwalk through beautiful tidal wetlands. Check on the status of its reconstruction.
Guided kayak tours give visitors the opportunity to take in the sights of the refuge from the water. The two-hour exploratory paddle on 10 acres of the Old Ice Pond includes paddling instruction and use of life vests, as well as a short hike. The refuge also offers "green" birthday parties, meant to celebrate while minimizing environmental impact. The parties can include hiking, kayaking, meeting animals, and even a sleepover in the nature center. It also can bring some animals to you if you opt for a party at home or another location.
RELATED: Exploring the Long Island Science Center in Rocky Point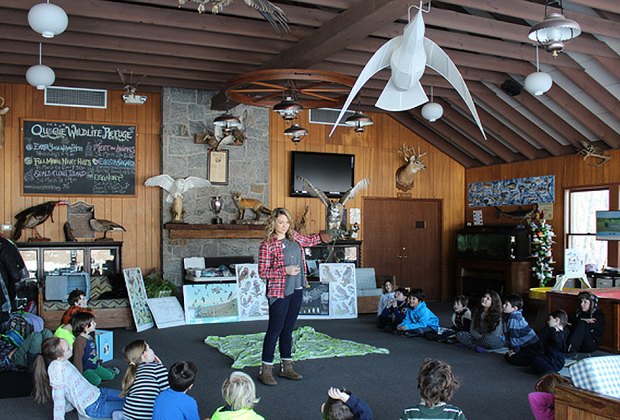 Soak up some knowledge at a summer camp or outdoors program.
Educational programs and summer camps aim to connect visitors to nature and wildlife. Get up close with owls and more at these interactive and educational opportunities. The refuge is rife with history so be sure to soak up some knowledge during your visit.
While trails are open year-round to visitors, the animals in the Nature Center building can be visited Tuesdays, Thursdays, Saturdays, and Sundays from 11am to 4pm. Call ahead to reserve spots in upcoming programs such as Jungle Bob, Story Time in the Forest and the popular Enchanted Forest Trail, where kids dress up in Halloween costumes and meet whimsical fairy creatures along a storied and musical path.
Getting There
The refuge is located at 3 Old Country Road in Quogue. Call 631-653-4771 for more information. While admission is FREE, some programs incur a fee and require advance registration. From Sunrise Highway, take Exit 64S, and head south on Route 104. Follow two miles and turn right onto Old Country Road. Go 0.7 miles and the entrance is on the right. From the Long Island Expressway, take Exit 70S to Manorville Road (Route 111). Take 111 south to the Sunrise Highway and follow the directions above.
Photos by the author