First Look at the LI Science Center's New Rocky Point Location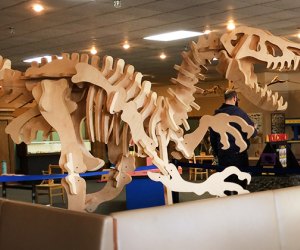 Where can you dig for dinosaur bones, pet a live ball python, and try hands-on science experiments? The Long Island Science Center, of course! And now all of the fun and learning can be had a bit farther west, in Rocky Point.
Got a budding scientist on your hands? For more science-related fun, check out these museums and classes.
The Long Island Science Center moved from its former Riverhead location in December 2016. It now operates out of a larger building with plenty of free parking. Upon entering, guests immediately notice the large, open space before heading over to the front desk to check in. There is almost always an educator available to let you know what the theme is and how best to use the center.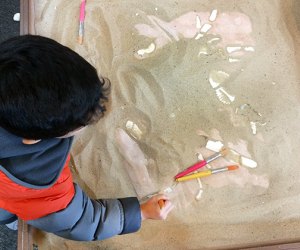 Kids can play archeologist at the science center's dinosaur dig exhibit.
There are two areas where kids can interact with the exhibits. Exhibits can be found at the front of the room and children are encouraged to wander and experience them at their own pace. Exhibits include a dinosaur dig, magnetic tiles for building, a stacking cup challenge, two-way mirror observatory, large ball run, mystery-solving station, a pretend play area with play food, and more. These exhibits are straightforward; no complicated instructions to follow, so kids can jump right in and play independently. There's also plenty of space between each exhibit so kids are not tripping or bumping into each other. For parents who need a breather, there are benches along one side of the exhibit area. Don't forget to spend a few minutes checking out the models of Leonardo da Vinci's inventions that line the walls at the front of the room. These detailed models cannot be touched, but are sure to spark the imaginations of budding inventors.
In the rear section of the center, tables are set up with hands-on experiments and activities following a monthly theme. Adults are encouraged to guide kids through this area as there can be some background information or instructions to read together. Kids can get creative and engage with the activities as instructions are informative but leave some things open to interpretation. The bathroom and water fountains are located in this area.
RELATED: Best Long Island Museums for Kids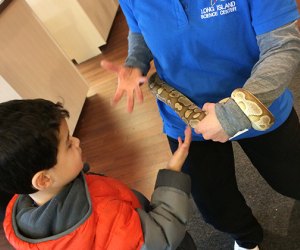 Courageous children can make friends with Seymour, the center's resident ball python.
The gift shop is located next to the check-in desk and is worth a visit before heading out. There are plenty of fun and affordable games, activities, and toys to take home to extend your science learning. Or just say hello to resident ball python Seymour, who lives in the front window of the gift shop. The educator might even do a quick presentation about Seymour and let guests who are brave enough pet him. The center's two other residents—a giant, hissing roach and Lilly the leopard gecko—are also found at the gift shop.
The center's new location is 21 North Country Road in the north shore community of Rocky Point, just off of Route 25A. From the west, take the Long Island Expressway to Exit 63 (Patchogue-Mount Sinai Road) and follow north to 25A east. From the east, take the expressway or Sunrise Highway to the exit for the William Floyd Parkway north and follow to Route 25A west.
Generally open to the public only on Saturdays from 11am to 4pm, the center will open the week of spring break from Tuesday, April 18 to Saturday, April 22, 11am-4pm, with an Earth Day theme. The cost is $7 per person and children 2 and younger are FREE. Those in pre-kindergarten to about grade 4 should appreciate the center most. Check the center's Facebook page for the most up-to-date information and monthly theme.
Top photo: A large dinosaur model greets guests in the Long Island Science Center lobby. Photos by the author.