Butterflies and Birds: Where You Can Interact with Them on LI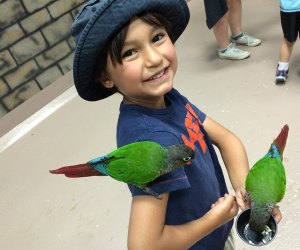 You know what they say: Birds of a feather flock together. Well, on Long Island they seem to flock to nature preserves, centers, sanctuaries, and farms. Flutter around our area and you can get up close with some beautiful butterflies, too. But don't just wing it — we have the skinny on hoo to see and where.
Need another animal fix? Visit our zoos and gardens guide. Many outdoor petting zoos operate on a seasonal schedule, opening in spring or summer, and closing in fall before the snow arrives.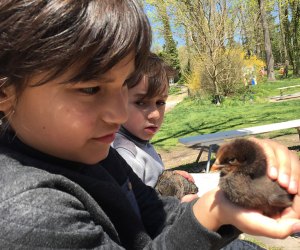 Cuddle with the baby chicks at Benner's Farm in East Setauket.
Benner's Farm — East Setauket
Check the calendar for baby animal weekends and you can cuddle up with furry chicks and more. Kids can learn how birds cuddle and care and feather their nests at one of a number of educational offerings. Also, summer camps, mommy-and-me programs, and fun on the farm programs gently introduce children to farm animals such as baby chicks. Make your way to the back of the property for an old-school tire swing experience in an open field.
Elizabeth A. Morton National Wildlife Refuge — Sag Harbor
Established in the mid-1950s, this is home to diverse habitats, including a bay-facing beach. A tip: Stop for sunflower-based bird seed on your way in and birds will nibble directly from your hand. These birds might live in the wild, but their demeanor is mild. A variety of wildlife, including white-tailed deer, eastern chipmunks, painted turtles, green frogs, songbirds, and osprey can be observed. Waterfowl, such as long-tailed duck, common goldeneye, and white-winged scoter, are common during the winter months, while piping plover, terns, and other water birds use the beach during the spring and summer months. When you're finished with the trail, enjoy a picnic lunch on a pebbled beach with sweeping views of Peconic Bay and Noyack Creek.
Hoffman Center Nature Preserve — East Norwich
This 155-acre site is a haven for butterflies, migratory birds, and more than 150 native plant species. Explore the preserve on your own or take a guided nature walk or lecture series.
RELATED: The best animal farms and petting zoos on Long Island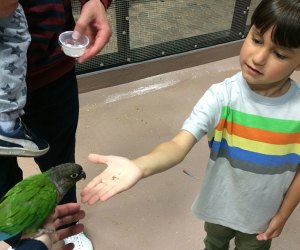 You'll have the birds eating right out of your hand at Long Island Aquarium.
Long Island Aquarium — Riverhead
Walk into the butterfly exhibit at the Long Island Aquarium and you are immediately transported to the tropics. Enjoy a warm space decorated in forest decor and a Victorian courtyard. Watch as butterflies flitter and flutter from flower to flower, while others land on you for a rest. See if you can spot the world's largest moth, the atlas moth, whose wingspan is a whopping 12 inches. But watch your step, as butterflies find the floor is just as comfy as a leaf. Stop along the path for an interactive bird exhibit, where more than 40 exotic parrots are free-flying and playful. Buy a $1 cup of food before you enter and watch them flock to you. Remain calm, because six or more at a time have been known to land on you at once, vying for precious seeds.
RELATED: State parks on Long Island worth a visit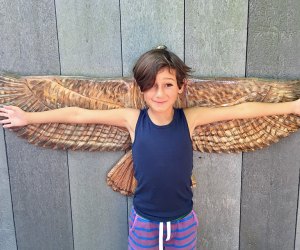 Does your wingspan compare with that of an eagle or osprey? Find out at Quogue Wildlife Refuge.
Quogue Wildlife Refuge — Quogue
Resident mallards, geese, and more greet you as you walk on the pebbled path of this 300-acre nature preserve. Marvel at the picturesque Old Ice Pond from a bench or through floor-to-ceiling windows inside the visitor's center. Peep some winged residents that require warmth indoors, but then head outside to visit other animals such as red-tailed hawks, owls, falcons, and even a bald eagle. Be on the lookout for their owl workshops. For one reason or another, these raptors have been rescued and can no longer be released into the wild. All trails are stroller friendly and there are many fun finds along the paths. Also visit the zen butterfly garden during peak summer months.
South Fork Natural History Museum — Bridgehampton
This animal- and nature-fueled natural history museum offers kids hands-on experiences and immerses them into nature. Entering the building, you're surrounded by murals of the natural works, including forests and freshwater ponds. Kids can sink their hands into the downstairs touch tank and perhaps feel a prickly sea urchin. Reptiles, frogs, and more live exhibits are available; so is an outdoor butterfly garden. Take a guided nature walk on the grounds or check out one of the more than 250 events and workshops happening year-round.
RELATED: Outdoor classrooms where kids on Long Island will love to learn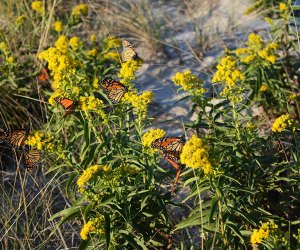 Watch monarch butterflies in migration at the South Shore Nature Center. Photo courtesy of the center
South Shore Nature Center – East Islip
Enjoy encounters with nature in a secluded setting, providing optimal circumstances for spotting wildlife such as deer, birds, and snakes. Operated by the Seatuck Environmental Association, the center has a butterfly garden, a boardwalk that meanders through marshlands, and a Native American teepee.
Suffolk County Farm and Education Center – Yaphank
The Cornell University Cooperative Extension of Suffolk County is a valuable environmental resource and working farm, offering programs in agriculture, animal sciences, STEM, and healthy living for adults and children year round. Visit the the butterfly house before also checking out the children's garden and outdoor classroom.
Sweetbriar Nature Center — Smithtown
​Providing natural science education for residents as well as native wildlife rehabilitation services, Sweetbriar is situated on nearly 55 acres of gardens, woodlands, and wetlands on the Nissequogue River. The butterfly house, a living display, is open June through September. Visitors can view butterflies in various stages of life.
RELATED: 10 great family-friendly museums on Long Island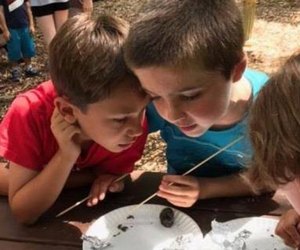 Enjoy year-round nature activities at the Theodore Roosevelt Sanctuary and Audubon Center in Oyster Bay. Photo courtesy of the New York Audubon Center
Theodore Roosevelt Sanctuary and Audubon Center — Oyster Bay
A resource offering environmental education, wildlife research and conservation advocacy, the center offers annual family-friendly events, summer programs and camps, as well as kayak explorations and overnight eco-expeditions for older kids.
White Post Farms — Melville
At Poppie's Lorikeet Landing, Australian lorikeets drink nectar right from your hand. At Ronnie's Birdie Landing, budgies are free flight and eat special birdseed sticks right from your fist: hold on tight. Note: Strollers are not permitted in the aviary, and this exhibit is subject to closure in the event of inclement weather. Additional purchase required for nectar and bird seed.
Unless noted, photos are by the author.