Online Robotics Camp
Young Gates - Kids Online Personalized Classes

Artificial Intelligence with Scratch Online Camp
Young Gates - Kids Online Personalized Classes

Spark Math: Free Trial Class
Virtual
Sign up for our free newsletters.
Destination Playground: The New Garvies Point Playground in Glen Cove Will Delight Kids of All Ages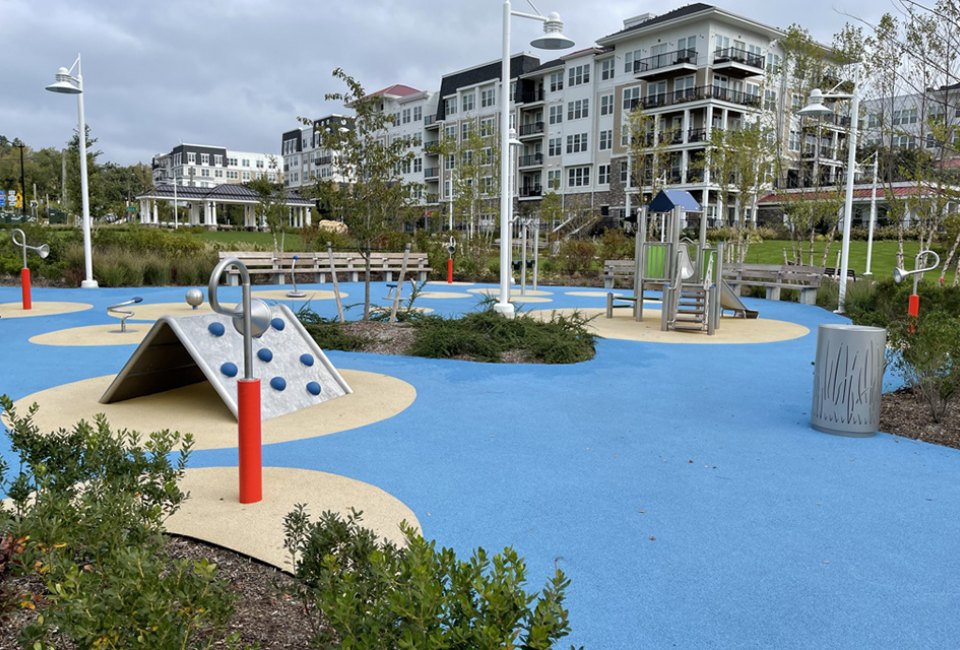 10/18/21
- By
Kristen Markel
Nestled in the charming North Shore community of Glen Cove, the new Garvies Point Playground is destined to become a family favorite. You can't miss the massive sail-shaped climbing tower, a nod to Long Island Sound, that acts as a backdrop. With all of the sights and sounds, you and your kids will love this place.
The playground is located on Dickson Street along the eastern side of Hempstead Bay and is part of a $1.3 billion, mixed-use development. The area has been completely revitalized from idle industrial lots to a vibrant place to live and play.
Read on for our review, and see our guide to Long Island parks and playgrounds for more outdoor inspiration.
Subscribe to our newsletters to get stories like this delivered directly to your inbox.
Visiting Garvies Point Playground in Glen Cove
In 1827, Dr. Thomas Garvie worked with Cornelius Vanderbilt to establish a steamboat service between New York City and Glen Cove. His vision was to create a resort community where wealthy families could build estates. While many families built large homes nearby, over time this neighborhood turned into an active industrial area. That's all changed.
High-rise apartments, green space, and the playground now stand in land vacant since 1985, when the last remaining factory closed its doors. The development plan began in 2002, and after several setbacks, it's now nearly complete. Based on the current state, it was well worth the wait. This area has something for everyone.
RELATED: The Best Children's Playgrounds on Long Island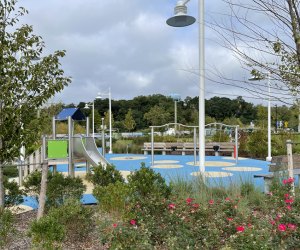 Thrill to the spinning discs and other structures.
Garvies Point Playground has two sections. One is appropriate for older kids, with a climbing sail, climbing ropes, and spinning discs. The other section has smaller structures perfect for toddlers. Benches surround the perimeter so parents can take a break while children play. The whole area is open, so it's easy to keep a watchful eye. If you need a restroom, there's a comfort station with clean family rooms near the ferry building that's a short walk away.
It's easy to turn this visit into a whole day. Kids can play ball or tag on the sprawling lawns or pack scooters and travel along the paved trail. Fido can even join in the fun as a dog park is part of the development, too.
RELATED: 15 State Parks on Long Island Worth a Visit

Take a break from the fun and enjoy lunch by the picnic tables.
There are several areas with lounge chairs along the waterfront where little ones can rest tired legs. If you want to pack a lunch, enclaves with tables and chairs dot the area. Our favorite is the covered gazebo near the Beacon Condominiums as it provides respite from the sunny playground. Be sure to pack a hat and sunscreen since the park doesn't have much other shade.
If you want a local spot for food, try Brendel's Bagels & Eatery. It's within walking distance. If there is time after playing, explore the restaurants, beaches, and the rest of what Glen Cove has to offer families. If you have a dinosaur lover in your midst, Garvies Point Museum and Preserve must be on your list.
The playground's address is 85 Dickson Street in Glen Cove. There's plenty of ample free street parking.
RELATED: The Best Playgrounds for Toddlers on Long Island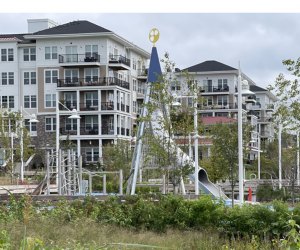 The playground's signature attraction: a high-climbing tower slide. ​
How to Get There
The playground is located about 8 miles northwest of Long Island Expressway Exit 41 North (Routes 106/107). Follow Route 107 North into Glen Cove. Turn left on Herb Hill Road and follow to the traffic circle at Dickson Street.