Where to See 4th of July Fireworks on Long Island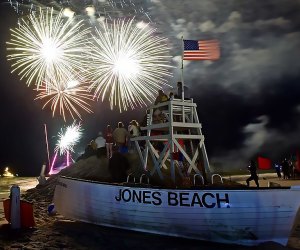 Summertime is here, and the big Independence Day holiday weekend is almost upon us, bringing with it a stunning array of fireworks across Long Island. Whether you plan to celebrate at a favorite beach or are heading out to the ballpark, we've found plenty of sparklers worth seeing, both over the holiday weekend and on other summer evenings.
So don your red, white, and blue and head out to one of these displays. You'll find more ways to celebrate the season in our Summer Fun Guide. We're also keeping our eyes on the skies for more explosive displays to add to our constantly-updated Activity Calendar.