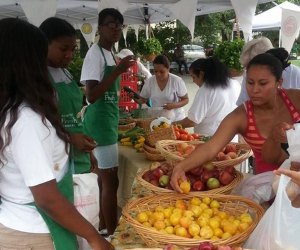 It's Farm-to-Table Fresh at These Great LI Farmers' Markets
There's something about a farmers' market that inspires even the pickiest eater to try something he or she otherwise would not. Perhaps it's the fun of meeting a farmer, the spectacle of all the bold, colorful displays of produce, or maybe it's simply the freedom of an outdoor market filled with delicious aromas and live music.
Spring is the traditional opening of farmers' markets across Long Island. So we've rounded up markets from Nassau, Suffolk, and the East End sure to supply you and your family with delicious locally grown fruits and veggies, as well as inspiration for how to prepare them once you get home. Bring reusable bags so you and the kids can comfortably tote your bounty. Bring your appetite, too: You'll want to snack while you shop.
Times are as of May 2018. But be advised: Times and locations can change, and inclement weather can postpone markets. If you're traveling some distance, call ahead or check websites before heading out.
For more outdoor activities as the weather warms up, check out our Summer Fun Guide.
LI Greenmarket — Great Neck
125 Community Drive
July-late October
Sundays, 9am-2pm
New Cassel Farmers' Market — Westbury
212 Garden Street
July-November
Saturdays, 11am-4pm
​RELATED: Strawberry fairs and festivals on Long Island
​

The New Hyde Park Farmers' Market has plenty of cherries for the choosing.
New Hyde Park Farmers' Market — New Hyde Park
1441 Jericho Turnpike
June-November
Saturdays, 8am-1pm
Port Washington Organic Farmers' Market — Port Washington
Town dock, Lower Main Street
June 9–October 27
Saturdays, 8am–noon
The market was founded by Grassroots Environmental Education and says it is the only 100 percent organic farmers' market in New York State.
Roslyn Farmers Market — Roslyn
Christopher Morley Park
June 6-November 21
Wednesdays, 7am-1pm
This farmers' market is also a great place to bring the kids. The park is located just north of the Long Island Expressway at Searingtown Road and boasts playgrounds, a swimming pool, and hiking trails.
Suffolk County
Farmers Market at The Arches — Deer Park
152 The Arches Circle
June 2-October 27
Saturdays, 10am-3pm
Stop by the market at the fountain in the piazza and shop from more than 20 local vendors selling fruits, vegetables, baked goods, and wine.
Kings Park Farmers' Market — Kings Park
Municipal lot at Route 25A and Main Street, across from the fire department
June 3-November 18
Sundays, 9am-2pm
This market, supported by the Kings Park Civic Association, features cooking demonstrations and other periodically scheduled local events.
RELATED: The best animal farms and petting zoos on Long Island

During a break in shopping, why not feed a bunny at the Riverhead Farmers' Market?
Riverhead Farmers' Market — Riverhead
Town of Riverhead parking lot in Riverfront area
Saturdays, 9am-2pm
Sag Harbor Farmers' Market — Sag Harbor
Corner of Bay and Burke streets
Through late October
Saturday mornings
Fresh local vegetables, eggs, artisanal cheese, wines, honey products, homemade pies and pasta, local seafood, pickles, herbs, and more are all available.
Shelter Island Farmers' Market — Shelter Island
Havens House Museum and Grounds, 16 S. Ferry Rd.
May 26-September 1
Saturdays, 9am-12:30pm
Vendors sell local produce, flowers, herbs, breads, pies, pickles, cheese, and more.
Shiloh Community Farmers' Market — Wyandanch
New Shiloh Baptist Church, 221 Merritt Ave.
July-October 3
Saturdays, 1-4pm
Southampton Farmers' Market — Southampton
25 Jobs Lane
May 27-October 7
Sundays, 9am-2pm
Westhampton Beach Farmers' Market — Westhampton Beach
Village Green
Through late October
Saturdays, 9am–1pm
The market, relocated from its former Mill Road location, hosts more than 40 vendors, growers and producers, providing locally grown, caught and homemade items such as cheese, eggs, fish, vegetables, berries, sauces, herbs, and more.
Village Farmers' Market — Babylon
LIRR parking lot, Railroad Avenue just west of Deer Park Avenue
June 3-November
Sundays, 8am-1pm
Photos courtesy of the markets.
A version of this article was originally published in 2013. It was updated in May 2018.