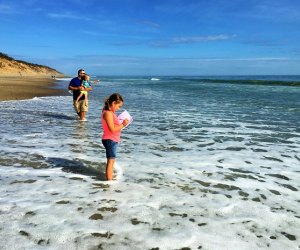 Exploring the Cape Cod National Seashore
Wondering where you can sink your toes into a 40-mile stretch of sand featuring some of the most beautiful beaches in the world? Look no further than Cape Cod. Of course, as a New Englander, I may be biased, but only slightly. Without dispute, the waves, ponds, marshes, and dunes that comprise the Cape Cod National Seashore are magnificent. Add biking and hiking trails, historic landmarks, old lighthouses, wild cranberry bogs, miniature golf, and delicious ice cream parlors, and you have a recipe for coastal adventure and lifelong memories.
From Provincetown, to Chatham, to Woods Hole, Cape Cod is filled with excitement and beauty, and though most consider the Cape a summer destination, it is just as stunning (and less crowded!) in the fall. Recently, my family visited the area with one goal in mind – exploring the National Seashore. My children are on a quest to collect as many junior ranger badges as possible, and behold, the National Seashore offers a Junior Ranger program. We spent two full days on the Cape and filled the time with adventure, environmental awareness, historical lessons, and, of course, fun.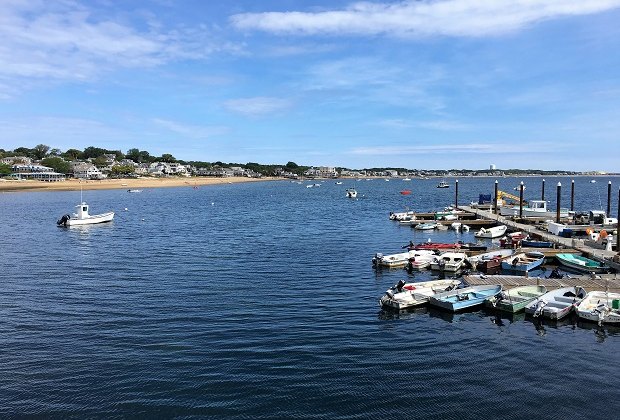 Provincetown features sprawling views, delicious eateries, art galleries, and whale watching opportunities.
We began the journey at the Salt Pond Visitor Center (open year-round) where watching the documentary "Cape Cod: The Sands of Time" was worthwhile and offered a brief glimpse into this coastline constantly sculpted by the forceful Atlantic Ocean. Take a few moments and peruse the displays, but, if you find yourself hungry and craving seafood, don't leave the area until you feast at Arnold's Lobster and Clam Bar (it also features a mini golf course and an ice cream parlor, so you might spend more time here than anticipated). Once bellies are full, prepare to feast your eyes on more than a dozen beaches carpeted in soft sand and thunderous waves. Some you will probably glance at from a distance, but others will inspire you to linger.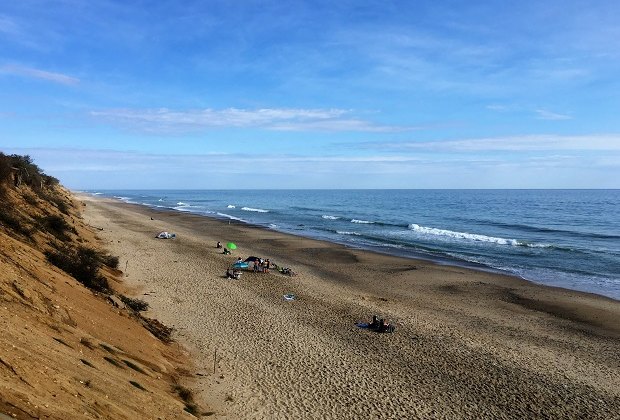 Nauset Light Beach is frequented by visitors and herds of seals.
Nauset Light Beach was one of our favorites; here, a herd of curious seals unfazed by swimmers provided entertainment by bobbing in the waves just a few feet off shore. The stretch of steep glacial scarp containing the beach is stunning, but be prepared to descend many stairs. Do not leave the area without visiting the nearby Three Sisters Lighthouses and Nauset Light, which was rescued from the edge of an eroding cliff some 30 years ago and serves as the logo for Cape Cod Potato Chips (more on that later).
If you love lighthouses, do not miss the Highland Light; there is no beach access from here (the cliffs are closed due to dangerous erosion), but the lighthouse, the tallest and oldest on the Cape, is a must-see and a 69-step climb will reward you with sprawling views (note that, for safety reasons, children must be at least 48 inches tall to climb the lighthouse and flip flops are not allowed).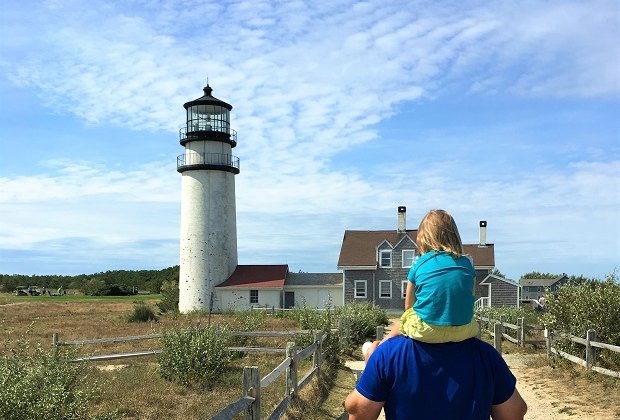 Cape Cod is anchored by 16 lighthouses. Highland Light is the oldest and tallest.
One of the destinations most preferred by my children was Race Point Beach, probably because a pod of Orcas was putting on a splashy display a few miles from shore. Beachgoers and boaters alike stopped to take note of the awe-inspiring power. Here you will also find the Old Harbor Life-Saving Station Museum, where during a ranger-led program, the kids loved handling life-saving equipment used in the past and hearing stories of dramatic water rescues.
A day of sightseeing will no doubt leave you sleepy, but worry not. Accommodations abound on the Cape, including hotels to fit any budget. One rated among the most family-friendly is The Escape Inn in South Yarmouth. An overnight stay includes complimentary breakfast and - another bonus at the end of a beach-filled day - the inn is located a short distance (about 0.2 miles) from Cape Cod Creamery where some 30 flavors will compete for your taste buds.

For those who love to sleep under the stars, quite a few camping choices are available. Adventure Bounce Camping Resorts in North Truro, and Paine's Campground in Wellfleet put you in close proximity to the National Seashore and Provincetown. My family also wanted a chance to explore the Falmouth area, so we pitched our tent for two nights at Cape Cod Campresort and Cabins; we found clean bathrooms (with showers), three swimming pools (for children and adults), a small private beach, a playground, a sports field, and a game room-equipped clubhouse. But for those not quite ready to spend the night in a tent (RVs are welcome), the campground also offers cabin and cottage rentals.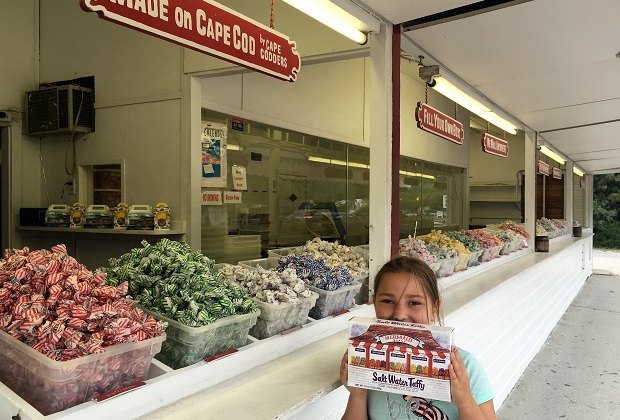 The Cape is a sweet place to be, featuring many ice cream parlors and in this case, 31 flavors of taffy.
From the Falmouth area we had easy access to Hyannis, where we visited the John F. Kennedy Memorial and Cape Cod Potato Chips (closed on weekends). If you have time to spare, the free, self-guided tour takes only about 15 minutes and is a hit with children. Large windows provide views onto the factory floor and the visit concludes with a small bag of chips (also free). If you are looking to end a day by watching a sunset, you will have time to drive to Nobska Lighthouse in Woods Hole. From here, you can also catch a ferry to Martha's Vineyard, but that's another getaway in itself.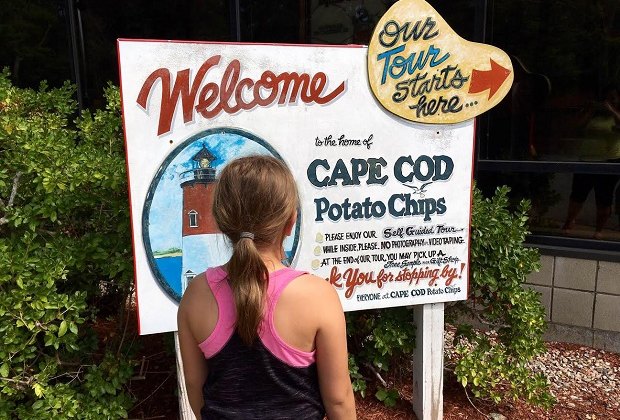 Visiting the Cape Cod Potato Chips factory is quick, fun, and free.
The Cape offers endless opportunities for adventure and a three-day weekend is a great start. The children spent hours collecting seashells, inspecting horseshoe crab remains, indulging their sweet tooth, and trying to spot an elusive Great White Shark (maybe next time). My family looks forward to returning, learning more about this diverse and beautiful peninsula, and maybe, just maybe, catching more glimpses of majestic sea creatures putting their personalities on display.
Photo credit: all photos are courtesy of the author. Top image depicts Nauset Light Beach.