These Hotel Pools Will Wow the Kids on a Family Vacation
8/17/19
- By
Elaine Paoloni Quilici
When you have kids, finding a hotel with an awesome swimming pool is usually right at the top of the vacation-planning list. After a long day of activity, you can kick back and watch them splash around at the hotel pool. On a rainy day, hotels with indoor swimming pools will be a saving grace. While most kids will be satisfied with any hole that contains water, impress them with something unique to make that next family vacation one that they won't soon forget.
Here are some of our favorite U.S. hotels with pools sure to satisfy the whole family. We've included both outdoor hotel pools, indoor options, and even those hotels that let you swim in the pool without staying there overnight. The options run from a Las Vegas hotel pool to a Texas-shaped rooftop pool in Houston to a day-pass-friendly NYC hotel pool.
For more vacation ideas on where to stay, check out our Hotels & Resorts Guide.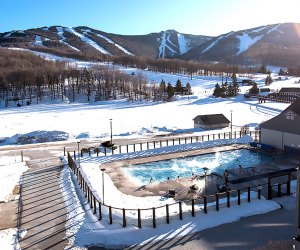 Swimming in an outdoor pool surrounded by snow is a pretty cool experience for kids and adults at Killington Grand Hotel.
Northeast Hotel Pools Worth Visiting with Kids
1. Killington Grand Hotel — Killington, Vermont
The winter experience at this slope-side Vermont resort is hard to beat. Ease into the heated pool indoors, then swim through a plastic barrier into a steamy 75-foot outdoor pool. Kids will have a blast jumping from the snow piles into the pool. They'll also get a kick out of people wearing ski caps in the pool. The view of the Killington ski resort towering above makes it picture-perfect.

Don't miss out on the morning family swim at Dream Downtown NYC.
2. Dream Downtown — New York, New York
You have to be an early bird to enjoy the 50-foot heated pool at this trendy NYC hotel: Kids staying the night are welcome to swim from 8am to noon, but after that, there's an adult atmosphere and no-kid policy. But it's worth the wake-up call. Glass portholes on the bottom look down onto the lobby, and there's a mini sandy "beach" with lounge chairs sure to win over the kids.
RELATED: 19 NYC Hotels with Special Perks for Kids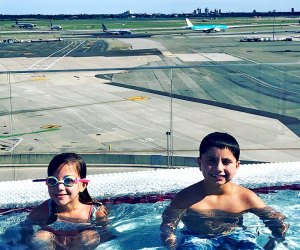 The TWA Hotel pool at the JFK Airport is open to day-trippers and offers a unique view. Photo by Daria Marrero
3. TWA Hotel — Queens, New York
Here's another great New York City hotel pool, but this one dwells at the airport, rather than downtown. The just-opened TWA Hotel at JFK Airport easily claims one of the more unique pools on this list. Its rooftop hosts an infinity pool that treats swimmers to a view of the tarmac at the city's busiest airport. The hotel is literally connected to the airport via an elevator at Terminal 5, making the pool the perfect stop for layovers. Yes, it's open to day-trippers, including kids, but families will need to book a reservation to swim in the pool if they aren't staying the night. One visitor told us the pool can get crowded but her tween plane enthusiasts dug the location.

The Biosphere Pool Complex Biosphere Pool Complex includes a 140-foot waterslide, Jacuzzi, and an underground aquarium.
4. Crystal Springs Resort — Vernon, New Jersey
You can find a lush pool atmosphere year-round at the Grand Cascades Lodge at Crystal Springs. The resort's 10,000-square-foot tropical Biosphere Pool Complex features a heated indoor pool with a retractable roof, outdoor pool, a 140-foot waterslide (must be 48 inches to ride), underground aquarium, and Jacuzzi cave. It's a great family getaway that's just an hour outside of New York City. The surrounding area includes ski mountains, nature trails, riding, and more, while the resort offers endless kids' activities, such as movies, sports and lawn games, shows, and more.

Kids and parents love the zero-entry pool at the Fontainebleau Miami Beach.
Southern Hotel Pools That Sizzle
5. The Ritz-Carlton Reynolds, Lake Oconee — Greensboro, Georgia
Slip into the resort's heated outdoor infinity pool and you might not be able to tell where the pool ends and Lake Oconee begins. A separate, shallow children's pool will keep little ones entertained. There's also an indoor pool with family swim time from 3-7pm daily.
6. Fontainebleau Miami Beach — Miami, Florida
This perennial family favorite Miami hotel knows how to entertain kids under the sun, particularly with its 11 "pool experiences." Parents of little ones will love the 18-inch-deep zero-entry pool, while big kids will head straight for the water slide (48-inch height requirement) and spray canopy. Additional dipping pools and the hotel's iconic bowtie pool with waterfalls keep the whole family cool.
RELATED: 25 Fun Things to Do in Miami with Kids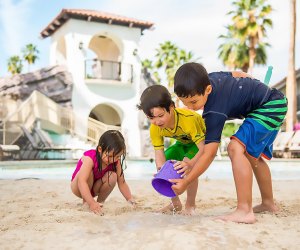 Omni Rancho Las Palmas Resort & Spa's Splashtopia has a sandy beach, water slides, a lazy river, and more.
Hotel Pools Out West That Outshine the Rest
7. Marriott Marquis Houston — Houston, Texas
How do you go on vacation to Houston and tell your friends you traveled around the entire state? Easy, stay at the Marriott Marquis. The hotel has a rooftop lazy river in the shape of the great state of Texas. The outdoor, heated waterway is open to guests under age 16 if they're accompanied by an adult. The hotel also has an infinity pool (only accessible to kids before 6pm) that offers impressive city views.
8. Omni Rancho Las Palmas Resort & Spa — Rancho Mirage, California
This hotel's kids pool, known as Splashtopia, features a 425-foot lazy river, two 100-foot water slides (42-inch height requirement), a sandy beach, and plenty of fountains and sprinklers to splash around in. Daily poolside games and movies every night make it a real oasis in the desert.
9. Tahiti Village — Las Vegas, Nevada
You don't need to stay on The Strip to entertain kids in Las Vegas. Head to this Polynesian-themed resort that features an acre-sprawling pool and lazy river with sandy beach entry, waterfalls, tiki torches, pool volleyball, year-round pool activities, and summer luaus.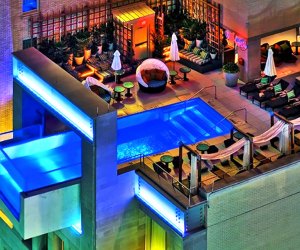 At The Joule in Dallas guests can swim hanging out over the edge of the building.
10. The Joule — Dallas, Texas
Daredevils will get a kick out of hanging eight feet over the edge of the hotel building, 10 stories up, thanks to a clever cantilever design by Adam Tihany. The outdoor, heated pool at this Dallas hotel has a solid bottom but plexiglass wall, allowing swimmers to check out surrounding skyscrapers and the street below. It is closed during the fall and winter.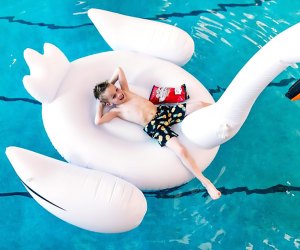 Summer "dive-in" movies at the InterContinental Chicago Magnificent Mile come with complimentary floats.
A Swanky Midwest Indoor Hotel Pool with a Day Pass Option
11. InterContinental Chicago Magnificent Mile — Chicago, Illinois
History abounds at this regal indoor hotel pool in Chicago that was once a men's athletic club. Built in 1929, the junior-sized Olympic swimming pool features classic architectural details and a grandstand where parents can sit if they don't feel like getting wet. Summer "dive-in" kid-friendly movies come with complimentary popcorn and floats that are fun for the whole family.
Photos courtesy of the hotels except where noted