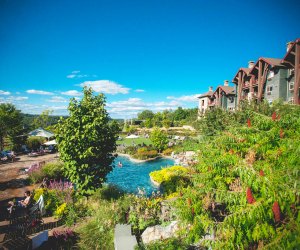 Crystal Springs Resort: Two NJ Hotels Host Mountains of Family Fun
Sometimes, it's all about the location when you travel. Exploring new areas of your state or country are exciting. But other times, it's all about the amenities. When you pack two sister resorts full of skiing, snow adventures, water play, and spa options, there's really no need to go past the grounds—which is the case with Crystal Springs Resort in northern New Jersey.
Read on to discover everything you need to know about Grand Cascades Lodge and Minerals Hotel, and if they're right for your family.
Find more vacation destinations in our Family Resort Guide, which is packed with reviews.
You'll find Crystal Springs Resort located in the picturesque Kittatinny Mountain range of northern New Jersey. Its two properties, the Grand Cascades Lodge and Minerals Hotel, boast a variety of amenities for families, couples, and group getaways. They're set a mere three miles apart.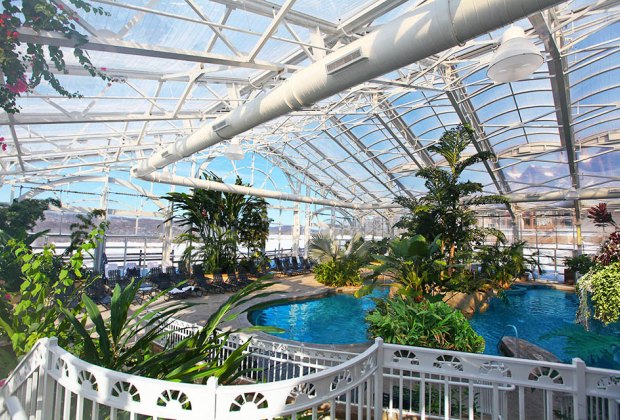 With its lush tropical foliage the Biosphere Pool at Grand Cascades Lodge truly seems like a world away from home, especially in the winter.
Grand Cascades Lodge
As you approach the stone facade of Grand Cascades and enter the Adirondack-style lodge, you can't help but feel like you should have ski gear on. We don't ski, but that didn't stop us for visiting this luxurious resort for three days in late December. Instead we sat by the roaring fireplace near the entryway, a welcoming spot that served as a good meeting point for our group throughout our stay. High ceilings, massive dark wood beams, and hilly mountaintop views immediately put you in a "lodgey" state of mind.
We opted for a one bedroom suite, equipped with a living room, fireplace, balcony, full kitchen, free-standing Jacuzzi tub, and quite possibly my favorite amenity: a washer/dryer. It was only $30 more per night compared to a regular room. Not having to do all that dirty laundry when we got home made it worth every extra penny. The suite also offers separate sleeping quarters for the parents and kids, which meant a little more privacy and no tiptoeing around beds in the pitch dark. Now that's a family vacation win!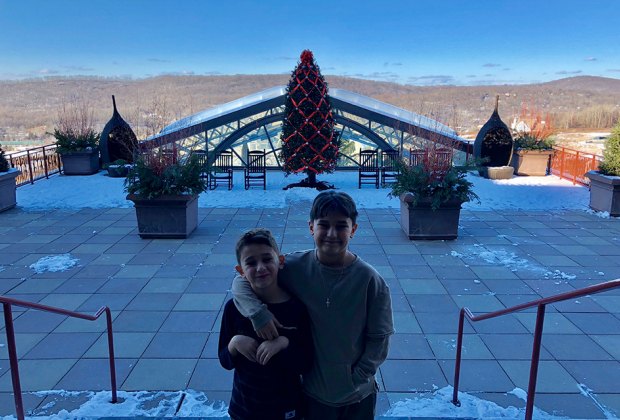 Go for hike or take a leisurely walk on the on the sprawling and scenic grounds. Photo by the author
The grounds are sprawling, so be ready to walk. There is a small arcade, and on Saturday afternoons there is a free show. We saw two different interactive animal presentations. Bonus: There was FREE craft beer and wine tasting in the room right next door. There was also someone making balloon creations for free. In the evening, we chose the buffet, which also offered a magic show. We notified the concierge that we were celebrating my son's birthday and they involved him in the show! It was an incredible, memorable experience.
The highlight of our stay was definitely the biosphere, an indoor pool complex complete with an aquarium and caves. We explored and had so much fun in the waterfalls while waiting for the 140-foot waterslide to open at 10am. The unique glass enclosure really made you feel like you were outdoors. And ironically enough, outdoor access was just a dip away! We stepped through a car wash-style door and there we were, steaming among the snow and mountains in the hot springs pool. The kids couldn't get enough of this outdoor spot in the icy weather. I'm sure it's a dream come spring and summer, too!
RELATED: 23 Best All-Inclusive Family Resorts in the US and Caribbean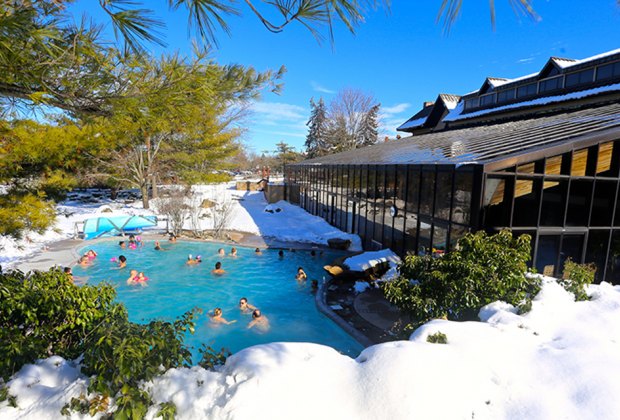 Swimming outside in the winter snow pool is a huge hit with kids!
Minerals Hotel
A few miles down the road and accessible by car or resort shuttle, Minerals Hotel is a recreation-rich facility, perfect for the sports/fitness enthusiasts. We caught the last portion of a kids racquetball match and then headed into the basketball court for some archery tag (foam heads, not spears!). There is also an indoor track, three indoor/outdoor pools, hot tubs, and a children's water play ground in the summer. Note: Some activities cost extra.
Not to be outdone by the Grand Cascades biosphere, Minerals boasts a large indoor pool that also connects to an outdoor hot spring. This glass-and-beams-enclosed pool area was larger than Grand Cascades and did not have a slide but was equally fun. There is also a sauna and steam room to chase away the chills.
Because we were guests of Grand Cascades, we had full use of the Minerals grounds/pools. But it's not vice-versa. Evening entertainment, including game shows, illusionists, magicians, and more is FREE when you stay at Minerals, which offers deluxe, luxury, and presidential suites.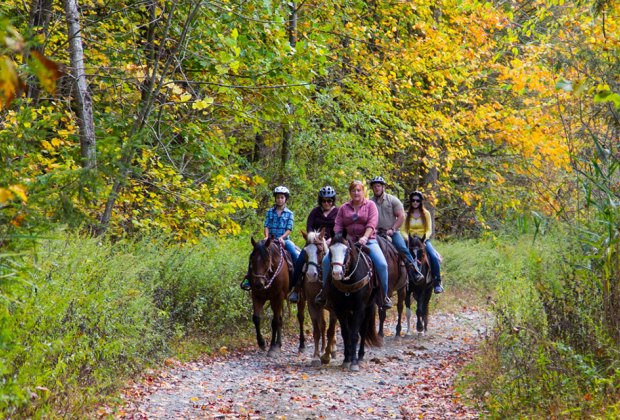 Take a horseback ride on the beautiful trails.
Adventure Center
Between both accommodations, there is year-round, four-season fun, including fishing, paddle boarding, hiking, archery, golf, kayaking, and more. While horseback riding trails are available, complimentary pony rides are hosted by both resorts on Saturdays. In the winter, skiing, snowboarding, and tubing activities are just a quick jaunt down the road at Mountain Creek, and a lift ticket is even included in some packages. Mountain Creek excursions also include an adventure ropes course, zip line, and full water park in the summer. The concierge was more than wiling to help us book any activity and offered spot-on advice for our family's stay.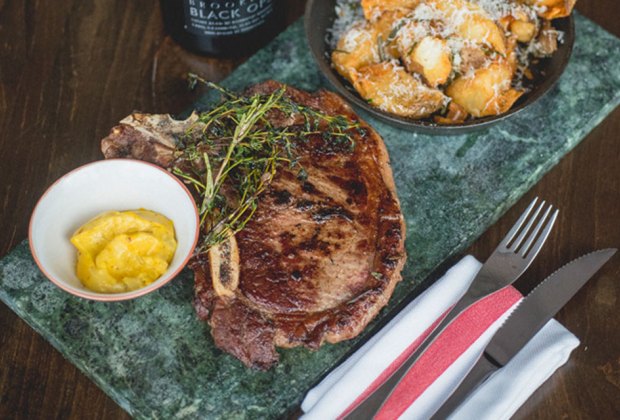 Simple yet delicious American cuisine, like steak and potatoes are on the menu at Kites American Grille.
Dining
With nine restaurants between the two resorts, plus the option of cooking and eating in your suite, there is no need to go off-resort to dine. At Minerals, Kites American Grille is your best bet, with a separate kids' menu that even includes a gooey Nutella sandwich. They have fun desserts and give the kids crayons to keep busy while waiting.
At Grand Cascades, the buffet-dinner-plus-a-show is a family's best bet. It includes unlimited trips and the kid-friendly foods are separate. For a sit-down option, Crystal Tavern has American-style fare that's fancy enough for the adults and plain Jane enough for the kids. It offers separate kids' menus for breakfast, lunch, and dinner. It's also ideal for its small-plate style offerings, which means more tasting options. Got a sitter? Hit up Latour, a four-star restaurant with an award-winning chef, which has been profiled numerous times, including by The New York Times.
Not to be overlooked is the cafe at the Grand Cascades biosphere for its quick bites, such as sandwiches, salads, and gelato.
RELATED: Top Family Resorts in the Pocono Mountains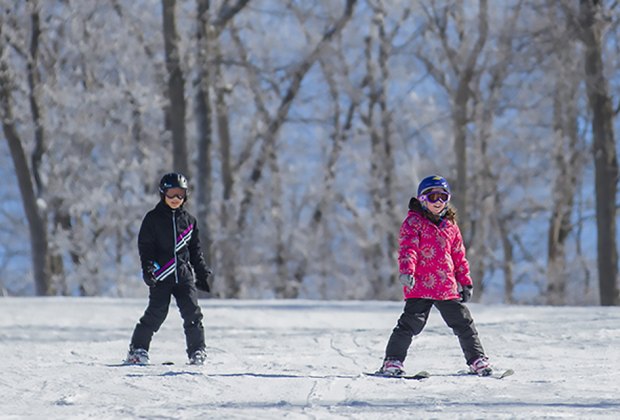 Hit the nearby ski slopes in the winter or the zip line in the summer.
If you're planning a stay, two nights is ideal to fully utilize both resorts. If you're hitting the slopes, possibly even three days. Peruse the package offers. I did the math and one of them turned out to be well worth it for our family. Arrive early and let the bellhops hold your stuff. Fill a backpack with some necessities and get exploring. Or hit the mountain for snow fun. We roamed the grounds, saw a mini show, had balloon hats made, and went for a quick swim all before our room was even ready. The locker rooms were ideal for our needs, shuffling in-between locations. They even had those lovely bathing-suit-water-extraction devices so you weren't carrying around sopping wet clothes! The kids, of course, opted to use the lodge robes to walk to/from the biosphere. It created quite the Home Alone-esque scene.
Unless noted, photos courtesy of the resort