Disney Cruise to Alaska? 12 Things To Know Before You Go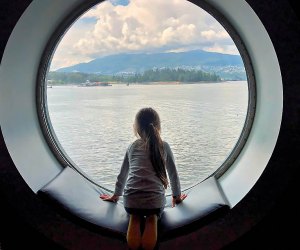 A Disney Cruise is a memorable experience for any kid (or, really, any grown-up) whether the ship stops in the Bahamas, Europe, Jamaica, or some other exotic port—like Alaska. My family recently cruised Alaska Disney style, and if you're considering this particular Disney Cruise, I have a few tips that should make your vacation even more magical.
1. Pack Shorts
Because we had previously visited Alaska in summer (granted, more than a decade ago, but still), we thought we were prepared. We packed a carry-on suitcase with nothing but parkas, made sure everyone had a hoodie, and planned to layer. Perfect, right? What we didn't expect was that Alaska would be going through a heat wave. It was 80 degrees and sunny more often than it wasn't, and the week after we left temperatures soared to 90 degrees—so shorts really would have been a necessity. Even if you don't think you'll need them, it's not a bad idea to pack a pair. You can always wear them to the gym (hey, you never know).
2. You Can Eat Healthfully...
Disney goes above and beyond to accommodate dietary requests, making sure every kid and adult on the ship gets some of their favorites. Travelers from China found congee, fried rice, and other Asian staples at the buffet. As tempting as it might have been to eat macaroni and cheese, french fries, and chicken fingers every day (my kids certainly did), more than anything, I wanted to eat my veggies. Luckily, steamed vegetables were always available at lunch, and veggie-forward side dishes changed daily. Crab claws and boiled shrimp were also daily lunch items.
3. Give Yourself Some Adult Alone Time
We decided to eat at Palo, the adults-only dining experience that comes with an extra charge of $40 per person. Given that you've already paid for all-you-can-eat dining, it's tempting to write off Palo. Don't. The food is phenomenal, the service sublime, and you may just enjoy the chance to have a kids-free date night with your significant other while at sea. The only downside is that it's a whole lot harder to go back to the more boisterous family dinner restaurants afterward.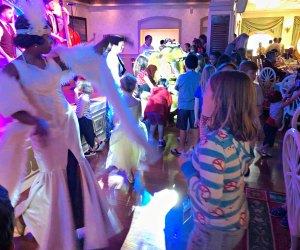 Disney Princesses love a good cruise.
4. Meeting "Characters" Is a Breeze... Sometimes
Disney conveniently sends out a schedule of when and where you can find all sorts of characters on the ship for meet-and-greets. We found that a few characters were sparsely attended. Belle, seemingly forgotten on one day we were on the ship, spotted my two kids walking by and happily waved them over. As a rule, if a character can easily be found at Disneyland or Disneyworld, the line to meet them (if there is one) is more manageable. But if someone is a rare sighting, the lines (and wait) can be long. My kids were eager to meet Tinkerbell, a Disneyland unicorn, before the early magic show, but the wait stretched past half an hour. Dad held down the fort while I snuck off to see some exceptionally good magic. In the end, the kids said Tinkerbell was well worth the wait.
5. Pack Your Running Shoes
Yes, there is a workout room, and after a few days (especially if you hit the self-serve, soft-serve ice cream with any frequency), you may actually want to use it (though note that it's strictly 18 and over). Even better, Disney has marked how long the length of the ship is, so joggers and walkers can hit their mileage. I saw more than a few joggers running on the 4th-floor deck, and it wasn't a bad choice for a leisurely stroll, either.

With or without Disney, Alaska is just amazing. Photo by Kent Phillips
6. Your Kids May Not Want to Leave the Ship and That's Okay
If you don't have a fun excursion planned, your kids may be reluctant to leave behind the fantastic swimming pools and play centers in order to wander around Juneau, Ketchikan, or Skagway. Don't worry that your little ones will be missing out on any excitement if they opt to stay on board the ship. Wandering around the immediate areas near the ports isn't much fun unless you're in the market for souvenirs and jewelry. And sometimes you can see seals, whales, and glaciers from the boat.
7. There Are Worse Places for Kids to Be Sick
While Disney goes to great lengths to make sure everyone washes hands a lot (and even recommends you take a paper towel to grab the handle of the bathroom door before you exit), no one can can do much about a kid catching something somewhere along the way (I'm guessing the airport). Both my kids got sick, which meant staying in the room for two days. Since Disney has recent movies available on the room TVs (my kids were happy to watch Spider-Man: Into the Spider-Verse again) as well as old favorites ranging from Snow White to Lady and the Tramp, they didn't mind the downtime.
8. Don't Forget to Pack Costumes (and Hairspray)
Plenty of parents book appointments at the Bibbidi Bobbedi Boutique, where prices range from $55 to $595 for hair, make-up, and (with the pricier packages) a complete costume with shoes, dresses, and more. But because my kids have a ridiculous number of wands, tiaras, and princess dresses, I figured I could muddle through a bun or braid myself. Were my results as flawless? No, but my kids were a surprisingly convincing Anna and Elsa (and, at other times, Jasmine and Rapunzel) without having to shell out for a hairdo that was going to be rinsed away in the pool in an hour.
9. Definitely Bring Swimsuits
It may seem ridiculous to swim during a trip to Alaska, even in summer, but Disney heats the pools if outdoor temperatures fall below 75 degrees, so the water is always fine. Kids don't seem to mind a nip in the air, and the pools were always busy, even on the coldest days.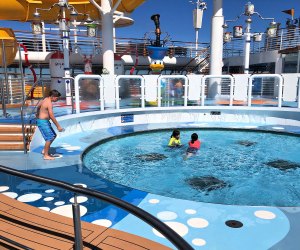 Cruise ship pools are always inviting.
10. Grown-Ups Can Get Peace and Quiet (Really)
Adults don't have to feel they're stuck watching their kids run back and forth between the Aquaduck waterslide and Pinocchio's Pizza (conveniently very close to each other, by the way) all day, especially if they choose to disappear into the Oceaneer's Lab, the Oceaneer's Club, or the spots for older kids (The Edge and Vibe) where Disney team members watch over them. The Cove is a coffee bar for adults, and the pool next to it is also just for grown-ups. It's remarkably quiet, and if you're itching to get away (or even go for a swim or soak in the hot tub), it's a great escape. There's also a bar. Enough said.
11. Remember Your Passport and Photo ID
While this is a cruise to Alaska, sometimes that can also mean crossing into Canadian territory. When you leave the ship, make sure you have proper identification. During one Alaska outing, we were asked for a photo ID before returning to the ship, which we didn't have (the security guard apparently thought we didn't look too dangerous and waved us through). While we lucked out, cover your bases.
12. Single Parents Can Connect
Disney makes a special effort to make sure singletons and single parents don't feel like outsiders on the cruise. Quite a few gatherings for both were on the schedule. What better way to meet another diehard Disney fan?
Disney has cruises down, and our Alaskan adventure certainly exceded all expectations.
Photos by author unless otherwise noted