Star Wars Day at Sea Aboard the Disney Fantasy: Could a Cruise Be Any Better?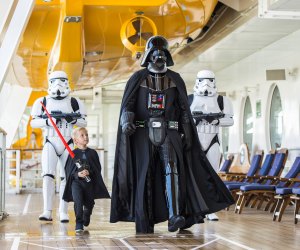 A long time ago (early January), in a galaxy far, far away (Florida), I had the pleasure of embarking on a thrilling voyage: Star Wars Day at Sea, aboard the Disney Fantasy. My spouse is an Imagineer who worked on creating the Day at Sea, so our lucky toddler and I got to tag along. Just call us the Death Star... cuz we had a blast.
A Disney Cruise is unforgettably magical, but if I'm honest, I never thought I would be a "Cruise Guy." However, after becoming a parent, particularly a parent who travels a lot with his toddler, I found the joyous relief of someone else taking care of everything. It means I don't need a vacation after my vacation. The Fantasy is a seven night sailing that journeys to Cozumel, Jamaica, Grand Cayman, and Mickey's Island of Castaway Cay (my favorite). In between are two days at sea—one of which is the aforementioned Star Wars theme.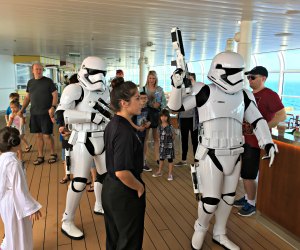 Photo by author
Beyond the Star Wars shenanigans, my two favorite parts of any Disney Cruise are the "rotational dining" system and the childcare. Breakfast and lunch are at the immense and well-stocked Cabanas buffet, but dinner is served at three different sit-down restaurants, which guests are assigned to every night. Besides the wonder of sitting down to a menu with no prices and having the server encourage you to "order two entrees! Order all the appetizers!" the real brilliance is that your server stays with you for the entire cruise. That means no repeating that you're gluten-free or like lemon with your water; your server learns your preferences the first night. The food is plentiful and ranges from great chicken fingers to truffle-laced pastas and elegant souffles. And on Star Wars night my table ordered literally every dessert. Because that's our right as cruisers.
We all love our kids, but by my estimates, 100% of us could use a break. Luckily, Disney takes childcare to the next level. I can't tell you how many times I saw kids running down the hallways, screaming how excited they were to go to kids club, or crying when they had to leave. The Oceaneer's Club and Oceaneer's Lab are for kids 3-11, but they're so cool I saw a lot of adults going in during open house to play. On the Fantasy the Oceaneer Lab features a functioning Star Wars Rebel Base complete with talking BB-8. It also has Dr. Strange's Sanctum Santorum, packed with Marvel toys and gadgets, and Andy's Room from Toy Story, which is opened up daily for toddler time. My toddler couldn't get enough of the enormous RC car, the numerous Mr. Potato Heads, and other toys. The staff are delightful and seem to really want to give each kid personal attention as they lead games, arts, crafts, silly science experiments, and more. Favorite Disney characters even drop by occasionally. My little one loved it when Pluto lead "Head, Shoulders, Knees, and Toes" and the Hawaiian Dance party with Stitch.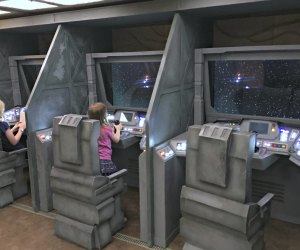 The Rebel Base Flight Simulator was a big hit. Photo by author
Activities are age appropriate, so no teenagers roll their eyes at "baby" stuff. Tweens can go to the Edge Club, which features activities specially tailored for them; 14-17 year-olds hang out at the Vibe, and there's even an 18-20 Society. And all of this is included in the price of the cruise. That's right, free childcare down the hallway! I wanted to move in. Because my daughter is under 2 and not potty-trained, she went to the It's a Small World nursery. Unlike the other kids clubs, it is not free with your cruise: it's nine dollars an hour, which is about half what I pay for a babysitter on dry land. These attendants do a fantastic job caring for the little ones: even though it's tricky to leave such young 'uns, after the first visit mine barely even cried when I dropped her off. (It probably has something to do with the fact that Mickey dropped by the first time and she loved playing with the Small World themed furniture.)
All this leaves parents free to <gasp> enjoy themselves! Besides checking out Senses Spa or the adults-only pool, there are a couple quiet spots for grown ups to check out. On the top floor, aft, there is a bar between Remy and Paolo Restaurants called Meridian. Not only does it have the best cocktails on the ship and a stellar charcuterie plate, it's almost always empty and chill. My favorite cruise moments were sitting on the balcony, the wind in my hair, sipping a Negroni and forgetting about being Daddy for just a few minutes. Another spot to sneak away for some quiet is the top deck forward, Satellite Falls.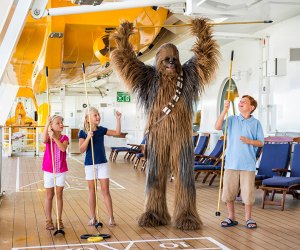 This would all have been more than enough, but now Disney Cruise Lines and Lucasfilm have partnered up to include an immersive experience like no other: Star Wars Day at Sea. As with all things Disney, the experience is complete down to the last detail. The runner on the foot of our bed was replaced with a novelty "Star Wars Day at Sea" logo, the dinner menu was a flashy hologram that featured "Bantha Steak Empanada" and "Qui-Gon's Crisp Chicken" (which were both delicious, by the way).
The ship is abuzz with activities for all ages: I saw tons of people searching all over for porgs that had infested the ship on the The "Porgs on Board" scavenger hunt. All day Storm Troopers patrolled (and were surprisingly okay with taking pictures). Jawas roamed the ship looking to trade and barter with cruisers, and Boba Fett lurked about as well. And of course, there were photo opportunities with Darth Vader and everybody's favorite hugger: Chewbacca. There are all sorts of other activities for the kids clubs which I, as a grownup, could sadly not attend, including trivia contests and a flight simulator in the Oceaneer Lab that puts you in Star Wars vehicles flying through planets like Tatooine and Crait. There was a special version of Jedi Training Academy; it's always fun to see kids get to swing a light saber at Darth Vader and Kylo Ren. There was also the super silly "Sharing the Saga," during which crew members led audience members in telling HIGHLY abridged versions of the movies in about five minutes. I particularly enjoyed seeing an eight year old boy play Lando Calrissian and the cutest little R-2 D-2 you've ever seen.
There's almost too much to do it all. The droid racing in the atrium was very popular because the robots were a hoot to operate. There was an art class about how to draw BB-8. I got to sit in on an informative talk with Scott Trowbridge, the lead Imagineer for the upcoming Star Wars lands parks. (Guest speakers vary from cruise to cruise.) At the end of the day there was an incredible costume contest, with both adorable little kid entries and cool grown-up costumes as well, and a massive galactic dance party and celebration performance of the Star Wars saga. It all ended with Disney's trademark fireworks out at sea—a sight to behold. And of course, all week we had the opportunity to see the classic films on the big screen; it's a great opportunity for families to share Star Wars together. There's something for everyone, from super fans to people who call Chewbacca "Ciabatta" (something I actually overheard).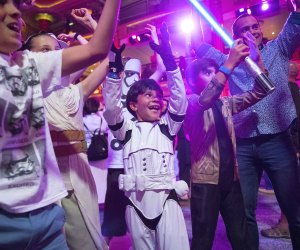 Pro-tips:
• Room Service is included! It's not an extensive menu, but if you want a cheese plate, a steak panini, and key lime pie at 2am, you can get it.
• There are some ticketed activities like spirit tastings or the Princess Meet-n-Greet that book up early, so make sure to reserve those before boarding the ship. There are TONS of non-ticketed opportunities to get pictures with favorite characters, so if you miss one or the line gets too long, don't sweat it, as you'll get another chance. I think my daughter had five pictures with Minnie by the time we got off.
• Small World Nursery has limited space, but on most port days it's pretty empty. Days at sea are busier, so make a reservation ahead of time.
• Definitely check out the port adventures on the days the ship docks. The port areas don't usually have a ton to do, so if you want to get off the boat, it usually involves getting on a bus or a ferry. Luckily, Disney has thoroughly vetted companies that offer everything from paragliding to snorkeling to Mayan ruins tours—no dealing with shady tourist companies trying to rip you off. It's a great, no stress way to see these tropical paradises. If you don't do a tour you'll be stuck walking around the ports, which are... not always the best part of town. Because of my little one's nap schedule I usually stayed on the boat with her, and there's still plenty to do there.
• The last day look in your navigator for "Mickey and Friends Goodbye." It is a very quick way to do meet-and-greets with lots of the classic characters you may have missed. There's no official photographer, but character attendants gladly pose for phone photos. My daughter and I got pictures with Donald, Mickey, Minnie, Pluto, Tiana, and Cinderella in the span of like ten minutes.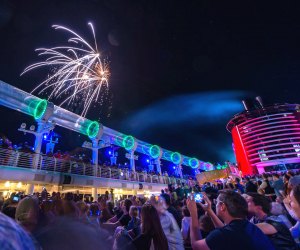 • Don't forget to download the Disney Cruise Lines app before you leave. It is the best way to communicate with the rest of your party on ship and a handy way to keep track of daily activity schedules. For those without smartphones, there are cordless phones you can carry around as well.
• If you're worried about getting seasick, take your Dramamine the night BEFORE you get on the ship. It will take a day to get into your system, and the first and last days of the cruise are usually the worst in terms of rocking. I will say, I'm no sea dog, but I've gotten through most cruises without Dramamine.
• WASH YOUR HANDS. WASH YOUR CHILD'S HANDS! BATHE IN PUREL! The ship is unavoidably a Petri dish of germs from all over the country. There is a doctor on board, but that's not the most fun part of the ship.
• This is a weird one: when you disembark there are two lines for customs. The one on the right is always faster. I asked several porters and they all agreed with me, though none of us know why.
There's something for everybody on Star Wars Day at Sea. It's a great way to heighten the already-fantastic experience of a Disney Cruise—and booking for the next sailing is already open on Disney Cruise Line's website.
Photos by Matt Stroshane courtesy of Disney Cruise Line unless otherwise noted