Juneau With Kids: An Insider's Guide to Juneau, Alaska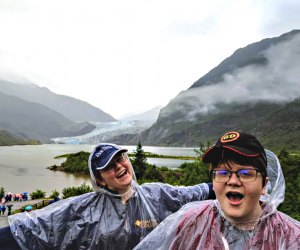 For many, Juneau may just be a stop on their Alaskan cruise or a layover on their way to other spots in Alaska. For Southeast Alaskans, like my family, Juneau is the "big city," which means that there's more than just a touristy cruise port area to explore in Juneau. There are plenty of things to do in Juneau that will check items off an Alaskan adventure bucket list, as well as more local experiences that give families a taste of real-life in Alaska.
These are my favorite things to do in Juneau, including local spots and top Juneau tours. And if you're heading to Haines during your Alaskan vacation, check out my list of things to do in Haines, Alaska.
A note about Juneau weather: Southeast Alaska is a temperate rainforest and the weather can be very changeable. Juneau is frequently fogged in or rainy, which can mean canceled tours or closed attractions. Make sure bring rain gear, check cancellation policies of any excursions, and remind kids to be flexible.
Top Juneau Attractions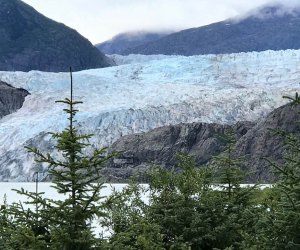 The stunning Mendenhall Glacier is just outside of downtown Juneau.
Located just a few miles from downtown Juneau, Mendenhall Glacier is one of the easiest glaciers to visit without a fancy and expensive tour. Just take a taxi from downtown Juneau or a shuttle bus from the cruise dock. The visitor's center has interesting exhibits and offers a great view, but to get closer to the glacier you'll want to walk out to photo point (the easiest spot) or take the longer Nugget Falls Trail (2 miles round trip) which gets you closer to the glacier, as well as the impressive falls. There are also longer hikes to take here if you have time.
The museum covers the region's human and natural history, including Alaskan native art and artifacts, as well as items from the area's period as part of Russia. The highlight of the collection is the Native American art and artifacts, both historic and contemporary, including masks and other ceremonial items and a collection of carved ivory and baskets. Learn about Alaskan native culture and arts and see some beautiful masks, totems, and other works of art.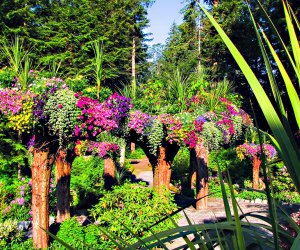 Visit the Glacier Gardens for a serene treat. Photo courtesy of the garden
This botanical garden's upside-down trees overflowing with flowers are a unique and beautiful site.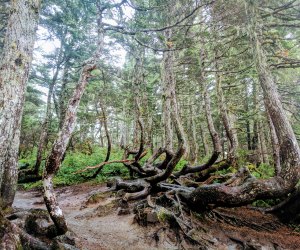 These wind-swept trees are found on the easy Mount Roberts trail.
Taking the tram up Mount Roberts is among the most popular things to do in Juneau for a reason, and not just because it leaves right from the cruise port. Traveling almost vertically, up 1800 feet, it's an impressive ride with great views. If you're lucky there will be attendants who will entertain you with local songs and stories on the ride down. At the top, watch a free 18-minute long film about local culture and you might even catch a local totem carver in action. The best reason to take the tram in my opinion is to take the short Mount Roberts loop hike. It's very easy and beautiful. There's also a small nature center to visit.
Juneau Like a Local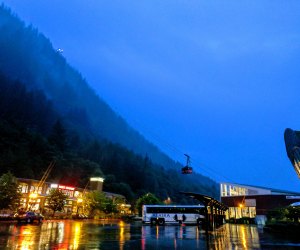 An evening stroll along Juneau's waterfront district offers views and food and shopping stalls.
Explore Juneau's Waterfront
Taking a stroll is one of the best things to do on any vacation as it gives you a glimpse of things not on your agenda. Stroll from the Juneau cruise port to the wharf along the waterfront. Near the port, you'll find food and souvenir stalls. We enjoyed an interesting Filipino food cart at the Marine Park. The wharf has several good restaurants with water views or patios. Pel'meni offers delicious Russian dumplings kids will love.
The local library is located right by the port and offers free wifi. There's also a lovely children's section. It seems silly, but I always looked forward to stopping by the Juneau Library on my way up to visit my family in Haines. The library works in a pinch on rainy days, too.
Located just past the main strip area, this grocery is a great place to pick up healthy food and snacks. You can also find gifts and local specialties, such as smoked salmon, for much less than at tourist shops.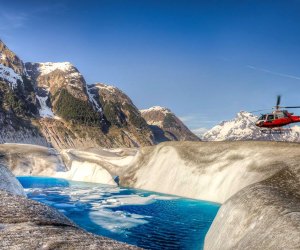 Take a helicopter tour of southeast Alaska's breathtakingly beautiful glaciers, mountains, and ice fields. Photo courtesy of Temsco Tours
Top Juneau Tours and Excursions
This Juneau excursion is a splurge, but when else can you do something as unique as landing on a glacier by helicopter and then going dog sledding? If you have the money, the time, and the weather cooperates, this is a must-do Juneau activity.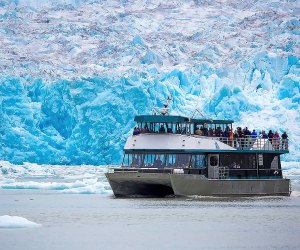 Ride the catamaran toward glaciers with the Tracy Arm Fjord Tour. Photo courtesy of Allen Marine Tours
If you have a full day and want to see more glaciers and wildlife, people love the Tracy Arm Fjord trip, which takes visitors by catamaran for an up-close view of blue glaciers and wildlife.
Take a whale watching tour like no other. Look out for humpback whales, but also orcas, bald eagles, seals, sea lions, and black bears on this Alaskan tour. Spotting wildlife is always among the top things to do in Juneau.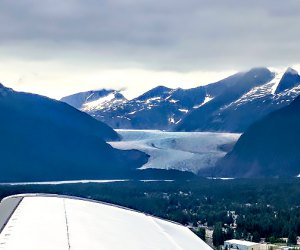 Tip: If you're flying on from Juneau to points north, sit on the right side of the plane for a great view of Mendenhall Glacier.