Insider's Guide to Haines, Alaska: 21 Top Things to Do with Kids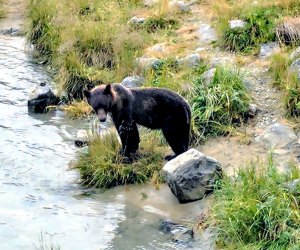 3/16/19
- By
Anna Fader
Alaska is a dream destination on many family travel bucket lists. The way most people experience the state is to hop on one of the many cruises that travel up the Inside Passage. Cruising is particularly suited for Alaska travel because the scenery from the ship is beautiful and the destinations are hard to reach otherwise. But, as with many things in travel, the easiest road often passes by the best destinations.
Haines, Alaska, is one of those gems that is often missed by family cruisers. If you have the option to take a cruise that stops in Haines, or can take an excursion to Haines (an option from Skagway), I highly recommend it. Or, if you want to plan your own Alaska trip, you could easily spend a week in Haines without running out of amazing things to do with the kids, from bear watching and fishing to exploring some really unique museums.
I have a unique perspective on Haines, because my extended family moved there in the Sixties. As a child, I visited several times, but I didn't return as an adult until last summer when I decided it was time to take a family trip. It was really fun to visit Alaska with my kids and do all the touristy activities that either didn't exist when I was young or locals just don't think of doing.
Haines has a year-round population of about 2500 people, so when you visit Haines you're seeing what real-life in Alaska is like, not a Disneyfied version. Most big cruise ships don't stop there, so it's never crowded and the shops and restaurants are more geared toward locals. We spent about a month in Haines and, while we do didn't do every single excursion available, my family and friends helped us pick out some of the best ones to experience firsthand. Below is the real deal on the best things to do in Haines.
RELATED: 25 Ways to Enjoy the Beauty of Banff in the Canadian Rockies with Kids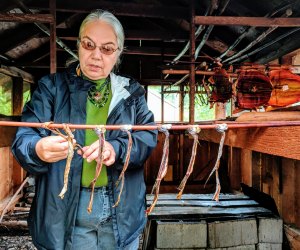 Our guide demonstrates the traditional technique for drying fish at Jilkaat Kwaan.
Jilkaat Kwaan Cultural Heritage & Bald Eagle Preserve Visitor Center
If you do one thing during your time in Haines, I would highly recommend it be a visit to the Jilkaat Kwaan Cultural Heritage Center. Situated in the village where the Tlingit people have lived for hundreds of years, this amazing center shares the stories and culture of the local indigenous people through art, history, and traditional knowledge. The story of native people in Alaska has been a tumultuous one, but it has also almost been lost through systematic reeducation.
More than a museum, Jilkaat Kwaan is helping to preserve the culture and traditions of local indigenous people by sharing it, not only with the public but also helping to reteach traditional knowledge to the younger generations. If possible, visit the center with a Chilkat Guides tour, which will include a traditional performance, as well as a tour of both the museum and the traditional knowledge center. Jilkaat Kwaan is a truly unique place that should be a UNESCO heritage site, in my opinion. It is typically open May through September.
Outdoor Adventures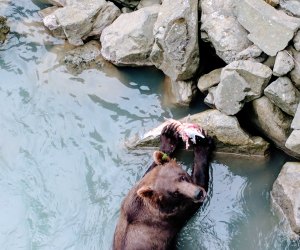 Bears feast on salmon on the Chilkoot River. Standing on a low bridge gives great close-ups.
Bear Watching at the Chilkoot River
If seeing bears is on your Alaska travel bucket list, Haines is one of the best places you'll find. In the late summer, grizzlies congregate along the Chilkoot River to feast on the salmon run. Thanks to a low bridge and wide river banks, you can safely get close to the bears for amazing sightings. If you have a car, you can drive out there on your own, but I recommend taking a tour with a guide like Alaska Nature Tours, who will tell you more about the area, take you to the best spots, show you other wildlife and highlights...and keep you safe!

Floating through the Bald Eagle Preserve on a bright sunny day.
Rafting Through a Bald Eagle Preserve
The Chilkat Bald Eagle Preserve draws one of the largest gatherings of bald eagles in the world. This river valley has eagles the way NYC has pigeons. Chilkat Guides offers a half-day excursion from Haines, which includes a scenic drive, an hourlong raft ride through the bald eagle preserve, and a picnic lunch. The river is very slow moving, no white water, so this is not a thrill ride. Our guides were very knowledgeable and entertaining and also stopped to see salmon spawning in a roadside creek on the way home, which was cool. For a faster ride, Chilkat River Adventures does a jet boat tour in the preserve.
American Bald Eagle Foundation
If you want to see bald eagles up close, make sure to stop by the Bald Eagle Foundation in Haines for the raptor show. Meet eagles, owls, and other raptors being rehabilitated at the facility, and learn all about them from a volunteer. There's also a small natural history museum with taxidermied examples of local fauna and some educational stations for kids.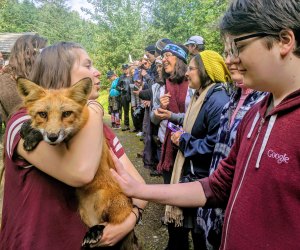 Visitors stand in line to pet the fox at the Kroschel Wildlife Center.
Kroschel Wildlife Center
If kissing a moose is on your bucket list, the Kroschel Wildlife Center is where you want to go. The center is famous for its wolverine, and owner Steve Kroschel is a real-life Grizzly Adams. Kids will love Kroschel, where you can pet a fox, howl with a wolf, and take a selfie with a porcupine.
Kayak on Chilkoot Lake
Haines is paradise for outdoor adventures like kayaking, biking, and hiking in the summer months. Rainbow Glacier Adventures will drive you out to the gorgeous ice blue glacial Chilkoot Lake for kayaking. Sockeye Cycle offers bike tours out to the lake if you prefer wheels. Keep an eye out for bear and moose spottings.

There are easy hikes and nature paths all over town, including the Chilkoot Estates Interpretive Trail.
Haines is for Hikers
With so much gorgeous scenery, hiking is a no-brainer in Haines. The visitor's bureau offers a pamphlet with a few easy hikes. The Battery Point Trail is an easy one for families to try. Or you can ask for a recommendation to find a guide. If you do go out on your own, make sure you read up on bears and bring the proper attire.
Fishing
Whether you want to cast a line in the Chilkat River or go deep-sea fishing in a fjord, you can't beat the fishing in Haines. My sister caught a five-foot halibut when we were teenagers! Kraken Charters will take you out for half-day fishing charters and clean your catch for you.
Culture and Scenery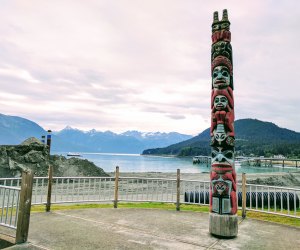 One of many totems in Haines; this one guards the harbor.
Totem Trot
Haines is home to almost 20 totem poles displayed in front of businesses and civic institutions. The visitor's bureau provides a Haines totem pole map to do a walking tour, but I recommend reading this blog post that interprets the poles. My favorite detail is the Totem Carving for Dummies book carved into the pole outside the public library.
Hammer Museum
A scavenger hunt makes it fun to take a closer look at the 2000 types of hammers on display. If you don't have time for a visit, snap a selfie with the giant hammer outside.
Sheldon Museum
This small museum does an excellent job displaying the varied history of the area, between Tlingits, Ford Seward, the gold rush, fishing, and more. There's a small kids play area, too.
Alaska Indian Arts
Located in the old Fort Seward section of Haines, this gallery has a collection of Tlingit art and artifacts. If you are lucky, you might catch a totem carver at work.
RELATED: Vancouver with Kids: 30 Fun Things to Do as a Family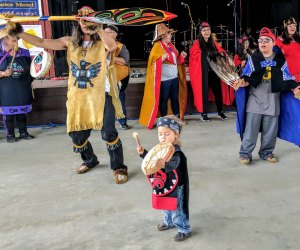 Traditional dancers perform at the SE Alaska State Fair every July.
SE Alaska State Fair
If you happen to hit Haines around the last week of July, don't miss the parade down Main Street and the wearable art fashion show, as well as all the games, food, and agricultural exhibits at the fair.
Alaska Arts Confluence
The main reason to stop into this little gallery is to see all local original art—and to see if my mom's in. Say hi to her for me!

Just another roadside view in Haines.
Glaciers and Greenery
While there's plenty to do in Haines, don't be afraid of some downtime either. The scenery is incredible in every direction, with snow-capped mountains, ice-blue glacial waters, and lush rainforest. If you rent a car, just driving down Mud Bay Road or toward Chilkat Lake will be gorgeous. You'll likely spot eagles feeding in the rivers, and possibly other wildlife.
Where to Eat (with the Locals) and Stay
Part of the fun of Haines is getting to know the special breed of people that drop everything to move to this remote locale. Stop by any of the local eateries, which offer well prepared, locally sourced foods, and chat with the locals. There's a small brewery that also makes great root beer and a distillery that makes gin and vodka and serves tastings and cocktails. Their porch is a popular spot for locals, especially on Wednesday evenings. Sarah J's offers ice cream, coffee, hearty burritos, and sandwiches, with a picnic area that's great for outdoor eating on a sunny day. My mom's favorite restaurant is Pilot Light, while I am partial to the pizzas at Fireweed. I think I stopped by Mountain Market almost every day for great coffees, sandwiches, and the small gourmet grocery is great for stocking up on snacks.
There are several options on where to stay. Fort Seward Condos offers apartments, perfect for families, right in Haines. The accommodations are in the historic officer's lodgings, which is kind of neat. Lynn View Lodge is a bit out of town but offers car rentals for visitors. They have a variety of different accommodations, all with gorgeous Lynn Canal and mountain views. If you are planning a longer stay in Haines, Viking Cove is situated on a gorgeous 12-acre peninsula about half an hour's drive from Haines. Stay in a private, luxurious cabin, right on a gorgeous fjord.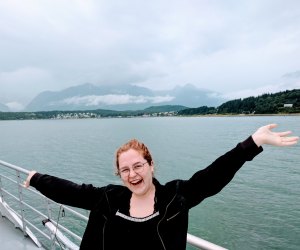 See Fort Seward on the left and Haines on the right as your ferry approaches.
Getting To Haines
A great way to get to Haines is to fly to Juneau and then take the ferry or Alaska Fjordlines, which doubles as a whale watching cruise. As a kid, we often took the ferry all the way from Bellingham, Washington, which takes four days. You can book a berth and, for us kids, it was as exciting and fun as a cruise, although it's certainly not as activity-packed or luxurious. You can also take a 30-minute prop plane to Haines. Depending on the weather, this can be a bit thrilling, as you feel every gust of wind in the little six-seaters planes. Not for the faint of heart! If your cruise ship is stopping in Skagway, hop on the ferry and you'll be in Haines in 45 minutes—ready for adventure.
For more information about Haines, Alaska, visit the community website and the visitor's bureau.
All photos by the author