25 Ways To Enjoy the Beauty of Banff with Kids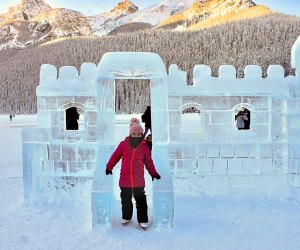 Nestled in the Canadian Rockies is the majestic town of Banff. Built as a tourist destination on the Canadian Pacific Railway, this charming mountain town has entertained the likes of royalty, presidents, and my entire crazy, extended family for a whole week. Our family trip to Canada was definitely one for the memory books.
Located in the Canadian province of Alberta, Banff is the largest municipality located in a Canadian national park. There are strict laws regulating growth and population, resulting in an absolutely pristine natural "playground" for visitors to enjoy. We arrived at our hotel after an easy 90-minute drive from the Calgary airport. Those few latitudinal degrees north cost you a few hours of sunlight in the winter, but when I peeked through the blinds the next morning, my breath was taken away by the view. Not only was Banff beautiful, it struck a perfect balance between adventure, leisure, and indulgence for every member of our family.

Taking in the sunset over the Canadian Rockies from a dogsled. Photo courtesy of Ally Noel
1. Go dog sledding in Spray Lakes Provincial Park.
2. Cross-country ski on the Spray River Loop.
3. Enjoy the absence of light pollution (and an early sunset) to stargaze.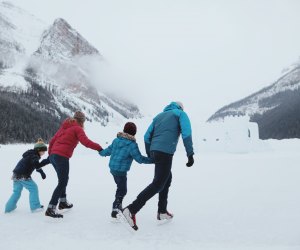 Grab your skates, bundle up, and enjoy this amazing view! Image courtesy of Jake Dyson
4. Enjoy some skating on what Fodor's calls "The World's Best Skating Rink" - Lake Louise, then . .
5. . . . enjoy a cup of hot cocoa (or maybe a boozy warm cocktail) at the Fairmont Chateau Lake Louise's Ice Bar.
6. Take a gondola ride up to the top of Sulphur Mountain, and take a scenic walking tour along the Sulphur Mountain Boardwalk.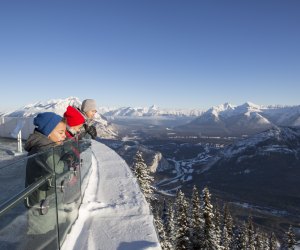 Feel like you are on top of the world at the Banff Gondola. Image courtesy of Banff & Lake Louise Tourism / Noel Hendrickson
7. After working up your appetite on the mountain, enjoy an authentic fondue dinner at the Waldhaus Restaurant.
8. Pack up your camera, and head over to Vermillion Lakes to enjoy a stunning view of Mt. Rundle.
9. Enjoy a delicious treat at BeaverTails Pastry in downtown Banff.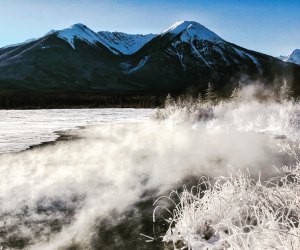 The frozen fog that floats on top of the lake is stunning. Photo courtesy of Ally Noel
10. Download the Aurora Borealis app on your Smart Phone and check out the Northern Lights. Some of the best places for viewing are Lake Minnewanka, Castle Junction, or Peyto Lake.
11. Pack a thermos of hot chocolate and head to Spray Meadows Hill behind the Fairmont Banff Springs for some good old-fashioned sledding (there's even a fire pit!).
12. Take a dip in the Banff Upper Hot Springs.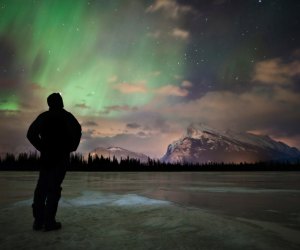 Your chances to catch this natural wonder are better in the winter months. Photo courtesy of Banff & Lake Louise Tourism / Paul Zizka
13. Enjoy an outdoor art gallery of ice sculptures during the Snow Days event.
14. Get your pinkies up and enjoy Rocky Mountain Afternoon Tea at the Fairmont Banff Springs.
15. After hours, hit the lanes for a game of Canadian 5-pin or traditional 10-pin bowling at High Rollers or Fairmont Banff Springs Canadian Bowling Centre.
16. Ski at Lake Louise Ski Resort, Sunshine Village, or Mt Norquay.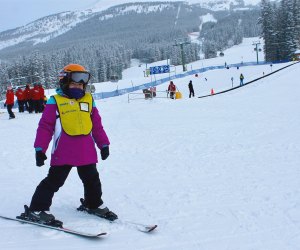 Sign up for a ski lesson at Lake Louise. Photo by Ally Noel
17. Get I a little retail therapy while shopping in downtown Banff.
18. Book a wildlife watching tour through a local operator and you can watch a herd of elk walk across a frozen lake or spot a big-horned sheep.
19. Snuggle up under blankets, and enjoy a sleigh ride along Victoria Glacier.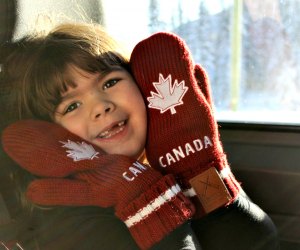 Canada mittens will keep your hands nice and warm as your enjoy the outdoors
20. Bundle up and walk some Banff National Parks hiking trails.
21. Book a tour, or just hit the snowy woods—either way, strap on a pair of snowshoes and enjoy.
22. Unleash your inner Elsa at Fairmont Chateau Lake Louise ice castle.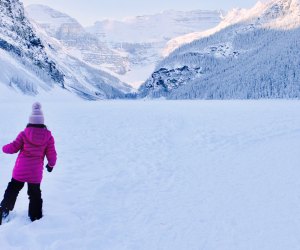 Snowshoeing across Lake Louise is a once-in-a-lifetime experience. Image courtesy of Ally Noel
23. Enjoy a day ice walking at one of the most popular destinations in Banff National Park—Johnson Canyon.
24. Take a ride down the Icefields Parkway
25. Take in some history at the Whyte Museum.