Vancouver With Kids: 30 Great Things To Do as a Family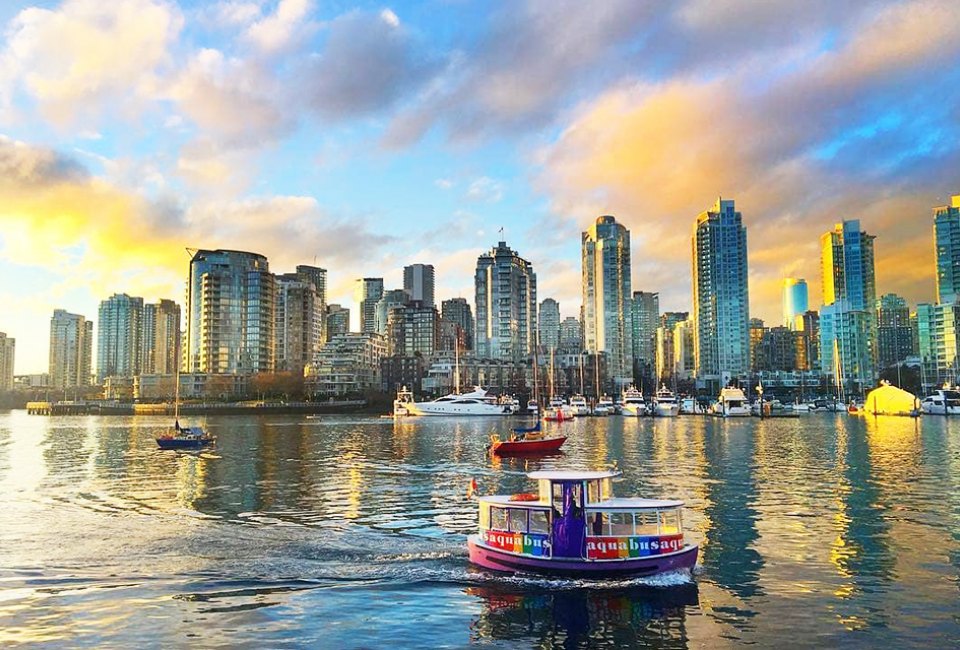 8/11/18
- By
Thien August
One of Canada's most ethnically diverse and densely populated cities, Vancouver, British Columbia is the crown jewel of the country's West Coast.
Less than an hour by car from the border with the United States, Vancouver is the gateway to the Pacific Rim and draws visitors from all over the world. It's not just the city's location that makes people flock there, but also the stunning backdrop of mountains, temperate weather, and world-class parks and amenities.
With the ocean and mountains within a short drive, Vancouver is a veritable outdoor playground. This cosmopolitan city is waiting for your next adventure. With a favorable exchange rate in Canadian dollars, free public parks, and an easy-to-navigate public transportation system, Vancouver offers great value and seemingly endless and unforgettable experiences.

Discover Vancouver's public art, including the Digital Orca by Douglas Coupland. Photo courtesy of @downtownvan
The weather in the Pacific Northwest can be rainy, and Vancouver is no exception. Expect some drizzles during the fall, winter, and spring, but in summertime the city really shines. Whatever the season, a little rain does not keep locals from spending time outdoors because with beaches, mountains, and vast waterways right at their doorstep, it's hard not to be a nature lover here.
There are so many family-friendly activities throughout the city and surrounding area, it's difficult limiting our list to only 30. So get ready to explore the city, hike the mountains, chow down on amazing food, and be awed by natural beauty.

Hand-carved totem poles line Stanley Park, telling stories of the First Nations people. Photo courtesy the park
1. Stanley Park
This urban park is a temperate rainforest oasis in the middle of the city. Larger than New York's Central Park, it is ringed by the Seawall, a walking and biking path that offers sweeping views of downtown, the ocean, and snow-capped mountains. This is not only a tourist spot, but a favorite recreation spot for locals. Kids can ride the miniature train, play in any of four playgrounds, view totem poles carved by First Nations peoples, visit the beaches, and spot sea lions at the Vancouver Aquarium. There's so much for families to do at Stanley Park that it's easily a day trip.
2. Vancouver Aquarium
While at Stanley Park, a visit to the aquarium is a must-do. With more than 50,000 animals to see, including walruses, penguins, and sharks, there's something to experience and learn around every corner. Get hands on at the touch tank and take in a dolphin or sea lion show; just make sure you save time to visit the perennial favorites, the sea otters.

Celebrate Canada Day (July 1) with parades and more on Granville Island. Photo courtesy of the island
3. Granville Island
You won't need to take a ferry to this island; it's easily accessible by car. The main attraction is the Granville Island Public Market, a covered market space with everything from fresh fruits and vegetables, artisanal cheeses, baked goods, and hand-crafted candies and chocolates, as well as local arts and crafts. This is a great spot to grab lunch from one of the many restaurants and enjoy it outside by the water. This is yet another spot for amazing views of False Creek, the main water artery in the city, and downtown Vancouver. In the summer there's also a playground and sprinkler park with a big water slide that's open to everyone and is FREE.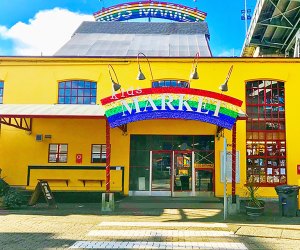 A colorful kids market awaits on Granville Island. Photo courtesy of the island
4. Kids Market
Grown-ups don't get to have all the fun on Granville Island: There's an entire market just for kids. Located next to the sprinkler park and playground area is this colorful place with more than 25 shops especially for kids. There's also a two-story Adventure Zone indoor play area with slides, a ball pit, interactive floor, and arcade.

See the city from the safe (and colorful) confines of the Aquabus. Photo courtesy of Aquabus
5. Aquabus
When you need to get around downtown Vancouver, the Sky Train public rail system is your best bet. But if you have some extra time, a ride on the Aquabus is fun and a great way to see the city. There are eight stops along False Creek aboard these colorful little boats and a one-way ride starts at $2 per child and $3.50 per adult depending on how far you go.
6. Queen Elizabeth Park
Flower enthusiasts flock to this urban park each summer for its array of blooms. Walk the paths through manicured lawns to the Bloedel Conservatory to get a taste of the tropics. Inside the domed greenhouse are exotic plants and more than 120 free-flying exotic birds. Head back outside for a game of pitch-and-putt or lawn bowling.
7. Capilano Suspension Bridge
Located on the north shore are two of Vancouver's most exciting experiences. The Capilano Suspension Bridge is a rope bridge 460 feet long that hangs 230 feet above the roaring Capilano River. Millions of visitors traverse the bridge each year as well as visit the park for the Cliffwalk and Tree Top adventures and the park's nature center. Admission covers all attractions at the park. There's a FREE shuttle that takes you directly to the park from several pickup locations downtown.

You can feel the ebb and flow of the Lynn Canyon suspension bridge.
8. Lynn Canyon Park
Lynn Canyon Park is in North Vancouver and also offers the excitement of crossing a suspension bridge. Although the bridge is shorter than Capilano, it's just as thrilling and there are trails to hike through the lush rainforest. There's a small café and picnic areas for a quick lunch stop. Bonus: It's absolutely FREE.

Kids won't even know they're learning while visiting Science World.
9. Science World
It might look like a giant golf ball, but inside is a place of wonder and delight for kids of all ages. This science museum combines hands-on exhibits with interactive shows and play areas where kids can climb, throw balls into a multilevel water feature, and engage pulleys to lift themselves up. Little ones can explore and learn in the 5-and-younger area. Catch a movie on the wraparound screen in the Omnimax Theatre. The kids will have so much fun that they won't even notice they're learning.
10. Robson Street
Shop till you drop on Robson Street. Downtown Vancouver's most popular shopping district seemingly has it all, along with some great family-friendly restaurants. Sushi is very popular in Vancouver because of the availability of fresh seafood. Or perhaps grab a grilled cheese sandwich to go from Mom's Grilled Cheese Truck and continue shopping.

The Vancouver Public Library is a sight to behold, inside and out. Photo courtesy @downtownvan
11. Vancouver Public Library
If you're downtown and it starts to rain, this library is a great place to duck into. Designed to resemble the Colosseum in Rome, it's spectacular outside and inside. There's usually something happening, so check in at the information desk for free storytimes, readings, or art exhibits.
12. Chinatown
Engage all five senses at Canada's largest and oldest Chinatown. Steeped in history, this neighborhood just east of downtown is home to markets, restaurants, and an active and diverse community. Visit in the morning to enjoy a dim sum breakfast before wandering over to the Dr. Sun Yat-Sen Classical Chinese Garden.
13. Vancouver Art Gallery
Take the family for some art appreciation and view West Coast and indigenous art as well as art from across Canada and the world. Every Sunday admission for children ages 12 and younger is FREE and families can take part in FREE activities. Also, on Tuesdays after 5pm admission is by donation.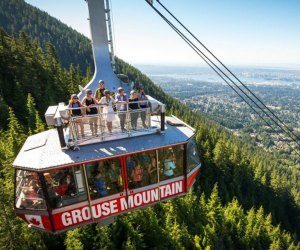 Take North America's largest aerial tram to the top of Grouse Mountain. Photo courtesy of Grouse Mountain
14. Grouse Mountain and Mount Seymour
Where else can you play at the beach and downhill ski on the same day? Vancouver's local mountains are a mere 20-30 minutes from downtown and offer excellent skiing in the winter and hiking and mountain biking in the offseason. If hiking's not your thing, you can drive up the mountain or take the gondola and do some zip lining, watch a lumberjack show, or visit the nature center. Grouse Mountain and Mount Seymour are accessible by car, public transit, or FREE shuttles from downtown.
15. Museum of Anthropology
Located on the sprawling campus of the University of British Columbia, the MOA is dedicated to indigenous art from Canada and around the world. Learn about history, culture, and the link between art and the community. Listen to the stories and connect to our shared origins.
16. Gastown
Vancouver's oldest neighborhood is situated just north of downtown and west of Chinatown. This neighborhood is home to Victorian architecture, cobblestone streets, art galleries, and boutique shopping. Stop by the Steam Clock to see the dramatic steam release and get a 360-degree view of the city atop the Vancouver Lookout at Harbor Center.
17. Fairmont Hotel Afternoon Tea
Take a break from sightseeing for a British tea party at the Fairmont Hotel Vancouver. The children's tea includes pint-sized sandwiches, Eton Mess, scones, and other sweet treats. Reservations are recommended.

Logs line the beaches in Stanley Park: It's a Vancouver thing. Photo courtesy of the park
18. Beaches
There's no shortage of shoreline in Vancouver, and a trip to the beach is fun no matter what season. Visitors will notice the large logs that have been placed on the sand at most of the beaches. The logs provide spots to sit on or lean against, and kids love climbing on them. For spectacular sunsets, visit English Bay. Spanish Banks is a great spot for a barbecue.
19. Richmond Night Market
This foodie's paradise is in Richmond, a quick drive across the river from Vancouver and home to Vancouver International Airport. Experience North America's largest Asian night market with more than 100 food stalls, live entertainment, and carnival rides. It's well worth the 15-minute Sky Train ride to get here.
20. VanDusen Botanical Garden
With 55 acres of flowering plants, trees, and shrubs to engage the senses, this botanical garden is a peaceful refuge in the city. Find your way through an Elizabethan hedge maze and see how many species of wildlife you can spot.
21. National Hockey League's Vancouver Canucks
Vancouverites fill up Rogers Arena on game day to support the hometown Canucks. Canadians are serious about hockey, and it might be challenging to purchase tickets to a game. But many restaurants and family-friendly bars show the game on big screens. It's easy to get swept up in the excitement when the puck drops.
22. Playland Amusement Park
Opening day at Playland is a sure sign that summer is around the corner. From May until Labor Day, this amusement park thrills with rides, games, and food on a stick. It's also home to Canada's oldest wooden roller coaster, and each August the Pacific National Exhibition Fair opens with even more rides, amazing side shows, and big-name concerts.

Just deciding on a flavor can be a challenge at La Casa Gelato.
23. La Casa Gelato
For an epic ice cream experience, La Casa Gelato is the place to be. With more than 230 flavors, it's hard to choose, but staff are happy to give you samples. Go for a classic like chocolate peanut butter or fresh raspberry. If you're more daring, try wasabi, durian, garlic, balsamic vinegar, or seaweed flavors.
24. Little Italy
Eight blocks along Commercial Drive is Vancouver's designated Little Italy. Here you'll find small mom-and-pop shops offering authentic Italian delicacies, pastry shops, and coffee shops serving espresso and cappuccino. Commercial Drive is an eclectic and diverse neighborhood that's worth spending time walking through.
25. Kitsilano
Known to locals at "Kits", this west-side neighborhood feels a lot like San Francisco. With roots as a hippie hangout in the 1960's, it's now home to eateries, trendy shops, and museums. Stroll the streets, enjoy the laid-back vibe and stop in for lunch at The Naam, Vancouver's oldest vegetarian restaurant. Don't forget to save time to play at Kits Beach.
26. Vanier Park
Located in the Kitsilano neighborhood, Vanier Park is a one-stop museum destination. Purchase the Vanier Park Explore Pass to enter all three museums: the HR MacMillan Space Centre, Museum of Vancouver, and the Vancouver Maritime Museum. Vanier Park is also home to the Vancouver International Children's Festival and Bard on the Beach Shakespeare Festival.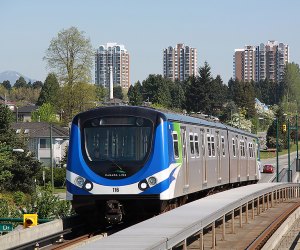 Take the Sky Train's Canada Line for a fun way to see the city. Photo courtesy of TransLink
27. Sky Train
Riding public transit might not sound exciting, but in Vancouver the elevated light rail system offers amazing views and the chance to chat with locals. It's a great value and an easy way to get around the city with kids as all Sky Train stations and trains are stroller friendly. Take the Canada Line down to Waterfront Station and transfer to the Sea Bus to North Vancouver for a fun way to see the city on the cheap.
28. Whale watching
May to October is prime whale watching season off the Pacific Coast. You might even see whales while riding the Sea Bus. For a better chance of seeing humpbacks, orcas, and gray whales, take a tour, many of which depart from downtown Vancouver and Richmond.
29. Yaletown
Once the Western terminus of the Canadian Pacific Railway, this neighborhood still shows signs of its industrial past. Red-brick warehouses now contain residential lofts, sidewalk cafes, and cool shops. The neighborhood's waterfront parks are great public spaces with playgrounds, paved walking and biking paths, and stunning views.
30. Celebration of Light
This three-day summer event is Canada's biggest fireworks and pyrotechnics show. Each night a different country competes over English Bay, dazzling spectators with fireworks design and artistry synchronized to music. There are many locations to view the shows, but get there early for the best spots.
Unless noted, photos are by the author.
t Click Here to Sign Up!