Montreal with Kids: 25 Best Things to do in Montreal, Canada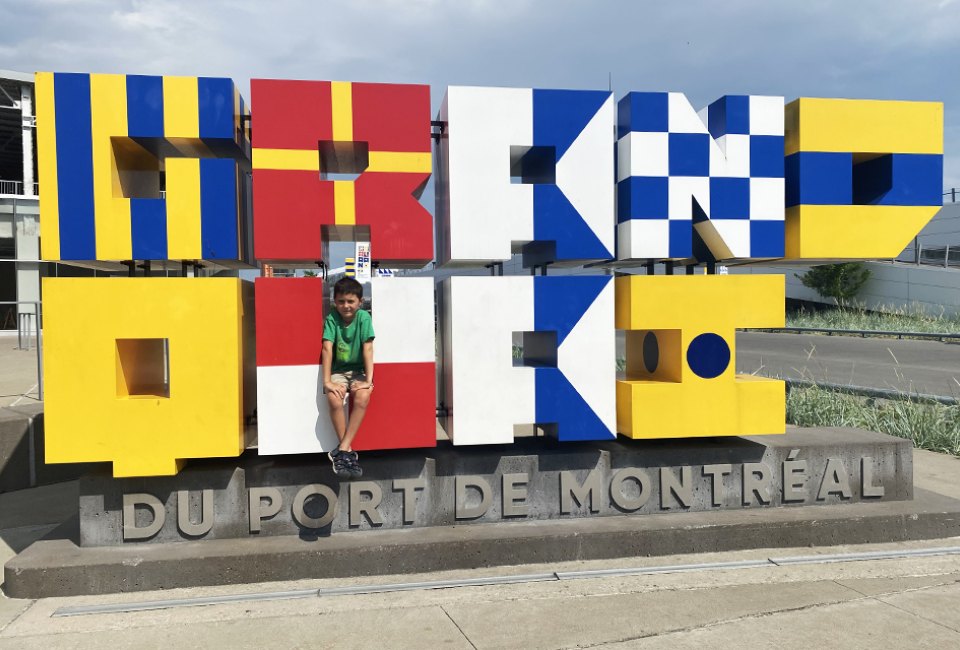 8/6/22
- By
Jamie Davis Smith
Can't make it to Paris? No worries! Montreal, Canada offers tons of European flair much closer to home. With the perfect mix of old-town charm and plenty of modern attractions, Montreal has something for everyone—museums, outdoor adventures, historic sites, and so much more. Plus, thanks to Montreal's deep ties to France, it's a great place to eat French favorites such as crepes for breakfast and fondue for dinner.
Here are the 25 best things to do in Montreal, Canada with kids, including top attractions, must-try foods and restaurants, and family-friendly Montreal hotels. For more Canada family-vacation ideas, check out our Canada Family Travel Guide.

Take a spin on the large observation wheel at the Old Port of Montreal.
Top Attractions in Montreal, Canada for Families
Stroll the Old Port of Montreal, a lively promenade full of activity, to get a taste of what the city has to offer. Hop on the La Grande Roue de Montreal, a huge observation wheel, for spectacular views of the St. Lawrence River. Little ones can ride a mini train, while older (and more adventurous) kids and grown-ups can fly above the city on a zip line. Families can travel up and down the Old Port on a three- or six-seat quadricycle using nothing but pedal power. There are also restaurants, shops, and countless other activities.
The expansive Montreal Botanical Garden has it all, from a traditional Japanese garden to a greenhouse. There is also a food garden, an aquatic garden, the Garden of Innovations, and more. It's a beautiful place to spend an afternoon outdoors, with plenty of room for children to roam.
This indoor zoo is housed in a building originally constructed for the 1976 Olympics. Not only is the architecture unique, but this is a one-of-a-kind place to see animals. No matter what the weather is like outside, inside you will find five distinct ecosystems under one roof. Visitors can walk through a tunnel made of ice while watching penguins swim in sub-arctic temperatures, then watch tropical birds fly in a rainforest complete with a waterfall—all in one day!
Related: Quebec City with Kids: 25 Things To Do in Old Quebec and Beyond

The Biosphere is a gorgeous sight both day and night.
The Biosphere is worth visiting just to experience being inside a unique sphere built by an American architect for the 1967 World's Fair. There are also spectacular views from the top. Inside, the Biosphere houses a museum dedicated to exploring the links between society and the environment. There are plenty of hands-on activities to keep kids interested and engaged. Visit at night to experience the Biosphere lit up in vivid colors.
The Insectarium is the place to get up-close and personal with all types of insects. Some are crawling and very much alive, while others are stuffed or displayed on walls. Visitors are sure to leave with a greater appreciation for insects and the role they play in our ecosystem.
Located in Olympic Park, the Rio Tinto Alcan Planetarium boasts immersive theaters that bring visitors closer to the stars. This is a great place to learn about astronomy with special activities designed for younger visitors.
This awe-inspiring basilica with a towering vaulted ceiling is filled with historical works of art. Visitors can take a self-guided tour and do as much or as little as young sightseers can tolerate. Be sure to check for special events, such as light shows and other performances, inside the basilica.
Related: Vancouver with Kids: 30 Great Things To Do as a Family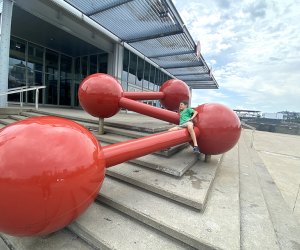 Visit the Montreal Science Centre for hands-on fun and learning.
The Montreal Science Centre is a huge, hands-on museum at the Old Port of Montreal. There is a room dedicated to the youngest visitors as well as plenty of experiments for older kids. Visitors can try their hand at building contraptions to get weights to float, learn about the human body, and more. If you belong to your local science center, you may receive reciprocal admission at no additional cost.
With almost 700 acres of nature accessible right from the downtown area, Mount Royal Park is the Central Park of Montreal, Canada. From barbecues, biking, and concerts in the summer to snowshoeing, tubing, and ice skating in the winter, there are so many things to do here all year long.
This family-friendly museum focuses on the history and archaeology of Montreal, Canada. Kids can climb aboard a ship to see what it was like to be a Pirate or Privateer, participate in an archaeological dig, explore underground tunnels, and much more. The museum also hosts four temporary exhibitions a year, so be sure to check out what's showing during your visit. Past exhibits have focused on trains, Vikings, and the circus.
Related: 25 Best Things To Do in Ottawa, Canada with Kids

Budding astronauts will find lots to love at the Cosmodome.
Located just outside Montreal, Canada, the Cosmodome is a fantastic place to learn more about space and what it's like to be an astronaut. It has four simulators that allow visitors to experience what it's like to be an astronaut. Or, families can try their hand at completing a space-themed mission.
More Things To Do in Montreal, Canada with Kids
12. Cruise the St. Lawrence River
Take in the spectacular city with a sightseeing cruise along the St. Lawrence River. This 90-minute boat ride lets you sit back in comfort while learning about old and new Montreal, Canada. Kids love seeing everything from boats piled high with cargo crates to unique buildings to mountains. There are plenty of snacks for purchase on board, and dinner cruises are also available.
13. Explore Old Montreal
Old Montreal is an extremely charming part of the city. The streets are paved with cobblestones, and there are dozens of quaint stone buildings that date back hundreds of years. The heart of the Old City is Rue Saint-Paul, which today is home to restaurants and boutiques. It's a great place to take the kids to grab some fondue, a crepe, or both.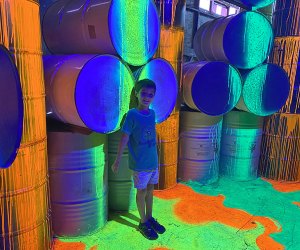 Kids will have a blast working their way through the SOS Labyrinthe.
The SOS Labyrinthe is an enormous maze at the Old Port of Montreal that families can escape by finding the four treasures of the Longshoremen. The maze is filled with tricks and traps that keeps visitors on their toes. Along the way kids learn about the lives of the Longshoremen who once worked in the Old Port.
This park is a popular spot to cool off in the summer or go ice skating in the winter. Be sure to check for other seasonal offerings, such as free movie screenings and a mini train in the summer. It's a great place to hike, bike, go cross-country skiing, or just laze around. Pack a picnic or grab a bite to eat at the park's on-site restaurant, Espace La Fontaine.
This huge, pirate-themed family adventure park is a great place to play the day away at the Old Port of Montreal. Try your hand at archery tag, experience an arial course, jump on inflatables, and more.
Related: 40 Top Amusement Parks in the US for a Family Vacation

Six Flags La Ronde has fun rides for kids of all ages.
La Ronde, the largest amusement park in Quebec province, is located just steps from the Biosphere. There are rides for everyone, from thrill seekers to tiny tots. Throughout the summer La Ronde hosts nightly fireworks displays that are a highlight of summer nights in Montreal. When you get hungry, enjoy typical amusement-park fare like pizza and hot dogs or traditional regional foods like poutine.
Montreal is known for its festivals, and many of them take place at the Place des Festivals. Check out the website for a schedule of public events and festivals, many of which are kid-friendly. This public space also features the largest interactive fountain in Canada, with 235 water jets.
Must-Try Foods and Montreal Restaurants
19. Poutine
Montreal's best-known regional dish is poutine, a mountain of French fries covered with gravy and cheese curds. Don't leave the city without grabbing at least one serving for the family to share. Two places known to serve up great poutine are La Banquise and Chez Tousignant.
20. Better Bagels
Like New York City, Montreal is known for its bagels. But Montreal's version, made with honey and cooked in wood-fired ovens, is much different from New York's. St. Viateur Bagel shops are one of the city's most popular places to get an authentic Montreal bagel.
21. French Favorites
Montreal's ties to France mean it's a great place to enjoy traditional French foods. Don't leave the city without trying some delectable French pastries, fondue, and crepes. One restaurant where families can get great crepes and fondue is Creperie Chez Suzette.
22. Chocolate, Chocolate, Chocolate
If you've got chocolate lovers in your family, head to one of several locations of Juliette et Chocolat. This restaurant serves chocolate in every form, from hot chocolate and milkshakes to crepes, waffles, and fondue. There's even a frozen milk bar serving up a huge variety of sundae-like creations.
Family-Friendly Montreal Hotels
This downtown resort is an iconic Montreal, Canada landmark. It boasts an outdoor heated pool that's open year-round, a fitness room, two on-site restaurant, and 2.5 acres of gardens with streams full of ducks and fish. Both standard rooms and suites are available.
One of Montreal's most popular hotels, Le Square Phillips offers huge suites with full kitchens that can sleep families of up to six people. On-site amenities include a heated indoor pool, an exercise room, and a free continental breakfast. Day care services are also available for a fee. Le Square Phillips is located in the heart of downtown Montreal, Canada.
If you're looking for a luxury stay, Le-Saint Sulpice is a four-star, four-Diamond hotel in Old Montreal, Canada featuring spacious, fully equipped suites with a minimum of 400 square feet. Guests can enjoy an on-site restaurant, spa, and gym.
All photos by the author
t Click Here to Sign Up!