Quebec City with Kids: 25 Things To Do in Old Quebec and Beyond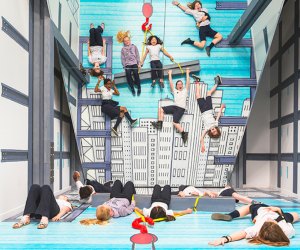 9/7/19
- By
Anna Fader
Quebec City is often touted as a European vacation alternative—a picturesque city where you can walk cobblestone streets, sit in bistros, and order in French without a transatlantic plane ticket. Yes, Quebec's old town streets are quaint and pedestrian-friendly, but families should visit Quebec City because it's full of wonderful and unique attractions and culture in its own right. It's also a great pre or post cruise destination.
As the only walled city in North America and a Unesco World Heritage site, this Canadian city is full of history. Yet, the best things to do in Quebec City also include modern attractions, such as family-friendly museums, an indoor amusement park, and lots of great outdoor spaces, parks, and festivals that make it a fun place to visit.
Read on to discover the top things to do in Quebec City with kids. Then make sure to read about our top picks for Quebec City restaurants for families.

Walking around Old Quebec's Petit Champlain district.
Best Things to Do in Old Quebec City
1. Musée de la civilisation
This museum's interactive exhibits focus on both science and cultural history. The Discovery Zone offers activities for children, including an elaborate dress-up experience and a maker's lab. Plan to spend at least a couple of hours here.
2. Place des Canotiers
This riverfront square has a splash pad, art installation, and views of any cruise ships in port for a fun spot to take a break from walking.
3. Quebec City-Lévis Ferry
Another way to take in great views while cooling off is to ride the ferry across the St. Lawrence River. The ride is 12 minutes each way and only costs a few dollars. Kids under 5 are free.
4. Quartier Petit Champlain
This cobblestoned pedestrian zone is as cute as can be, and, with no cars, it's easy to wrangle kids while you window shop or stop for a bite. Find the giant snow globe and the photo-ready cutouts in some of the picture-perfect squares.
5. Old Quebec Funicular
If climbing the "Breakneck Steps" isn't on your agenda, take the funicular from Petit Champlain (lower town) to Château Frontenac (upper town) and enjoy the view as you ascend.
6. Dufferin Terrace
A boardwalk straight out of a Victorian seaside town, but perched high above the St Lawrence River gives this promenade a festive feel. Add in street performers, views, cannons to climb on and the fireworks displays through the summer and you may find yourself coming back to this spot again and again.
7. St-Louis Forts and Chateaux
Hidden beneath the Dufferin Terrace are the archeological remains of the city's original fort and Governor's residence. You can peer down the glass domes on the terrace to see them or explore them in person. Kids can even dig for archaeological relics in a designated sandpit.
8. City Hall Splash Pad
Grab a coffee from La Maison Smith Rue des Jardins and sit while the kids enjoy the splash pad in front of City Hall.
RELATED: Vancouver with Kids: 30 Fun Things to Do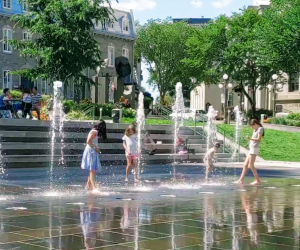 Quebec City has green spaces around every corner, perfect for little breaks from exploring the town.
9. DIY Food Tour Along the Rue Saint-Jean
How convenient is it that you can host your own food tour right along one street. Taste local specialties like maple crepes at Au Petit Coin Breton, poutine at Snack Bar Saint-Jean, hand-dipped ice cream from Chocolats Favoris, and the irresistible kettle corn from Mary's Popcorn.
10. Ramparts of Quebec City
You're visiting a walled city! How cool is it to stroll along the top of the city's ramparts. A popular spot is to visit the St-Jean Gate and the Artillery Park.
11. LA Citadelle de Quebec
Can't get to Buckingham Palace? At this active military base, the changing of the guard ceremony has all the pomp, plus a special guest star, Batisse the goat. You can also take a tour to learn about the history of the 300-year-old fort.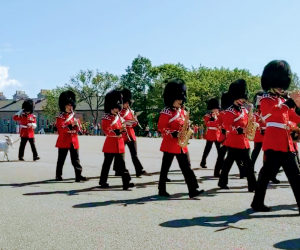 The changing of the guard at La Citadelle de Quebec stars Batisse the goat.
12. National Museum of Fine Arts (MNBAQ)
Spanning three buildings, including the old prison to a brand-new glass pavilion, the buildings are as interesting as the 25,000 works of art. Don't miss the family gallery at this Quebec City museum.
13. Plains of Abraham, National Battlefields Park
This 267-acre green oasis offers sweeping river views and is a great place to picnic or just run around after visiting the Citadelle or art museum. The "Abraham's Bus" tour is a short, entertaining way to learn the history of the site.
14. Morrin Centre
Tour the Morrin Centre, built 200 years ago as a prison, to see firsthand the terrible conditions, including getting locked into a solitary confinement cell. Now, however, the building is an English language library and hosts storytimes on Saturdays as well as afternoon teas. If only all prisons could make such transformations.
15. La Buche
When is lunch an activity? When the menus are like coloring books and you can make your own maple sugar taffy on a freezer table after eating "rabbit wings" and shepherd's pie balls. Don't miss this Old Quebec City restaurant.
16. Quebec City Festivals
Quebec City seems to have a continual flow of festivals, many free, that give the city a festive vibe almost any time of year. During our visit in August, for example, there was a comedy festival, fireworks festival, and free nightly circus show. See the entire calendar of festivals.
17. Afternoon Tea at Chateau Frontenac
If you're not staying at Quebec's most photographed hotel, you can still enjoy the historic setting with a classic afternoon tea.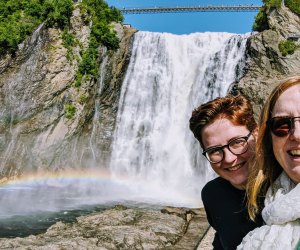 It's all waterfalls and rainbows at Montmorency Falls, a secret spot near Quebec City.
Top Attractions Around Quebec City
18. Benjo
So much more than a toy store, Benjo offers a cafe, a life-sized robot, crafts studio, and family workshops, plus rides on the indoor electric train. Check the store's website for current hours.
19. Samuel-De Champlain Walkway
The riverside park and path is great for a bike ride or stroll. There's even a sandy beach, a small woods, and water features to discover.
20. Montmorency Falls
They say getting there is half the fun and for these spectacular falls it's true. Once you arrive at the park, a short drive or taxi from the city, you can walk to the base of the falls and then climb the steps to the top, ride a tram, or zip line (yes, really!). At the top, you'll definitely want to walk out onto the suspension bridge to peer over the top of the falls.
RELATED: 25 Ways to See the Beauty of Banff in the Canadian Rockies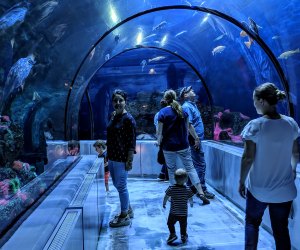 The glass tunnel through the deep sea tank is a highlight of the Aquarium du Quebec.
21. Aquarium du Quebec
You'll enjoy strolling through the beautiful grounds of this aquarium as well as exploring the touch tanks, watching the walrus and penguin shows, and seeing the gorgeous, colorful jellyfish displays.
22. Méga Parc des Galeries de la Capitale
In a city where the weather may not always cooperate, this indoor amusement park is always a sure thing, with 18 rides, including a carousel, bumper cars, roller coaster, Ferris wheel, skating rink, and arcade.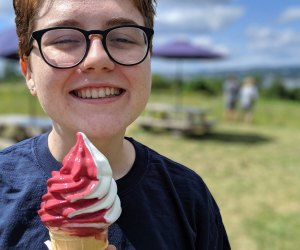 The scenery and the food are fabulous at Cassis Monna & Filles on Ile d'Orleans.
23. Ile d'Orleans
A great day trip just 20 minutes from downtown Quebec, Ile d'Orleans is a stunning island full of food makers and farms. Use the interactive map to find pick your own farms, sugar shacks, vineyards, and more to visit. Some of our favorites were Cassis Monna & Filles, which has a lovely patio restaurant with an amazing view, and Confiturerie Tigidou for homemade jam tasting.
24. Village Vacance Valcartier Water Park
With both an indoor and an outdoor water park, this nearby water park is sure to bring smiles no matter what the weather is like in Quebec City.
25. Wendake Reserve
Learn about Quebec's Huron-Wendat Nation with family-friendly activities like the fireside Myths and Legends experience, jewelry making workshops, a museum, and a restaurant where you can taste traditionally inspired flavors.