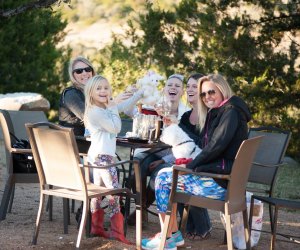 12 Kid-Friendly Texas Hill Country Wineries To Visit
From Houston, you can drive just a few hours outside of the city and find yourself surrounded by the majestic landscape and pristine fields of wildflowers in the Texas Hill Country. This beautiful scenery combined with lakes, rivers, campsites, and historic towns makes a quick getaway completely worth the time and energy. While you're in the hill country, taking some time to visit some of Texas' phenomenal wineries is almost a rite of passage on any weekend getaway... even with kids in tow!
The Texas wine scene has exploded in popularity in recent years and sampling some of the delicious wines made right in our own state is a must. These family-friendly hill country wineries are a fantastic choice for visiting on your next family trip.
Messina Hof Hill Country - Fredericksburg
9996 U.S. 290 East
830-990-4653
At Messina Hof Hill Country, children are welcome on winery tours and in the tasting room and grape juice is provided in lieu of wine for underage visitors. In August, the annual Harvest Festival is a family-friendly event featuring a grape stomp for all to enjoy. The winery is attached to an adults only bed and breakfast, but because it is located in Fredericksburg there are plenty of nearby kid-friendly lodging options.

Participating in the grape stomp at Messina Hof Hill Country./ Photo courtesy Messina Hof Hill Country via Facebook
Westcave Cellars - Round Mountain
683 Ranch Rd 1320, Johnson City
512-431-1403
With grape stomps, live music events, and the amazing Hamilton Pool right down the road, Westcave Cellars is the perfect stop for a winery tour with kids. It's fairly close to Austin, so you have your pick of other family-friendly activities in the area, but when you want to enjoy a wine tasting this is a can't miss spot.
Bell Springs Winery - Dripping Springs
3700 Bell Springs Road
512-643-7398
The onsite food truck at Bell Springs Winery will make your kids hot dogs and quesadillas and make you any of your brunchy favorites on the weekends. Live music by local Austin-area musicians can be heard free of charge every Saturday and Sunday from 3-5 p.m. Their outdoor area is a stellar place for taking in hill country views and sipping some vino while your kids run amok.
Sister Creek Vineyards - Boerne
1142 Sisterdale Road
830-324-6704
You can bring your kids and your pets (under 25 lbs and on a leash) to the tasting room and ample outdoor space at Sister Creek Vineyards. This rustic winery is built in what used to be a working cotton gin and cotton field turned vineyard. Reviews say this venue is off the beaten path, but in the best way outside of the typical tourist finds and rich with historical significance.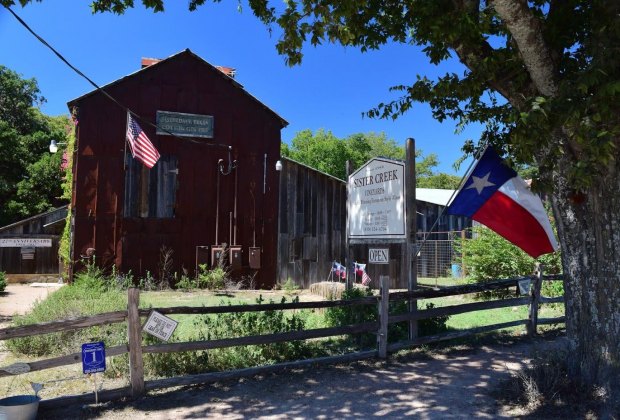 Kids will enjoy learning the history of this gorgeous vineyard./Photo courtesy Sister Creek Vineyards
Perissos Vineyards - Burnet
7214 Park Road 4 West
512-820-2950
Perissos Vineyards is located in the quaint lakeside town of Burnet and features a modern tasting room and expansive patio with gorgeous vineyard views. Kids are welcome both in the tasting room and the patio, as well as on vineyard tours and at special events throughout the year like harvests and grape stomps.
Dry Comal Creek Vineyards - New Braunfels
1741 Herbelin Road
830-885-4076
Kids can enjoy exploring ample outdoor spaces under a covered pavilion or shady oak trees at Dry Comal Creek Vineyards. If you thought New Braunfels was already extra kid-friendly, a visit to Dry Comal Creek Vineyards where you can drink Texas-made wines while your kids play is like icing on the cake.
Blue Lotus Winery - Hye
8500 Hwy 290
830-379-9463
With a large outdoor area with plenty of room to play, kids will have a blast at Blue Lotus Winery while you sample their Texas-made wines. Board games, puzzles, oversized Jenga and chess games will keep your kids entertained for hours. Plus the entire tasting room is shaped like a wine barrel, which is just stunning to look at.

Kids can roam free on the gigantic patio area at Blue Lotus Winery/ Photo courtesy Blue Lotus Winery
El Gaucho Winery - Spicewood
21301 Kathy Lane
512-382-0620
On El Gaucho's website, they state they are not only pet-friendly but "kid enthusiastic" as well. When you take your kids with you to tour El Gaucho Winery, you will be met with sweeping views and authentic Argentinian food and hospitality. Special events are held throughout the year for the entire family to enjoy.
Fall Creek Vineyards - Tow and Driftwood
325-379-5361
512-858-4050
I grew up visiting Fall Creek Vineyards in Tow on Lake Buchanan as a kid and it is just as family-friendly now as it was all those years ago. A family owned and operated vineyard, they have now expanded their winery to include a location Driftwood that has picturesque views and is just a short drive from Austin. Both locations are just breathtaking and the staff is ultra-friendly.
Singing Water Vineyards - Comfort
316 Mill Dam Road
830-995-2246
With two tasting rooms, a deck, and a tree house that overlooks a creek where kids can play, there is plenty of space for the entire family to enjoy at Singing Water Vineyards in Comfort. Their grill serves quesadillas, grilled cheese, and other kid-friendly bites, they offer live music on the weekends, and llamas and goats you can visit on site.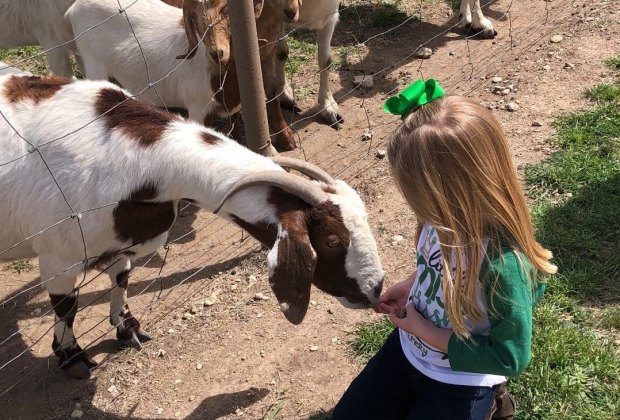 Kids can enjoy meeting goats and llamas at Singing Water Vineyards./Photo courtesy Singing Waters Vineyards via Facebook
Duchman Family Winery - Driftwood
13308 FM 150 West
512-858-1470
Parents can sip wine made with 100% Texas grown grapes while kids play a game of cornhole, run around in wide open spaces, or head next door to play on the playground at adjacent restaurant Trattoria Lisina where wood-fired pizzas are also served.
Chisolm Trail Winery - Fredericksburg
2367 Usener Road
830-990-2675
Supervised kiddos are welcome in the Chisolm Trail Winery tasting room, but the crown jewel of a trip to this Fredericksburg spot is the pizzeria where kids can nosh on wood-fired pizzas. There is also plenty of space for kids to sprawl out in outdoor areas and checkers and horseshoes available to play.
Top Photo courtesy El Gaucho Winery via Facebook