A Tiny House Hotel Vacation Means Big Fun for Families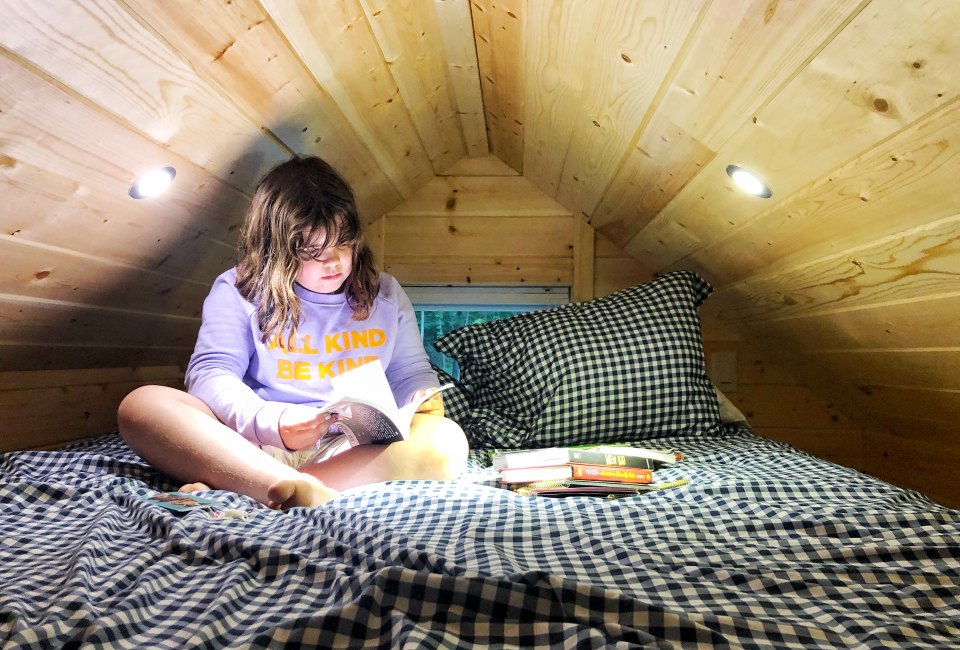 7/6/19
- By
Ally Noel
For traveling families, a tiny house rental can make the perfect hotel solution. It often comes with multiple beds without the cost of a pricey multiroom suite, as well as family-friendly amenities, such as stocked kitchens. It doesn't hurt that they're so very cute and often set among pretty landscapes, from beaches to forests and mountains.
Tiny houses have grown in popularity in recent years as many of us try to reduce our footprint and that means a tiny house getaway is all the more accessible. There are now villages of tiny houses available for American vacationers. Tiny home resorts have cropped up, too, while some campgrounds and even urban areas have added a handful of rentable tiny homes to their grounds.
So pack light and check out these seven tiny house resorts that allow you and the kids to try on tiny living for size.
It may seem impossible to squeeze unique amenities and all the comforts of home into around 200 square feet (give or take a few) but these resorts are up for the challenge. Most tiny houses make use of loft rooms, bunk beds, and scaled down kitchens and bathrooms. Often, outdoor communal amenities, such as fire pits or pools, make the stay feel "bigger" than expected. From private escapes in the woods to an urban retreat, each of these resorts offers a unique approach to tiny living.
Campground Style Tiny Houses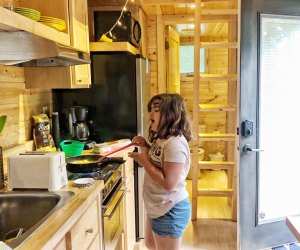 Most tiny houses come equipped with kitchens and bathrooms while saving space with loft rooms and bunk beds. Photo of Think Big! by the author
Think Big! A Tiny House Resort — South Cairo, New York
The Think Big! Tiny House Resort feels a bit like a family campground or nature retreat rolled into a farmstead and outdoor paradise. Mostly, it's pure magic from the moment you arrive. My family enjoyed our stay at Think Big! for one wonderful whirlwind of a summer getaway in New York.
There are only nine tiny houses on site at this Catskills-based resort, so it's easy to feel like you have the whole place to yourself. Our family of three comfortably fit in "The Lodge," a fully stocked home that easily sleeps up to six people. A brood of beautiful chickens greeted us when we arrived onto the property; not only were the chickens very friendly, but we were also told we could go into the coop to gather eggs for breakfast. Free eggs turned out to be just one of the resort's many amenities we enjoyed. Each of the tiny homes at Think Big has a kitchen, full bathroom, TV, and a private patio. We enjoyed a quiet evening roasting marshmallows at our fire pit and watching a family movie snuggled up in bed.
A heated outdoor pool will also appeal to kids, and there is hiking and more water fun, such as kayaking and river tubing. You can also meet baby goats, bunnies, and ducks on the property.
Fireside Resort — Wilson, Wyoming
Headed to the outdoor paradise of Jackson Hole? The affordable tiny house rentals nearby by might be the perfect family vacation solution. The Fireside Resort, which is kid-friendly, as well as dog-friendly, says it aims to strike the balance between luxury lodging and a rustic retreat, putting things like free wi-fi and flat-screen TVs into its cabins. The 25 "architectural cabins" come complete with cozy amenities, such as fireplaces, kitchenettes, and private decks. There's also a communal hot tub. Guests can easily access the various outdoor sports and activities in the area, including skiing, mountain biking, rafting, hiking, fishing, golfing, and more. Complimentary bike rentals are also available.
Mt. Hood Tiny House Village — Welches, Oregon
This quaint Tiny House village is located just outside Portland, Oregon. There are six, RV-style tiny houses, all on wheels, each with a unique personality theme, such as the "wild and free" Zoe or the sleek and rugged "Atticus." The houses are situated around a communal fire pit that creates a homey atmosphere with the pretty Pacific Northwest landscape as the backdrop. Looks like a great spot for a multigenerational family reunion.
RELATED: New York Catskills, Hudson Valley, and Adirondacks Travel Guide for Families

The tiny home hotels at Wee Casa bring visitors together with lawn games and fire pits.
Wee Casa — Lyons, Colorado
Situated just outside of Boulder along a river in the town of Lyons, Colorado, the Wee Casa tiny house resort offers 22 rentable "casas." The individual houses include the amenities of a hotel, including nice linens and heating and a/c, in a pretty, campground-like setting. Families will find communal charcoal grills, lawn games, and fire pits. Each casa has its own indoor bathroom, kitchenette, and sleeping area.
Hatteras Sands Campgrounds — Outer Banks, North Carolina
Hatteras is a traditional campground with some pretty unique accommodations. Chose from a rainbow of beautifully painted tiny cottages to call "home" while you explore North Carolina's Outer Banks. Each cottage sleeps four comfortably in a queen sized bed and two twin beds. The cottages also have a small fridge, microwave, TV, charcoal grill, and picnic table...but they lack bathrooms, which could be tricky if traveling with small children. A newly renovated bathhouse is a quick walk from the cottages, and there are also laundry facilities on site. Kids might dig the large pool as well as a game room.
RELATED: Family-Friendly Farm Stays Across the Country
More Tiny Home Getaways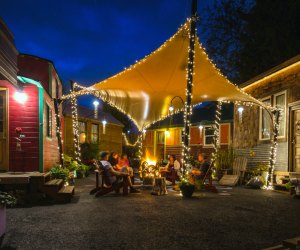 The custom-made tiny house rentals at Caravan fit right into Portland.
Caravan — Portland, Oregon
As America's first tiny home hotel, the six custom-made homes that make up the tiny house hotel of Caravan are truly unique. Local builders and artisans handcrafted every detail of these charming homes, and it shows. With houses named "The Caboose" and the "Amazing Mysterium," guests are sure to be in for an extraordinary experience. It's set in Portland's arts district, making restaurants and shops easily accessible.

Getaway Homes rent out tiny homes set in the woods near major metro areas.
Getaway Homes — various locations
Getaway Homes have several locations near the major metropolitan areas of Atlanta, Boston, NY, Dallas, LA, DC, Portland, and Pittsburgh. Most of Getaway locations are spread out across at least 20 acres of woodland to guarantee some peace and an opportunity to recharge. There is often some communal space where families can cook over a campfire or prepare a meal from the fully stocked tiny kitchen. Each home has one or two queen sized beds, a bathroom with shower, and a kitchen, and there's a spot to lock away your phone in order to really "get away."
Photos courtesy the tiny house communities except where noted
Click Here to Sign Up!
i