Top 10 North Carolina Beaches for Families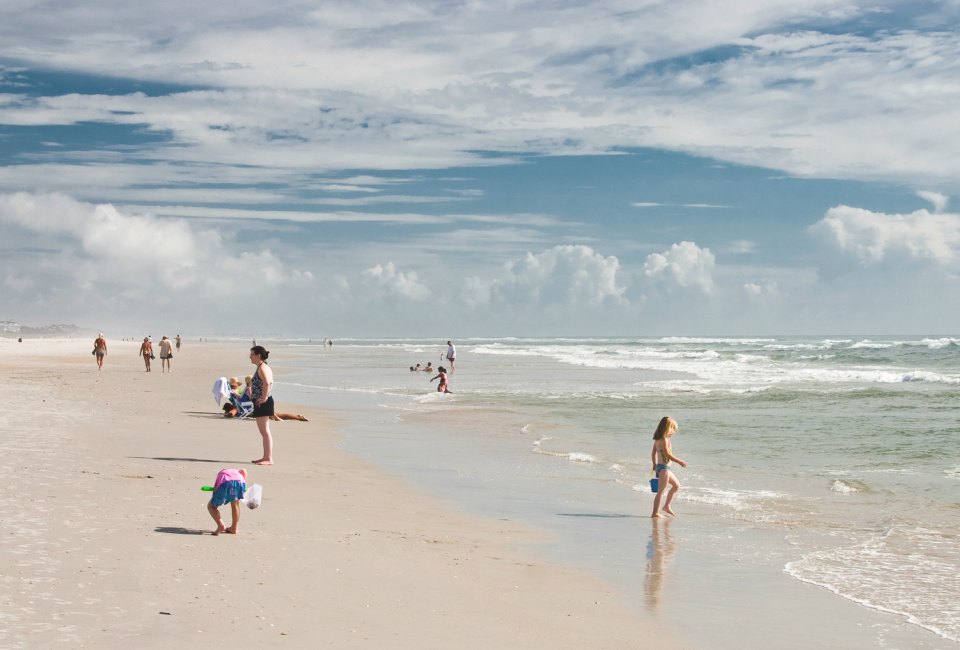 6/23/18
- By
Christine Mooney
North Carolina is home to top notch colleges, bustling cities, fun towns tucked into the Blue Ridge Mountains, and some of the best beaches on the East Coast. Most of these beaches are a far cry from the bustling carnival-like atmosphere of the boardwalk towns in the Jersey Shore, and others take a bit more effort to get to than you might expect, but they're definitely worth it. Wild horses, cute seaside towns, and a dose of southern charm make North Carolina a great beach destination for you and your family.
Keep reading for our top picks for family-friendly beaches in North Carolina.
1. Carolina Beach
Families wanting the hustle and bustle of a busy beach town but without the college feel of nearby Wrightsville Beach, will enjoy Carolina Beach. 25 minutes south of downtown Wilmington, Carolina Beach offers relaxed beaches and a vintage boardwalk, which features restaurants, ice cream and doughnut stands, and shops. During the summer months, the boardwalk hosts weekly festivals and fireworks. Because of the boardwalk, this beach gets busy so be prepared to walk a bit to find a spot to camp out for the day. But because of the boardwalk, you'll also find loads of amenities for families. Hotels are much more common here than in some of the other parts of the Carolina coast, and with easy access from Wilmington, Carolina Beach is a great choice for families.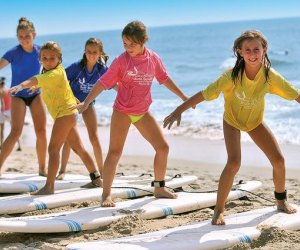 Surf lessons with Tony Silvagni Surf School. Photo courtesy of Carolina Beach
2. Fort Fisher State Park
This tucked away state beach is a little known secret. Families who don't want a long haul from the parking lot and want to enjoy a quiet day at the beach while still having easy access to town (downtown Wilmington is less than 40 minutes away) will find Fort Fisher the perfect spot. Five miles of beach, plus picnicking areas are available. If anyone in the family is interested, park rangers host various events throughout the summer, including Turtle Talk, Surf Exploration, and Beachcombing 101, and don't forget about the NC Aquarium at Fort Fisher, a great spot to see sea life up close. To really feel like you've gotten away from it all, off-road vehicles can be used to reach the southernmost points of the beach.
3. Kure Beach
Located between Fort Fisher and Wilmington, Kure Beach offers a small beach town feel with lots of fun. Summer music concerts take place at Ocean Front Park, and there's a playground and shaded picnic area as well. An easy ferry ride across the Cape Fear River from the town of Kure Beach gets families to Southport, a picturesque seaside town that often finds itself as a movie filming location. Should families need a break from the sun and sand, the shops, restaurants, and special events in Southport offer a fun day away from the beach, while still staying in the area.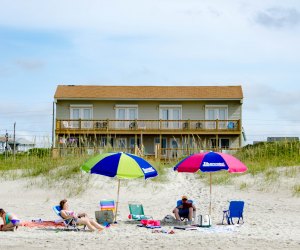 Chillaxing at Emerald Isle. Photo by Doug Butchy/CC BY 2.0
4. Corolla
This Outer Banks location is magical: Seclusion, pristine beaches, wild horses...visitors here won't find big shore hotels (there are only two hotels in the immediate area) and so will most likely need to secure a vacation rental, which compared to the beach towns at the Jersey Shore, are much more cost effective and quite luxurious for the price.
Corolla is also home to Currituck Beach Lighthouse. Access to the lighthouse and grounds are free. Want to climb 220 steps to the top? You'll get amazing views of the Atlantic Ocean and Currituck Sound for an admission fee of $10 a person.
5. Duck
Close to Corolla and tucked between the sound and the sea, Duck offers the amenities of a unique beach town plus quiet public beach access, where the entire family, including the family dog, can relax. Families vacationing here will find lots of rental properties available to them. In the town of Duck, locally owned shops and restaurants abound. On the shores of Currituck Sound, there is an 11-acre park with walking trails, a pavilion for special events, and a willow marsh. For the water sports enthusiast, kayak, jetski, parasailing, paddleboards, and pontoons are available for rent locally..
6. Emerald Isle
Located on part of what's known as North Carolina's Crystal Coast, Emerald Isle is a small beach community that's a hub for water sports. However, there's a draw for everyone, including public beach access, the Salty Pirate Water Park, nature trails at Emerald Isle Woods Park, mini golf, campgrounds, a fishing pier, restaurants and more. There's also an aquarium in nearby Pine Knoll Shores. If you get tired of the uncrowded beaches, surf and sand, then a day trip to the towns of Beaufort, New Bern, or Swansboro offer even more to do.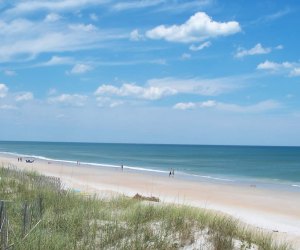 Topsail Beach. Photo courtesy of the Town of Topsail Beach
7. Topsail Island
Smack in the middle of the coast between the Crystal Coast and Cape Fear, Topsail Island is another relaxing stretch of beach with a big focus on natural conservation efforts. Visitors will find beautiful views and quiet beaches anywhere on the island, whether they're in North Topsail, Surf City, and Topsail Beach. An added bonus for families is the Karen Beasely Sea Turtle Rescue and Rehabilitation Center in nearby (mainland) Surf City. For $5 (adults) and $3 (kids), visitors can take a tour of the facility and get up close with the rescued turtles. Want to experience sea turtles in the wild? Loggerheads come to Topsail to nest from mid-May through August each year.
For history buffs and military enthusiasts, the Missiles and More Museum is open seasonally and has missile displays and exhibits on military aircraft, secret missions, and women's roles in the Air Force. And of course, there are playgrounds, nature parks, restaurants, and shops for families to explore.
8. Kill Devil Hills / Kitty Hawk
Across the Wright Memorial Bridge from the mainland, Kill Devil Hills is a must for any aviation enthusiast. The Wright Brothers took some of their first successful flights here, and the National Park at Kill Devil Hills marks these historic events with a 60-foot monument and markers throughout the park designating important flights and tests. Just north of here is Kitty Hawk, a great base for travel to the Kill Devil Hills.
There's also a pier, seven public access beaches (three of which are manned with lifeguards during the summer months), restaurants, shops, water sports and more. Sea turtles make their nests in these parts of the Outer Banks so be on the lookout for these wonderful sea creatures.
9. Nags Head
Keep heading south from Kitty Hawk and you'll find Nags Head, home to Jockey's Ridge, the tallest sand dune on the Atlantic coast. Get a (free) permit and go sand boarding or take some hang gliding lessons to experience this dune in a very unique way. If neither of those activities sound appealing, you can simply hike the dune and visit the onsite museum. The beach at Nags Head is the biggest draw so expect to spend most of your time here relaxing on the shore. There are mini golf facilities, ice cream shops, go carts, and restaurants.
For more activities, visitors can take the bridge over to Roanoke Island where some of the first Europeans settled in America at the Lost Colony. There are also many other activities, including an aquarium, boat tours, annual festivals celebrating the island's mysterious history, Elizabethan gardens, lighthouses, and ghost tours.
10. Cape Hatteras National Seashore
70 miles of beautiful Carolina beaches make up the Cape Hatteras National Seashore, which is run entirely by the National Parks Service. Ocracoke Island is the most well known, with its iconic lighthouse and, if you meet one of the few locals left, a very distinct dialect. Or visit one of the other two lighthouses open for climbing at Cape Hatteras and Bodie Island. Camping, relaxing, and water sports are the main attractions on this wonderful stretch of coastline.
Click Here to Sign Up!
i