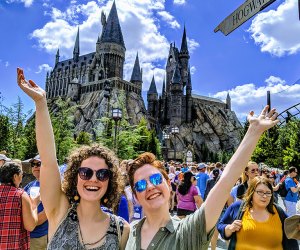 Orlando with Teens: Top 15 Things to Do at the Theme Parks and Beyond
I used to think of Orlando as a destination for little kids, but I discovered Orlando is even better with teens. Amusement parks are so much more fun when you can go on all the rides and don't have to worry about the dreaded "theme park meltdowns." My big kids were also able to pack in lots of other adventures and hipster shopping areas as we explored all the fun there is in Orlando beyond the theme parks.
We spent our recent spring break in Orlando with two teens and had a blast.

Visit Orlando also helped us with expert advice on the best things to do with teens in Orlando. Here's what we found out.

The Na'vi River Ride in the new Pandora section of Animal Kingdom is gorgeous.
Orlando Theme Parks Highlights for Teens
Your older kids likely have the height (and nerves) to go on more rides than when they were preschoolers. Teenagers also have more stamina than those little walkers, of course, so you can really pack in a full day of rides and experiences. Here are some of our personal highlights for teens from Orlando's main theme parks.
1. Pandora – The World of Avatar at Animal Kingdom
Pandora – The World of Avatar is a gorgeous addition to Disney's Animal Kingdom. The Avatar Flight of Passage ride is possibly the best ride I've ever been on. It's absolutely beautiful and, while it will be too scary for most little kids, it's perfect for teens. The Na'vi River Ride is stunning as well.

Cool off with a beautiful and tasty violet lemonade slush at Epcot.
2. Epcot's World Showcase
We had a surprisingly good time exploring Epcot's World Showcase, a walking tour through country-themed stops with food and more. It's another activity that I don't think little kids would enjoy quite as much. My teens had a list of the most Instagrammable foods to check out and laughed at the corny video showcases.
3. Disney After Hours at Magic Kingdom
Disney's new late night hours at Magic Kingdom allowed us to hit three parks in one day. My teens had no trouble with a 12-hour theme park day, and they loved the nostalgia of the fireworks displays and light shows. We closed the park on the carousel and other kiddie rides with almost no lines.

Catch some magic at the Wizarding World of Harry Potter.
4. The Wizarding World of Harry Potter
Universal Studios' Diagon Ally is a totally immersive world where you can spend hours exploring the nooks and crannies of the stores and casting spells with an interactive wand. We rode the Hogwarts Express to Hogsmeade in Universal's Islands of Adventure for a bit more Potter magic and then checked out more rides. The Hulk is one of my favorite roller coasters if you have thrill seekers in your group.
5. Universal's Volcano Bay
Find the best of Orlando's water parks for older kids and adults who love thrilling slides and rides at Universal's Volcano Bay. You'll find slides that drop you six feet into the pool at the bottom, and the Ko'okiri Body Plunge, a 125 foot almost straight drop!
RELATED: Florida Family Travel Guide

Pose with the Biebs at Madam Tussauds.
More Top Orlando Attractions for Teens
Orlando is so much more than theme parks. You'll want to line up a few amusement park breaks when traveling to Orlando with teens, from shopping to NASA.
6. ICON Orlando 360
This destination offers a variety of indoor attractions, plus dining options and shopping. Anchored by the giant ICON observation wheel, there's a Madame Tussauds, an aquarium, an arcade, and more rides. We debated whether to ride a giant swing that takes you 450 feet into the air, but, instead, enjoyed snapping photos with wax celebs.
7. Gatorland
Meet Florida's favorite carnivore at this gator-themed attraction where you can watch an alligator show or zip line right over them. There are big cats, birds, and several tour experiences to try here, too.

Feed to resident alligators at the Wild Florida Gator Park.
8. Wild Florida Airboats and Gator Park
Cool off on an airboat ride to see native baby gators, beautiful birds, and more in their natural habitat. You can also buy food to feed the resident alligators in the park and stop by the petting zoo to cuddle the baby alpacas and pygmy goats.
9. Andretti Indoor Karting and Games
If you need a break from the sun or rain, this indoor spot offers go-karts, as well as an arcade, zip line, bowling, and more.
10. WhirlyDome
Whirlyball is a fast-paced game played in bumper cars that combines basketball, jai-alai, and hockey. Join in, or just watch through the glass walls. WhirlyDome also offers laser tag, an arcade, and more action sports.
11. Orlando Tree Trek
We love fun and challenging treetop adventure courses. Tree Trek offers four courses at increasing difficulties, as well as two kids courses.
12. Hollywood Drive-In Mini Golf
Located at Universal's Citywalk, this course takes mini-golf to a new level with humorously themed holes that are even better at night when it all lights up.
13. Kennedy Space Center Visitor Complex
The space-themed destination is just a short drive from Orlando and a full day of fun for anyone interested in space exploration.
Orlando Shopping with Teens
Shopping, shopping, shopping! I'm not a huge shopper, but I do enjoy perusing the aisles with my daughter. It's always fun to see what she gravitates to over the years.
14. Disney Springs
Disney Springs is an upscale, outdoor shopping mall open to the public with several restaurants and experiential stores. We had a great meal at Morimoto Asia (the Peking duck is amazing), and then walked around, checking out the stores and live performers.
15. 50 Mills
This hip Main Street district around the intersection of Mills Avenue and Colonial Drive offers eclectic stores and restaurants. You'll find cool secondhand shops, boutiques, fun selfie-worthy street art, and great local eats.
Photos by Mommy Poppins