45 Fun Things To Do in New Orleans with Kids
2/19/22
- By
Melanie Preis
Being in New Orleans can sometimes feel like being in another country: There are foods you've never heard of, hard-to-place accents, and street names you may not even know how to pronounce (Tchoupitoulas Street, anyone?). But that's also the joy and wonder of New Orleans. From the music to the food, it is unlike any other city in the world.
New Orleans should be on everyone's travel bucket list, as the Big Easy makes a great, multigenerational family vacation spot. There are so many fun things to do in New Orleans with kids any time of year, but if you visit during one of the city's big festivals—like Mardi Gras, Jazz Fest, or Bayou Boogaloo—your family is guaranteed an even greater time!
Read on for our list of 45 fun things to do in New Orleans with kids, including delicious New Orleans restaurants and foods to eat as well as family-friendly New Orleans hotels. For more great family vacation options, from warm and sunny vacation ideas to must-try dude ranch vacations for families, check out our Family Travel Guide.

Check out Toddler Time and many other programs at the Louisiana Children's Museum. Photo courtesy of the museum
Indoor Things To Do in New Orleans with Kids
This 56,000-square-foot facility is packed with interactive exhibits for every kid, including a sensory lagoon, the Mighty Mississippi exhibit, a nature center, a food exhibit, and much more. Make sure to check the museum's calendar before your trip to see what events are happening at the time of your visit.
This beautiful marble structure designed in 1791 celebrates the origins of and the annual celebration that is Mardi Gras. The Presbytére also has an exhibit on Hurricane Katrina and how it affected the city and its residents.
Related: 30 Best Warm and Sunny Family Vacation Ideas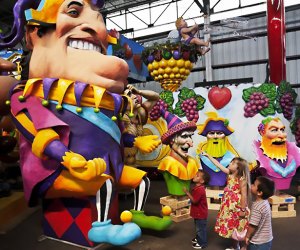 Get up close and personal with floats at Mardi Gras World. Photo courtesy of NewOrleans.com
If you can't make it to New Orleans during Mardi Gras, don't despair! Visit Mardi Gras World and get a behind-the-scenes look at past floats and the work that goes into creating them on a tour of the warehouse.

Preservation Hall is the perfect place to introduce kids to jazz. Photo courtesy of preservationhall.com
This is the mecca for celebrating New Orleans jazz, both its current musicians and its history. The hall features concerts from local musicians almost every day of the year. It's the perfect way to hear great music with kids, as all ages are welcome.
This museum invites guests to learn about World War II, its impact on the country, and the price of freedom. The six-acre facility has more than 250,000 artifacts from World War II, as well as stories and insight from thousands of soldiers and civilians.

Meet marine life at Audubon Aquarium. Photo courtesy of neworleans.com
Located near the French Quarter, this New Orleans aquarium features a walk-through tunnel highlighting the Great Maya Reef and a 400,000-gallon exhibit on the Gulf of Mexico. It's among our favorite aquariums across the country. Note: Audubon Aquarium is currently closed and is set to reopen in summer 2023, when it will combing with the Audubon Insectarium.
New Orleans' butterfly garden is a must for any insect enthusiast. Its more than 50 exhibits of things that crawl and fly are well-designed and eye-catching. Note: Audubon Butterfly Garden and Insectarium is currently closed and will be moving to Audubon Aquarium.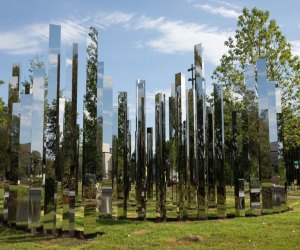 Check out the Mirror Labyrinth at the Sydney and Walda Besthoff Sculpture Garden. Photo courtesy of neworleans.com
Located within City Park, the New Orleans Museum of Art (NOMA) is an exquisite art museum and a great air-conditioned reprieve from the elements. The museum is New Orleans' oldest art institution, featuring more than 40,000 pieces. Right outside NOMA sits the Sydney and Walda Besthoff Sculpture Garden featuring more than 80 sculptures.
This make-your-own-art boutique is located on Magazine Street in the Garden District. Families take use shards of glass in various sizes, colors, and textures to create a brand new piece of art. Younger kids will definitely need help handling and cutting the glass shards.

Beads by the Dozen photo by Melanie Preis
If you're not planning on attending Mardi Gras but want to look at and buy similarly festive strands, take our insider's tip and visit Beads by the Dozen, located in an industrial area of Elmwood. During retail hours, kids will love running down the aisles of countless beads, tiaras, hats, and toys—all with that New Orleans twist.
Related: The Best Zoo in the US: Take Your Kids on a Family Animal Adventure
Outdoor Things To Do in New Orleans with Kids

See dozens of animal species at the Audubon Zoo.
Audubon Zoo is home to dozens of species and features an exhibit on the Louisiana swamp. Located Uptown, the zoo allows children to travel by train ride and cool down at the splash pad. It's a fun visit for kids, who may catch one of many peacocks strolling the grounds.
This nature center next to the zoo reopened in 2017 after Hurricane Katrina with new and beautiful trails, educational buildings, and a planetarium.

There is so much to see in the famed French Quarter. Photo courtesy of neworleans.com
13. French Quarter
While some areas of the French Quarter are definitely not a good destination for kids, there are stops that many children will love. Visit antique shop James H. Cohen and Sons (with a don't-touch, just-look warning), peruse the French Market, take a carriage ride, find a fortune teller in Jackson Square, and fill up on so many delicious treats.
Take a tour of the French Quarter that will engage kids of all ages. French Quartour Kids offers tours for families broken into age groups, including a teen tour as well as tours for kids as young as 4. Some of the tours have themes, such as spooky tours or a Creole Kids tour with crafts.
From the daily train rides to the beautiful scenery to the great playground, there are so many things to enjoy about City Park. Most of the park is well-shaded, making it a great spot to visit even during the hot summer months.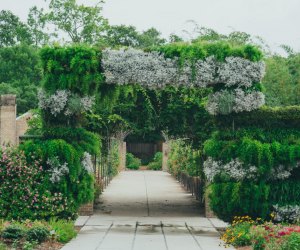 The entire family will love the New Orleans Botanical Garden. Photo by Zack Smith
This botanical garden inside City Park includes 10 gorgeous acres of gardens and art, including a sculpture garden. Kids will especially love the Butterfly Walk and the Historic New Orleans Train Garden (open only on weekends), which showcases G-scale trains and examples of miniature New Orleans architecture.
This must-visit City Park attraction features 18 rides (each with varying height requirements), including its famous carousel namesake. If you're in New Orleans during the holidays, check out Celebration in the Oaks as well.
Kids will love City Park's 36-hole mini-golf complex with two courses and clever New Orleans-themed holes.

Fairytales and fantasy come to life at Storyland.
City Park's Storyland is a fantastical place for kids and adults alike. Enjoy the outdoor magic of having fairytales and fantasy come to life at this themed playground, which offers more than 20 interactive storybook sculptures with classic fairytale characters that kids can climb and play with.
New Orleans' cemeteries, which are all above ground due to the sinking topography, are a sight to see for tourists. St. Louis Cemetery No. 1 is the city's most famous cemetery, known for its massive gothic mausoleums and tombs. There are many tours from which to choose, including daytime and nighttime options, depending on your family's level of daring.

Get an up-close and unforgettable view on a Cajun Bayou Swamp Tour. Photo courtesy of Cajun Encounters Tour Company
21. Take a Swamp Tour
Get up-close and personal with Louisiana's expansive and hauntingly unforgettable swamps. About 20 to 30 minutes outside of the city there are plenty of options for tours. One great option is touring the Jean Lafitte National Historical Park and Preserve, which spans several miles near the Mississippi River and is teeming with wildlife.
22. New Orleans Riverfront
Look out to the famed Mississippi River while walking along the riverfront walkway. Grab a po-boy or bring a picnic lunch to a bench or green space along the path, watch the boats and freighters travel along the waterway, enjoy music by street performers, and ride the Canal Street ferry that leaves twice every hour for a 10-minute ride across the Mississippi.

The Steamboat Natchez has a fascinating history that visitors can learn about on a river cruise. Photo by Paul Broussard
Take a streetcar through the Garden District into downtown. There are lots of great stops along the way, including the aquarium and the French Quarter, or you can just take a ride with no real destination in mind to get a feel of this historic city.
Take a ride on the only steamboat this side of the Mississippi. Steamboat Natchez offers dinner cruises, sightseeing tours, and special seasonal offerings depending on the time of year. Expect a great view of the city and its surroundings. Kids will the love the chance to hop aboard.

Kids will love looking out across the water at Bucktown Marsh Boardwalk.
Located in nearby Jefferson Parish, Bucktown Marsh Boardwalk is a wonderful place to learn about the local ecosystem while walking right above the marsh. Kids will love looking out across the water and using the surrounding signage to identify birds and plants. Plus, they'll get out a lot of energy running up and down the boardwalk.
Related: The Best Children's Museum in Every State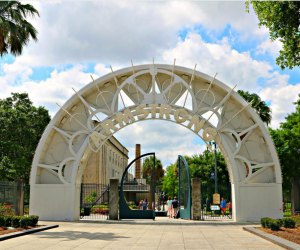 Louis Armstrong Park is a must-visit for families. Photo courtesy of NewOrleans.com
In a city known for its music, it makes sense that Louis Armstrong Park would be a great New Orleans attraction. Located in the Treme neighborhood (the birthplace of many famed jazz musicians), this park hosts many festivals and events throughout the year.
27. Lake Pontchartrain Levee
Do as the locals do and take a walk, bike ride, or jog along the levee of Lake Pontchartrain (a huge estuary totaling 630 square miles). The city relies on levees to hold back flooding waters during hurricanes and tropical storms. My kids love to spend time on the grassy levee in Metairie (in Jefferson Parish), rolling on the grass, flying kites, and chasing butterflies.

Don't leave the city without a trip to the famous Cafe Du Monde.
New Orleans Restaurants Kids Love
Enjoy New Orleans' most famous chicory coffee and beignets at Cafe Du Monde. Beignets are square-shaped pieces of fried dough covered in powdered sugar. Hungry diners get to control their dough-to-sugar ratio by putting on as much or as little as they want. Delicious! The line may be long in the mornings, but the food is worth it.
There's pizza, and then there's Fat Boy's Pizza. Each slice is the size of an adult human head, and a large pie measures 30 inches across. Besides it being so—well—fat, the pizza is also really tasty. My kids' chins hit the table when we strategically had to fit the pizza box through the doorway.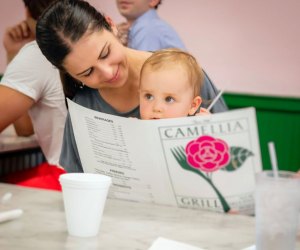 See why Camellia Grill is so famous. Photo courtesy of Camellia Grill, Facebook
You cannot come to New Orleans without stopping at Camellia Grill. This pretty-in-pink, landmark diner is one of the most famous New Orleans restaurants (and that's saying a lot for a town known for good eating). Come for the chocolate freeze and omelettes, stay for the entertaining staff.
The Backyard is just what it sounds like—a casual family dining experience that looks and feels like a comfy backyard. Specializing in smoked meats and local craft beers, The Backyard also serves a delish kids' menu.

Most hot dogs are yummy, but Dat Dog is especially delicious! Photo courtesy of Dat Dog, Facebook
You may like this hot dog, but you'll definitely love Dat Dog! With three locations in New Orleans, Dat Dog offers diners the chance to choose their favorite type of sausage (including vegan options) and tasty toppings. Other menu items include beer-battered cod and tater tots.
When I lived in New Orleans, I ate at Juan's all the time...it's that good. The colorful decor and laid-back vibe are just as good as the tasty dishes coming out of the kitchen. The kids' menu is full of delicious fare, and most of the items default with no salsa (so there's one less step when ordering for your kids). Parents should be sure to order a margarita (or three).

There is no tastier treat during a hot New Orleans day than a snoball from Hansen's.
There is no tastier treat during a hot New Orleans day than a snoball from Hansen's. Snoballs (see also snowballs, sno-balls) are cups filled with fluffy shaved ice and flavored with sweet syrups, toppings, and stuffings. Keep in mind that snoball season lasts from spring until the end of summer.

If you're craving good seafood, head to Drago's. Photo courtesy of Drago's Seafood Restaurant
This famous seafood restaurant serves up a huge menu of New Orleans favorites like charbroiled oysters, gumbo, and—for the more daring—gator bites. The children's menu includes burgers and fries, fried shrimp, alfredo pasta, and fried or grilled chicken fingers.

Try the shrimp po-boy from Parkway Bakery and Tavern. Photo courtesy of visitneworleans.com
Other New Orleans Foods for Families to Try
There are many dishes that were born in this city—think etouffee, chargrilled oysters, and turtle soup—that are definitely not kid-friendly (unless your child is an extremely adventurous eater). But there are other New Orleans staples your kids will definitely want to try while in the Big Easy.
36. Po-boy
A relative of the hoagie or sub, this sandwich features crispy bread and is traditionally filled with roast beef or fried seafood.
37. Muffuletta
Muffuletta is an Italian sandwich consisting of a round sesame loaf filled with ham, salami, Swiss cheese, provolone cheese, and olive salad.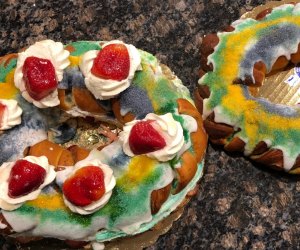 Who will get the slice of King Cake with the plastic baby in it?
38. King Cake
This dessert—part coffee cake, part cinnamon roll—is traditionally served during Mardi Gras. It features the holiday colors of purple, green, and gold.

Try Aunt Sally's pralines for a sweet, delicious treat. Photo courtesy of Aunt Sally's, Facebook
39. Pralines
Satisfy that sweet tooth with these simple candies consisting of sugar and pecans.
40. Gumbo
This Cajun and Creole stew features chicken, seafood, sausage, and lots of spices.

Hotel Monteleone is both historic and gorgeous. Photo courtesy of the hotel
Family-Friendly New Orleans Hotels
Stay at one of the oldest, most celebrated hotels in the French Quarter with a visit to Hotel Monteleone. The lobby's Carousel Bar & Lounge is a wondrous spot to rest after a busy day of sightseeing, as well as to listen to live music every night of the weekend starting at 5:30pm.
Set against the beautiful backdrop of the Mississippi River, the Hilton New Orleans Riverside is an awesome hotel for families. It's located just a few blocks from the New Orleans aquarium and the French Quarter (and on a streetcar line), as well as epic shopping at Riverwalk. The famous Drago's Seafood is located on the first level.
This lavish hotel is a great way to show the kiddos the beauty of New Orleans. With an indoor pool and restaurant, Loews has great amenities, including its Loews Loves Families program. The program includes complimentary cribs, baby bath-amenity kits, children's game tablets, coloring books and crayons, and more.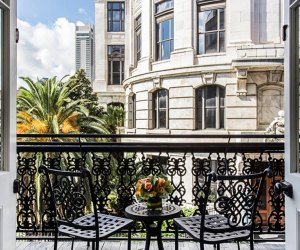 Kids are treated like royalty at Omni Royal Orleans. Photo courtesy of the hotel
Treat your kids to a luxury trip to New Orleans by staying at Omni Royal Orleans. This upscale French Quarter hotel offers a rooftop pool and on-site dining as well as the Omni Kids Crew program. Upon check-in, kids receive a backpack filled with fun items like activity books, stickers, crayons, and binoculars. Milk and cookies are delivered to the guest room on the first night.
Located in the cool artsy Warehouse District, the Renaissance Arts hotel pays homage to the talented work of local and nearby artists with an on-site art gallery and an indoor sculpture gallery. The hotel features a heated, rooftop pool overlooking the city, as well as two eateries.
General Tips for Families Visiting New Orleans
While New Orleans isn't big, if you are traveling with young kids, it can be difficult to navigate without renting a car. Uber and Lyft drivers are plentiful and there are plenty of those iconic streetcars, but parking is fairly easy and your own car gives you more flexibility.
Carry bug spray (depending on the season, the city is a hot spot for mosquitoes) as well as water and an umbrella or rain jacket.
If you're visiting with kids during Mardi Gras, it's important to pick the right area from which to watch the festivities. Avoid the French Quarter and St. Charles Avenue, where crowds are huge. Places like Metairie (and other suburbs and towns near New Orleans) are safe for families and are less crowded.
This article has been updated from its first publishing in 2008. Additional reporting by Carrie Taylor
All photos by the author unless otherwise noted