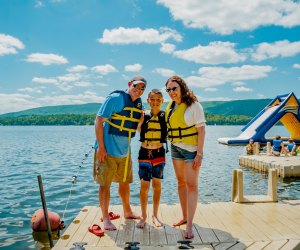 20 Family Camps with Private Cabin Camping for Summer 2020
Sleepaway camps from New England to the West Coast have abandoned a kids-only model for summer 2020. Instead, creative summer camp operators facing down sleepaway camp closures and cancellations are opening their bunkhouses to families for cabin camping and even family camp activities.
Some of these summer camps are offering just a cabin camping rental while others have designed a whole slew of family-friendly activities. Nearly all of these spots are serving up three meals a day via a dining hall and some offer extra perks like evening happy hours or movies under the stars. However, all of them have put COVID-19 safety precautions in place, including solo dining options and bring-your-own equipment in some cases. Whatever your family camp style, it's likely there's a cabin here waiting to welcome you for one out-of-the-ordinary but unforgettable summer camp 2020 experience.
Find more family vacation ideas in our Family Travel Guide, or a summer camp for the kids, whether in-person and outdoors, or virtual and at-home with our Summer Camps 2020 Guide.
Some of these cabin camping reservations are going fast and whole weeks are already sold out. Camping is certainly a hot trend for the summer of social distancing, so you might want to book asap if your family wants to get in on this rustic, all-inclusive family vacation option.
Family Camps with Cabin Camping in New England
1. Camp Lenox – Otis, Massachusetts
Let yourself be a kid again with the Camp Lenox Family Camp experience. Situated on the shores of Shaw Pond in the heart of the Berkshires, your days at Camp Lenox include plenty of time for the action-packed camp activities. Enjoy time on the water tubing, kayaking, swimming, or trying your hand at stand-up paddleboarding. You can take a hike, soar on a zipline, or conquer the climbing wall. There are gym classes and relaxation activities to enjoy, plus an evening social with activities like movie nights, campfires, and more. You'll have a private cabin to call home, and three meals, plus an adult happy hour, are served daily. Camp sessions run from Thursdays through Sundays in July and August.
2. Camp Watitoh – Becket, Massachusetts
Hit the shores of Center Lake as a camper at Camp Watitoh's family camp. These four-night, five-day adventures allow families to enjoy all the magic of camp, plus a fresh-air getaway. Stay in your own cabin with private bathroom facilities, and enjoy three meals a day. Some are served alfresco, others in the dining hall, and some to-go, perfect for a picnic. You'll stay with your family group throughout the day as you make your way through the various camp activities—from archery to Zumba and everything in between. Evenings include some adults-only social distancing events, too, once the kids are safely tucked in bunks.
3. Camp Taconic – Hinsdale, Massachusetts
Settle into your double bunkhouse at Camp Taconic—where parents occupy one half, and kids the other. A private bathroom connects the two sleeping quarters. Three meals per day, plus evening milk and cookies and s'mores are included. Most camp activity areas are open for self-directed play, and there are added on-site, outdoor fitness classes, too. Close out each evening with a campfire. Sessions run from Wednesday through Sunday.
4. Camp Danbee – Hinsdale, Massachusetts
Camps Mah-Kee-Nac and Danbee have teamed up to offer a summer like no other with their Family Camp. The programs, which run from Wednesday through Sunday throughout the summer, invite families to stay in their own private Camp Danbee cabin, located on the shores of Lake Ashmere. Partake in traditional summer camp activities like boating, swimming, and fishing on the lake, shooting hoops, roasting marshmallows around the campfire, and indulging in a little chow in the dining hall. Family Camp also includes nostalgic traditions like color wars and is meant to evoke the fun of yesteryear, while inviting families back into the great outdoors.
RELATED: 5 Family Camps in New England: Sleepaway Summer Camp for the Whole Family

Appalachian Mountain Club Family Adventure program. Photo by Paula Champagne
AMC's Family Adventure Camps are all-inclusive, with days-long trips filled with guided activities, meals, and lodging, so you don't have to do any planning, and you know exactly how much you're spending upfront. The Family Adventure Camps, located in Maine and New Hampshire, are for families with kids ages 5 to 12. Activities include hikes, paddling, fly-fishing, hands-on nature studies, and evening programs. Families learn about outdoor safety, ecology, and stewardship of wild areas while exploring the mountains and lakes in the Northeast. If your kids are younger, AMC generally offers a junior version of the adventure camps, Wee Wanderers, geared toward families with kids ages 3 to 5. While the Wee Wanderers program has been suspended for 2020, organizers say it will be back next season. Another long-term trip to plan: AMC has an out of this world Family Adventures in Wild Alaska in the works for summer 2021.
Make Club Getaway's Family Campaway your home for five days and four nights. Groups of up to 10 children and two adults are booked into a private cabin and enjoy tons of active fun on the 300-acre Club Getaway campgrounds. You'll be assigned a personal camp counselor who serves as your chaperone throughout your visit, guiding you through a jam-packed array of active fun. Swim or boat in the lake, test your athletic skills on the tennis or basketball courts, stage a family softball game, go hiking or mountain biking, and conquer the adventure park with its zipline, ropes course, and more. Rates are all-inclusive of meals and activities.
Family Camps and Cabin Camping NY
Enjoy a weekend at "The Cabins at Forest Lake Camp," as this family camp has been dubbed. All-inclusive bookings can be arranged for week-long stays or long weekends. Your private cabin can sleep up to 12 people and has a private bathroom and shower. Only 17 families at a time will be allowed on the sprawling 800+ acre campus. Meals are included, plus access to the on-site lake, hiking trails, and camp activities like sports, archery, a climbing wall, and more. If you want to rough it for a night, book a campsite on the water. End your day with a campfire and every-other-night s'mores treats. For a more organized experience, book the one-week family camp in August.
8. Camp DeWolfe – Wading River, New York
Though a ministry of the Episcopal Diocese of Long Island, Camp DeWolfe welcomes people of all backgrounds to its 19-acre beachfront property overlooking the Long Island Sound. Closed since March, the camp plans to welcome families for overnight and day-long visits once Long Island hits phase 4 of reopening, likely by late July. Overnight visitors can select from a variety of different accommodations. Activities include kayaking, paddleboarding, canoeing, arts and crafts, climbing, biking, hiking, fishing, sports, games, and, of course, campfires.
Rental options at this camp range from lakeside cabins sleeping up to 10, to lodge-style hotel rooms best for a couple. All rentals are offered by the week and include a grab-and-go breakfast daily. Dinner is served Sundays, Wednesdays, and Fridays. There's plenty to do on the 640-acre campus, but all your activities will be self-directed. You should also pack sports equipment for any games you plan to play. The pool will be open, but no lifeguard will be on duty, and all children must be supervised there and all across the camp.
This popular Catskills YMCA summer camp has always hosted families for long weekends with themed-camp fun. For summer 2020, Frost Valley will rent out family camping cabins and other lodging, but the dining hall will remain closed and all recreation activities will be self-guided. However, meal boxes will be available for purchase and the campsites are equipped with fire pits and grill grates. If you're looking for a little more of that traditional camp flavor, Frost Valley still plans to host a week of family camp in August 2020, as well as its weekend family camps heading into the fall.
Family Camps and Cabin Camping NJ
This YMCA sleepaway camp and traditional day camp is nestled in rural Sussex County, New Jersey, on a wooded lakeside. For summer camp 2020, Fairview is offering both private cabin camping rentals for families all summer long or themed family camp weekends, such as a Canoe Adventure Camp in late August, a Labor Day Weekend camp, and more options continuing into the fall. The traditional cabin camping rentals are just $1,200 per week for a family of four and include five bunk beds and bathrooms equipped with showers and hot and cold water. (Costs vary for the themed weekends, which come with different cabin camping options, and activities.) Eat meals at the dining hall with tables spaced apart or take food to go for eating on a family picnic or at another outdoor spot. (Breakfast and dinner included; lunch is an additional cost.) There is swimming, archery, hiking, boating, crafts, and sports fields and courts. Families can also bring their own recreation equipment if they prefer. Tent camping also available.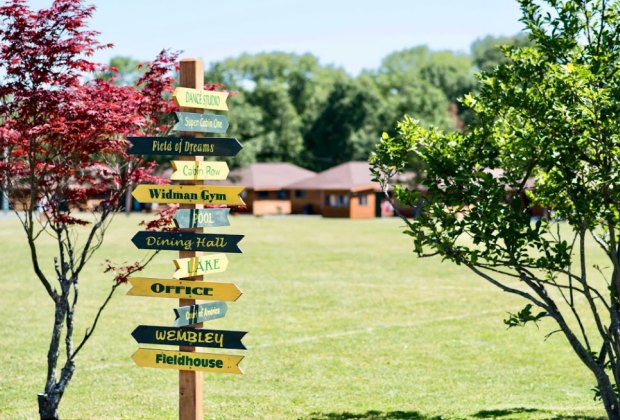 Hiking, tubing, and more camp activities are available for families at Lake Bryn Mawr Camp this summer. Photo courtesy the camp
Family Camps and Cabin Camping PA
Spend four nights and five days experiencing life as a Lake Bryn Mawr camper. You'll bunk in a private cabin or air-conditioned motel room and travel with your family to a series of activities, like tubing, hiking, tennis, archery, gymnastic, gator rides, and more. Trail rides are available at an additional cost, and morning fitness, yoga, and meditation can help you achieve a state of zen during this very active vacation. Evenings include special social distancing approved all-camp activities.
13. Camp Lindenmere – Henryville, Pennsylvania
Do as much or as little as you want at Camp Lindenmere, but with an action-packed campus—flying trapeze, anyone?—we're going to guess you'll have a hard time fitting in everything. Your family stays in its own private camping cabin for the duration of your five-night, six-day stay, and cabins accommodate up to 10 people. The camp lets you coordinate your stay and share your cabin with friends or family if you choose. Three meals a day are included, and there's a mix of counselor-led and self-directed activities to enjoy.
Book a four-day, three-night stay at these sister camps in Pennsylvania's northeastern corner. A selection of daily camp classes and activities focus on healthy minds and bodies. In addition to accommodations in a private cabin, families have run of the camps, with plenty of athletic facilities, adventure sports, arts and crafts, and an outdoor pool with a slide. Evenings are filled with campfires, talent shows, trivia, and movie nights. Don't forget to schedule a trip to the high-ropes course, too. Most meals are included, and an on-site canteen is open to purchase additional snacks.
RELATED: Top National Parks to Visit with Kids This Summer

Pick a weekend or a weeklong stay at this Virginia summer camp. Photo courtesy of Camp Horizons
Family Camps and Camping Cabins VA
Five-day, four-night packages are available at Camp Tall Timbers. Families stay in their own cabin with private restrooms and showers and are treated to three meals and two snacks daily. Fill your hours with lots of woodsy-fun while enjoying hiking, archery, and fishing. If active sports are more your style, there's basketball, tennis, ping-pong, soccer, kickball, and volleyball facilities to enjoy. You can also partake in traditional arts and crafts or tye-dye. In short, there's something for all ages.
16. Camp Horizons – Harrisonburg, Virginia
Camp Horizons offers a variety of options for its 2020 summer camp, allowing families to stay for a week, half-week, or weekend. A jam-packed activity schedule includes everything from watercraft to fire building, climbing, and traditional fun, like swimming in the lake or pool. If that's not enough to keep you entertained, you can add on horseback riding, or off-site tubing and canoeing trips. The dining hall promises "elevated camp classics" to fuel your adventures, and meals will be served family-style, rather than in a traditional buffet.
Family Camps in Texas
17. T Bar M Camps – New Braunfels, Texas
Families can soak in the beauty of the Texas hill country at T Bar M Camps each summer. Family camp is an all-inclusive five-day session filled with bonding activities, small-group sessions, crafting, sporting activities, swimming, and hiking. T Bar M is a Christian family camp, and family worship is offered at the end of each day. Families can participate in as much or as little of the camp activities as they want.
Archery, riflery, canoeing, and hiking top the list of activities for families at Camp Grady Spruce. A YMCA-sponsored camp, Camp Grady Spruce gives families a chance to connect with each other and with nature through plenty of outdoor activities on Possum Kingdom Lake. Lodging accommodations are all climate-controlled and include indoor bathrooms and showers, as well as a kitchenette, fire pit, and picnic table for each family to use.
RELATED: Best Family Summer Camps Around Texas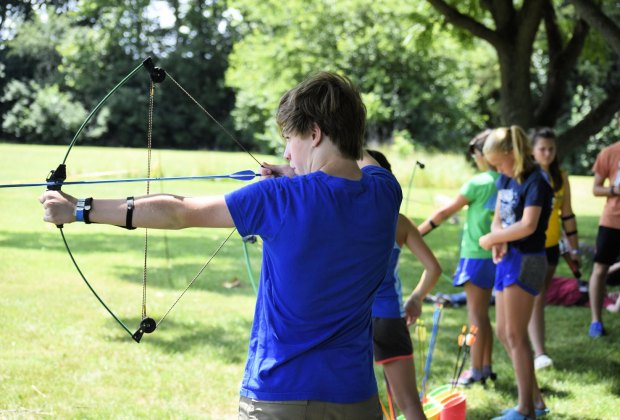 Families can enjoy cabin camping and activities just outside of Chicago. Photo courtesy of Camp Shaw-Waw-Nas-See
Additional Cabin Camping and Family Camps
Enjoy a late-summer weekend getaway at Camp Shaw-wa-nas-see's campus. Family cabins here accommodate up to 10 campers. The camp, located an hour south of Chicago, spreads out over 110 acres. Explore grassy fields and wooded areas or enjoy camp-directed programming in environmental sustainability, archery, arts and crafts, team-building, survivor skills, and more.
20. Camp Campbell – Boulder Creek, California
Get the family out of the city and into the forest. Camp Campbell is nestled in the redwoods and offers some old-fashioned, unplugged, nature-inspired fun. Accommodations range from tent cabins to bunks sleeping up to 20 people. Themed camps run year-round on holidays, but no matter the season there's plenty to do. Choose from a list of traditional camp activities, enjoy time on the lake, and close out the day with a campfire.