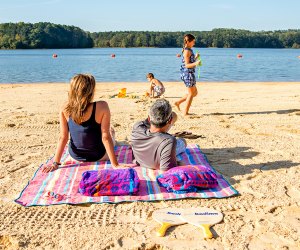 Swimming Lakes and Beaches near Atlanta for Georgia Families this Summer
If your favorite swimming pool isn't open this summer, or you're just looking for a change of pace, why not head for one of Georgia's lakes and swimming holes? There are several lakes near Atlanta with swimming beaches that make an easy day trip. Or for Atlanta families who think a swimming beach must have saltwater, the good news is that we have plenty of coastal locations close enough for an overnight trip; our favorite beaches for swimming near Atlanta made the list below as well.
Georgia Lakes for Swimming near Atlanta
Located on the north shore of Lake Acworth inside of Cauble Park, the Cauble/Acworth beach is a favorite area for swimming near Atlanta. Acworth Beach is open daily from dawn to dusk, starting in early June through Labor Day. In addition to the swimming beaches, the park has picnic tables, two playgrounds, pavilions for rental, a boat launch area, and fishing dock. Parking is free during the week and $10 for non-Acworth residents on holidays and weekends. Please note: This beach is heavily used and it may be difficult to social distance on busy days.
Red Top Mountain Park is located on one of the premier swimming lakes in Georgia, Lake Allatoona. Inside the park is also home to Red Top Mountain Beach, a tree shaded, sandy beach area. (Camp sites, cottages, picnic pavilions, and a yurt are all available for overnight reservations if you choose to make it an overnight visit.) The park has a roped off area for swimming in the lake, as well as a playground, beach house for changing, picnic tables, and grills. Near enough to Atlanta for a quick day visit, the beach has no admission fee, but parking is $5 per car. The park is open for daily visitors from 7am to dusk. Be sure to check the current park capacity at GaStateParks.org/Alerts before you visit; park rangers may limit guests entering the park to enforce social distancing.
Robin Lake Beach is a private, mile-long sandy beach inside the Callaway Gardens resort. The swimming beach is open to guests who purchase gardens admission, annual members of Callaway Gardens, and resort guests. The beach is open daily from 10am to dusk. Robin Lake Beach welcomes guests to bring their own beach chairs, umbrellas, and water toys. If you forget them, Robin Lake Beach also has beach chairs, umbrellas, kayaks, and stand up paddle boards for rental from 10am to 6pm. Beach areas are first-come, first served. Callaway Gardens is following strict CDC social distancing and cleaning recommendations, so large groups are discouraged and lifeguards will help enforce social distancing. Beach admission is included with the price of daily garden admission; online pricing is $14.95 for children 6 – 12/adult military & $19.95 for adults/seniors with free admission for children up to age 5.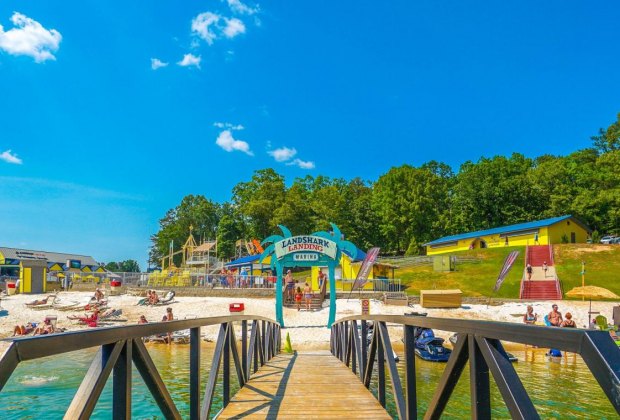 Margaritaville at Lanier Islands. Photo courtesy of Explore Georgia
The area known as Big Beach at Lake Lanier is now part of the Water Park in Margaritaville at Lanier Islands. The beach area is a sandy beach and one of the best swimming lakes near Atlanta. Guests can visit just the beach ($9.99 daily admission per person) or choose to visit all the attractions of the Water Park ($34.99 and up.) For the 2020 Summer season, Margaritaville is open daily until August 15 and weekends until September 27. The park is operating at 50% of total capacity, and all guests have their temperature taken. No one in any party with a member who has a temperature over 100.4 will be allowed to enter.
Fort Yargo State Park offers a beach area along the Marbury Creek Watershed. The beach area is a sandy area with a section roped off for swimming in the lake. Near the beach area, there is a pavilion for rental. Fort Yargo also has several campsites, RV connections, cottages, and cabins for overnight visits. There is no admission fee for the park; only a parking fee of $5 per car. The park is open from 7am to 10pm with the beach area open until dusk. Be sure to check the current park capacity at GaStateParks.org/Alerts before you visit. Park rangers may limit guests entering the park to enforce social distancing.
Ocean Swimming Beaches Close to Atlanta
Located on the Atlantic Ocean, Hilton Head Island is listed on several top US beaches for families lists. Hilton Head has no limit of resorts to visit, and most have their own private beach access. If you choose to just make a day visit, Hilton Head has nine public beaches with five designated as official swimming beaches. The five official beaches, Alder, Coligny, Driessen, Folly Field, and Islanders, have lifeguards and roped off areas clearly marked in the water. These beaches are open from 6am to 9pm daily. The only fees are for parking, which start at $1 per hour.
Destin is referred as the heart of the Emerald Coast for good reason. With sediment-free water and sugar-soft sand, the sun sparkles off the clear water and showcases the true colors found underwater. The breeze from the Gulf Coast keeps the air temperature in the 80s and water temperature in the 70s, so Destin is a great place for swimming beaches. The beach is public and rental companies are available along the beach for chair/umbrella rentals—or you can just bring your own. Beach access is available at several points along the shore.
Orange Beach is home to the best beaches in Alabama and can be less crowded than the Destin beaches. Orange Beach has the same sugar-sand beaches of the Gulf Coast with more rental houses and a less commercial feel than other Gulf Coast cities. The beach is public. Beach chair/umbrella rentals are not common, so it's best to bring your own. Even on the beaches, the State of Alabama is mandating social distancing of at least six feet between unrelated groups in 2020, and everyone must wear masks.
Just south of Savannah, Tybee Island has plenty of beaches to create a wide-open playground for families. The beaches of Tybee Island are open from 7am to 9pm daily. Tybee Island beaches are public and monitored by lifeguards at most points on the Island. There are some areas where swimming isn't permitted because of fishing and/or concern about sharks. Beach chair/umbrella rentals are not common, so it's best to bring your own. The accommodations on Tybee Island are limited to mainly locally-owned motels and vacation homes, so families looking for a more traditional resort or hotel experience may want to stay in Savannah.