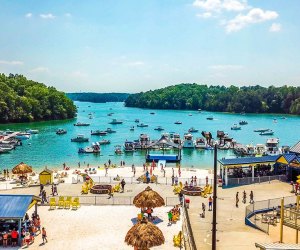 8 Great Summer Day Trips for Atlanta Families
When Atlanta parents need a solution for summertime boredom but aren't quite ready for a Disney-level extravaganza, why not plan a day trip?
Yes, just one day—one full day—that is sure to entertain and wear out the kids. Luckily, Atlanta is centrally located between lots of fun, easy-to-get-to summertime destinations. Our criteria for this list? 1. Within two hours or so by car; 2. The destination includes summertime activities (preferably water-based activities); 3. Doesn't require an overnight stay from Atlanta.
Should your family want to make any of these an overnight or two, these destinations also work great as weekend getaways. All distances and times are from downtown Atlanta. For more inspiration, check out our Atlanta weekend getaway guide.
Great Day Trips from Atlanta for Kids and Families
Distance from Atlanta: 2 hours, 17 minutes
We're starting with our most distant recommendation, but we think Greenville is worth the two hours and change it takes to get there. Pack a picnic and head straight to Falls Park on the Reedy, which is smack in the middle of downtown. This park has so much to see, including waterfalls, bridges, and sculptures. Plus, it has hills for rolling, trails for biking or walking, and water for wading. Best photo-op? Liberty Bridge. Next head over to Roper Mountain Science Center for its Summer Adventure program. Kids can pet stingrays, see the dinosaur exhibit, and check out the living history farm. Wrap things up at Gather GVL an open-air food court concept on the west end of downtown. With about a dozen restaurant options, there is truly something for everyone in the family.
Distance from Atlanta: 2 hours, 8 minutes
Families who choose Chattanooga will find its distance from Atlanta similar to Greenville and its downtown just as quaint. After your two-hour road trip, you will probably have time for several attractions and boy, do you have your pick. So just to help with the decision-making, let's focus on the downtown area. Since everything is super walkable, your family can hit the Creative Discovery Museum in the morning, grab lunch at Big River Grille, and finish the day at the Tennessee Aquarium. Sure, we have all of those things in Atlanta, but your kids will go gaga over Chattanooga's super hands-on children's museum. And because the crowds are smaller at Chattanooga's aquarium, you will get to see penguins and sharks up close.
RELATED: Swimming Lakes and Beaches for Atlanta Kids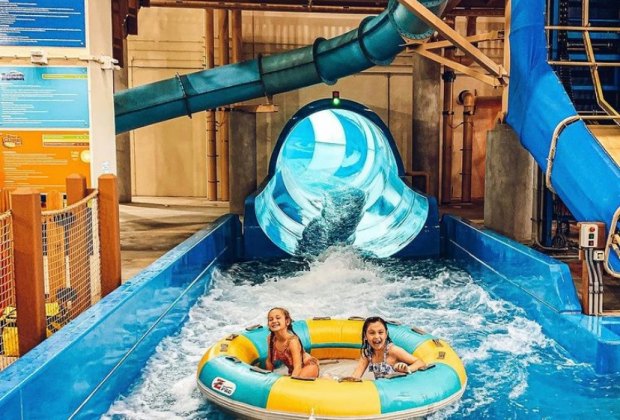 You can access a day pass to Great Wolf Lodge.
Distance from Atlanta: About 1 hour
You probably knew you could stay overnight at Great Wolf Lodge and enjoy its indoor waterpark and other amenities. But did you do know the Georgia location of GWL also offers day passes? Since it only takes about an hour to get to this kid paradise, a day trip is doable and affordable. Hit the indoor waterpark first, where your family can play on slides for toddlers all the way up to teens. Save time for the outdoor pool and scheduled events like dance parties and crafts, also included in your day passes. Still have energy for more? Brave the ropes course, go bowling, and play in the arcade, all at additional costs. You can't bring in your own food, but the resort has adult and kid-friendly dining options.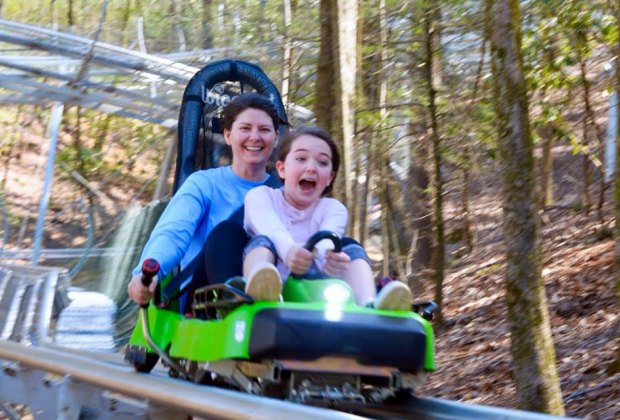 Thrill to the Georgia Mountain Coaster in Helen.
Distance from Atlanta:1 hour, 30 minutes
Drive just 90 minutes north of Atlanta to the Blue Ridge Mountains and you will feel like you are in Bavaria, Germany. Helen offers all the charmsof a quaint downtown, with shopping, restaurants, plenty of outdoor activities, and a distinct village feel, right down to the cobblestone streets. Families who want to cool off this summer should consider a tubing trip down the Chattahoochee River. Take the kids on a ride on the first Georgia Mountain Coaster. End your day at Hofbrauhaus, a German-style, family-friendly restaurant with amazing river views.
RELATED: Petting Zoos and Animal Farms for Kids Near Atlanta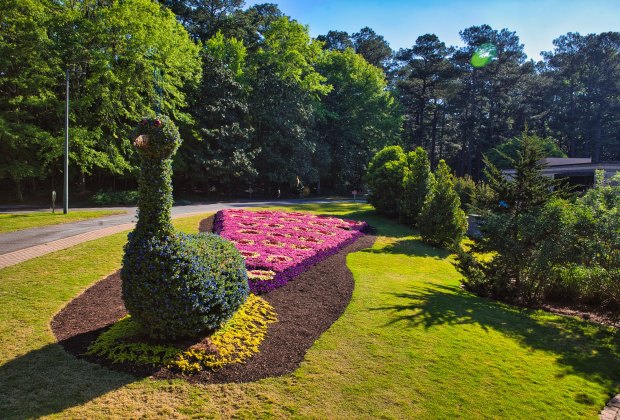 Explore Callaway Gardens in Pine Mountain.
Distance from Atlanta:1 hour, 20 minutes
Once you have paid admission, you are free to explore the gardens as well as the walking or biking trails. Cool off at Robins Lake Beach, where you can rent beach umbrellas, kayaks, and paddleboats. For an additional cost, guests can enjoy the TreeTop Adventure and zip lining course. Check out its events calendar to see what is happening the day you visit.
Distance from Atlanta: 53 minutes
Your family will feel like you have escaped to a tropical island at Margaritaville. Enjoy water slides, beaches, restaurants, boat rentals, and cruises as a family. Eat and relax at LandShark Bar and Grill, which includes menu items for "little sharks."
Distance from Atlanta: 1 hour, 45 minutes
Head north to Blairsville (and possibly cooler weather) to experience one of Georgia's oldest state parks. Parents will love gazing at the waterfalls and kids will enjoy swimming in the lake. Bring a picnic, hike the trails, and your family will have a perfect nature-filled, summer day.
RELATED: Amazing Playgrounds in the Atlanta Area for Kids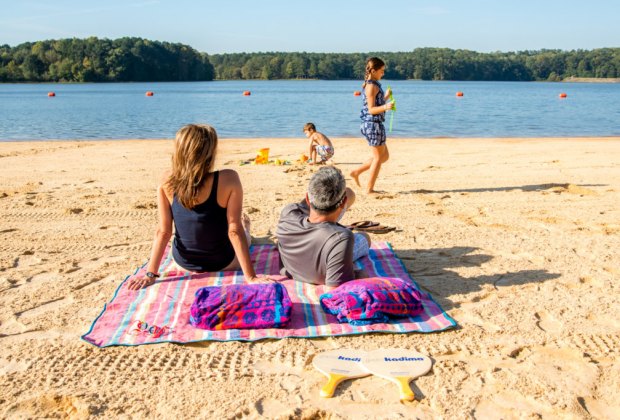 Acworth Beach at Cauble Park is less than an hour from Atlanta.
Distance from Atlanta: 44 minutes
We saved our closest day-trip destination for last. In no time, your family can get to Cauble Park and hang out at Acworth Beach. The roped-off area for swimming on Lake Acworth is only open Memorial Day through Labor Day, so families should soak it up while they can during summertime. Add picnicking and climbing the playground to your agenda as well as eating in Acworth's quaint Main Street district. (Tip: Red Top Brewhouse is kid- and dog-friendly.)
Photos courtesy of the parks/venues