Dive Into Atlanta Indoor Pools and Water Parks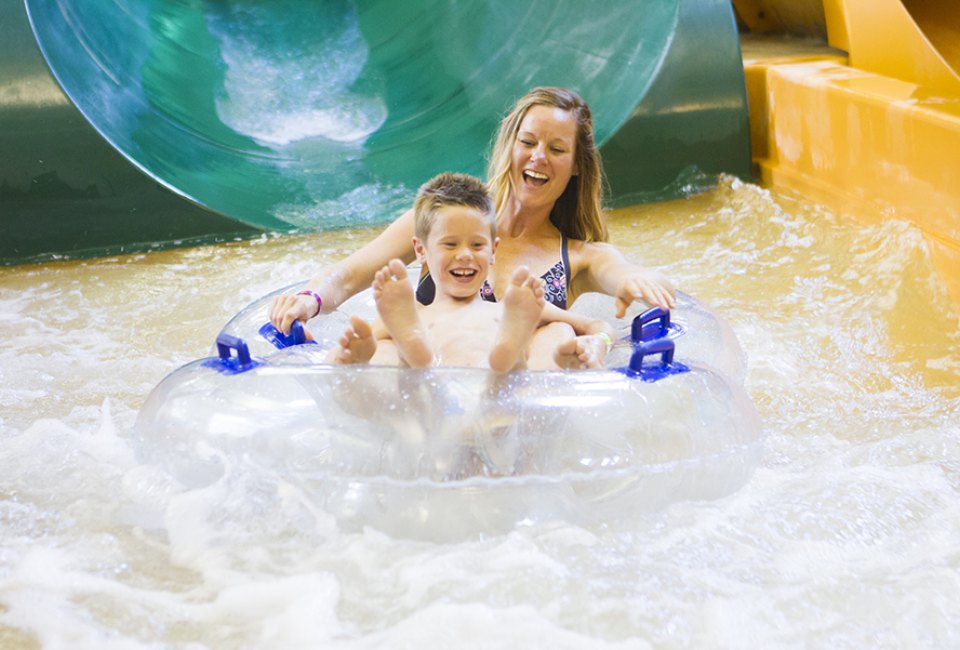 1/7/22
- By
Rebecca Ruffin Leffler
When the "weather outside is frightful" and you're desperately trying to keep your kids entertained (and maintain your own sanity), take them to the pool. "Baby, it's cold outside," but not in an awesome Atlanta indoor pool! Swimming in the wintertime? Atlanta offers many family-friendly options to enjoy heated indoor pools guaranteed to chase the wintertime blues away. Or do something different in the summer and hit up an indoor water park for a change.
Whether kids want to go down a water slide or swim laps in preparation swim team season, be sure to call the individual facilities before heading out as schedule and pricing may change (and in some cases, reservations are required). Many indoor pools and water parks offer showers and locker rooms, but bring your own combination lock, towels, and toiletry items. Due to COVID surges, be sure to check with individual indoor pools about current safety protocols and openings before leaving the house.
Atlanta Indoor Pools and Water Parks: Cities and Counties
City of Atlanta
MLK Jr. Recreation and Aquatic Center – Downtown
Built to the tune of $24 million in 2017, the stunning aquatic center offers four lap lanes as well as a beach entry and open swim area with two water fountain structures. Because of the pandemic, currently lap swimming only is available. Regardless of residency, visitors can pay a drop-in fee of $5 (no cash payments) or purchase a 10-card pass for $17.50 for kids under age 18 and $37.50 for adults. Pool hours are Monday-Friday from 8am-7pm. Guests must call to make 30-minute reservations.
The city's three other aquatic facilities, all located inside I-285, are also only offering lap swim sessions currently. Both Rosel Fann Recreation Center and Natatorium and Washington Park Natatorium provide 25-meter pools, while CT Martin Natatorium features a 50-meter Olympic-size indoor pool. The same hours, fees, and reservation requirements apply.
South Cobb Aquatic Center offers a wonderland of water fun. Photo by the author
Cobb County
South Cobb Aquatic Center — Austell
Kids will think they're at an outdoor water park at the South Cobb Aquatic Center with its gorgeous skylights and large windows. Little ones jump in the fountains and climb the play structure with a small slide, and older kids enjoy the multi-story, spiral-shaped water slide, lazy river, and diving board. Open swim sessions are Monday - Friday, 2-4pm, and Saturday-Sunday, 2-5pm. County residents can visit the facilities for $4.50 per adult and $3.50 per child under age 17, and non-residents pay $6.75 per adult and $5.25 per child under age 17. The center sells monthly, quarterly, and yearly passes, in addition to family memberships and a 10-visit pass. The maximum capacity is 60 guests on a first-come, first-served basis, and no more than 10 guests allowed per purchase.
Central Aquatic Center — Marietta
Families can enjoy open swim times in the instructional pool, weekdays 6-9am and 2-4pm at Central Aquatic Center. The facility also features a competition pool for lap swimming and a dive well for those interested in diving. Cobb County fees apply.
Mountain View Aquatic Center — Marietta
While older kids are in school, take your preschoolers to open swim every Monday, Wednesday, and Friday 12-3pm. If you want your own relaxation, the center offers adult swim on Tuesday and Thursday from 11-3pm, as well as aqua-aerobics. Cobb County fees apply.
West Cobb Aquatic Center —Powder Springs
West Cobb Aquatic Center offers open swim sessions on weekday afternoons and Saturdays from noon-5:30pm. Cobb County fees apply.
Gwinnett County
Bethesda Park Aquatic Center – Lawrenceville
The highlight of Bethesda Park Aquatice Center is the indoor water slide that exits the building before curving back inside and dunking kids into the pool with a splash. Other features include the lazy river and water sprayers. Open on Sunday from 1-6pm, families can reserve a spot 24 hours in advance online. Currently Gwinnett is running a winter special for its indoor leisure pools (Bethesda Park and Bogan Park only) of $2.75 for county residents and $5.50 for non-residents. Guests may bring pool noodles, life vests, and lawn chairs because shared equipment is not in use (including lockers). The facility also offers lap swimming during the week.
Bogan Park Aquatic Center – Buford
Let the lazy river carry you around the pool area while your kids (48 inches and taller) rocket down the waterslide at Bogan Park. A section for smaller children provides a swing, fountains, and a slide in the beach-entry pool. The leisure pool winter pricing of $2.75 for residents and $5.50 for non-residents also applies. Lap swimming in the competition pool is available throughout the week for those wanting more intense exercise. Open Saturday from noon-6pm.
Collins Hill Aquatic Center — Lawrenceville
Kids can swim laps at Collins Hill Aquatic Center every day of the week! Regular Gwinnett County resident pricing is $3.35 for those under age 3 and $4.25 for ages 4 and up; non-resident price is $6.25 for those under age 3 and $8.25 for ages 4 and up. Save money by purchasing a seasonal or annual Funcard pass.
Mountain Park Aquatic Center - Stone Mountain
The instructional pool offers open swim sessions Monday-Thursday, 12-7pm, Friday and Saturday, 12-6pm, and Sundays, 1-6pm. Lap swim times in the competition pool vary. Pricing is the same as Collins Hill.
West Gwinnett Park Aquatic Center - Berkeley Lake
Open swim happens Monday-Saturday, 12-6pm and Sundays, 1-6pm, in the instructional pool at West Gwinnett Park. The competition pool offers lap swim sessions throughout the week. Fees are the same as Collins Hill and Mountain Park.
It doesn't matter how cold or hot it is outside with indoor pools like South Cobb Aquatic Center. Photo by the author
Cherokee County
Cherokee County Aquatic Center – Canton
Let your kids play in the recreational pool at Cherokee County Aquatic Center every Monday and Wednesday, 1-4pm, Tuesday and Thursday, 9am-4pm, Friday, 9am - 8pm, and Saturday, 1-6pm. The daily pass costs $6 for ages 3-13 and $7 for ages 14 and up. A family of four can enjoy a three-month pass for $230 or an annual pass for $500. (When the weather gets warmer, make sure to hit up Oasis, the outdoor pool.)
Clayton County
Steve Lundquist Aquatic Center – Jonesboro
Open swim times are Monday and Wednesday, 8am-5pm, Tuesday and Thursday, 8am-5:30pm, Friday, 8am-7pm, and Saturday, 9am-5pm. Lap swimming is also available in the 50-meter competition pool. The daily fees, which also include the use of the fitness center and basketball court, are a bargain at $2 for resident youth (under age 18) and $3 for resident adults. Non-residents fees are $3 for youth and $5 for adults. Clayton County also offers monthly, quarterly, and annual memberships.
Douglas County
Boundary Waters Aquatic Center – Douglasville
Home of multiple, all-year swim teams, residents pay $3 and non-residents pay $5 to use the instructional pool Monday-Friday, 8am-4pm and Saturday,11am-2:30 pm. Boundary Waters offers an eight-lane, 25-meter heated competition pool and a four-lane, heated therapeutic/teaching pool. Guests can also use the outside walking trails, disc-golf course, fishing pond, and playground.
Fayette County
Kedron Fieldhouse and Aquatic Center – Peachtree City
Kedron Fieldhouse and Aquatic Center is available for open swim at various times during the week, as well as Saturday, 1-6pm, and Sunday, 1-5pm. Fayette County residents pay $5 for kids (ages 3-11) and $6 for ages 12 and up. Non-residents pay can also swim here (fees are doubled). Punch cards for 10 visits, in addition to quarterly and annual passes, are available.
Forsyth County
Cumming Aquatic Center — Cumming
The indoor instructional pool at Cumming Aquatic Center allows kids to splash and play, regardless of weather. Come for free swim time Monday, Wednesday, Saturday, and Sunday from 2-5pm or Friday from 2-6pm. The daily rate is $7 for adults and $6 for ages 2-17. The center offers options for various passes. Mom and dad can register kids for the Parent's Night Out held every other month from 6-10pm. For $18, trained lifeguards and staff will supervise your children with pool time, games, and dinner.
Rockdale County
Johnson Park Recreation Center - Conyers
Home of the Rockdale Riptides Swim Team, Johnson Park offers family swim sessions weekdays 8am-5pm and 7-9pm. The fee is $3 for residents and $5 for non-residents. The facility includes a small fitness room, tennis courts, baseball fields, and a 1-mile walking trail.
Atlanta Indoor Pools and Water Parks: Businesses
Membership Pools
Marcus Jewish Comunity Center of Atlanta (MJCCA) - Dunwoody
MJCCA members can make a reservation up to three days in advance for a free, one-hour time slot in the 85-degree indoor pool. Consisting solely of lap lanes, book the entire lane (2 spots) for family swimming (as long as kids don't disrupt swimmers in other lanes). Non-members can get a free one-week pass to try out the facilities. The MJCCA one-year essential membership is $82 for a family with children, as well as plans tailored for single parents, individuals, and senior citizens.
YMCA of Greater Atlanta – Various locations
Lap swimming is a great opportunity to let older kids practice their skills and allow younger kids to use a kickboard to burn off energy. Reserve a spot online for lap swimming at 12 of the 18 facilities located in metro Atlanta. If you're not a YMCA member, purchase a one-day family pass to try out the facilities. Membership rates are $99 per month for a family of four, and the YMCA is waiving joining fees during the month of January. Additionally, members get access to all 18 Atlanta facilities.
Lifetime Fitness – Sandy Springs, Alpharetta, Johns Creek, Woodstock, Sugarloaf
Exercise facility Lifetime Fitness Center boasts separate indoor leisure and lap swimming pools at five of its metro Atlanta locations. Specific family swim times vary by location and several offer zero-depth entry, mushroom-shaped soakers, and indoor water slides. If you're not a member, purchase a one-day pass to try it out. After deciding to sign up for a monthly membership, the center will credit the cost of the one-day pass back to your account.
Georgia Tech Campus Recreation Center – Atlanta
How cool is it to swim in a pool that was used for the 1996 Summer Olympic Games?! If you're an alumnus, staff, or retiree of Georgia Institute of Technology, you can purchase a membership to the recreation center, which includes the McAuley Aquatic Center. Prices range from a weekly family membership of $13 to a three-month family membership of $40 per month. At the Vernon D. and Helen D. Crawford Pool, parents can enjoy the 16-person spa, while kids float along the lazy river and ride the indoor water slide.
Goldfish Swim School – Sandy Springs, Roswell, and Johns Creek
Despite the name "school", families can enjoy open swim sessions in this tropical-inspired pool without signing up for lessons. It's also the warmest indoor pool at 90 degrees and features a snack bar on the premises. Although free for members, non-members pay $10 per swimmer or $30 per family for the one-hour sessions. Times vary by location but are usually held around lunchtime Tuesday-Friday.
Seaventures - Alpharetta
Known for SCUBA and diving instruction, the 8,000-square-foot Seaventures also provides swimming activities (including mermaid lessons!) for kids. And since the pool is saltwater, you don't have to worry about chlorine sensitivities. Check the events schedule for quarterly Parent's Night Out at $35 per child and the Family Open Swim session, free of charge and open to the public.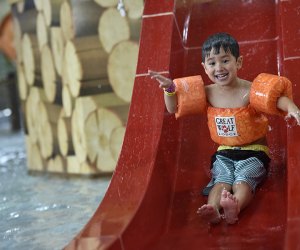 Great Wolf Lodge's body slide is in the area reserved for the younger swimmers. Photo courtesy of Great Wolf Lodge
Atlanta Indoor Pools and Water Parks: Splurge
Indoor Water Park
Great Wolf Lodge - LaGrange
Kids will go crazy for the 100,000 square feet of water park fun, with lots of food options and a suite-style hotel rooms all under one roof. The fast, twisty curves and deep plunges of both the Rapid Racer and Triple Thunder attractions provide excitement for thrill-seeking older kids and adults. Kids can shoot through the three-story body slide, try the water obstacle course, and ride the wave pool; little ones love the small water slides in the Cub Paws section and rafting along the lazy river. For those who don't like water, guests can bowl, play mini-golf, maneuver the ropes course, and climb a rock wall.
If you don't want to stay overnight, Great Wolf offers a limited number of half-day and full-day passes. Reserve passes online, which include life jackets, towels, and free admission for kids under the age of 2. While not a hard and fast rule, budget-friendly day pass prices tend to occur mid-week and start as low as $24 for a half-day pass and $30 for a full-day pass. Prices increase on weekends, school breaks, and holidays.