Family Fun Night: 10 Screen-Free Activities to Entertain Your Crew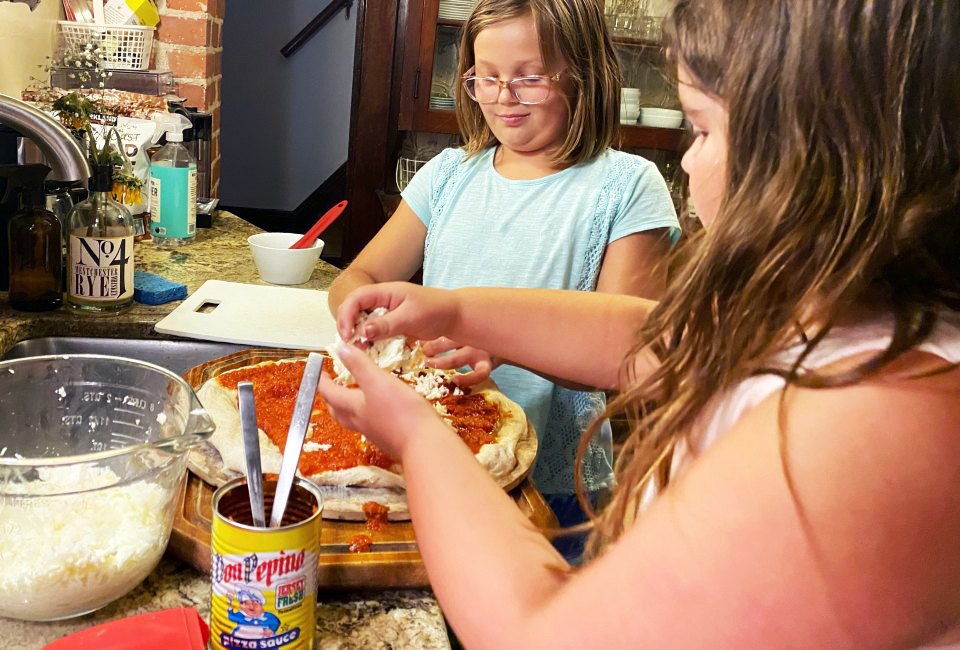 7/26/20
- By
Ally Noel
Family fun night doesn't have to revolve around ordering pizza cueing up a family-friendly movie. Whether your family is ultra-competitive and ready for a board game battle or wants to curl up and camp out under the living room lights, we've got 10 fresh family fun night theme ideas. All it takes is a little preparation—and inspiration—to build a memorable night at home. This list gets the kids to surrender their screens and join in on the action.
For more family fun inspiration, be sure to check out our Stay-at-Home Guide, which is packed with hundreds of boredom busters.
1. Stage a Family Cook-Off
Get a healthy meal on the table and have a little fun with your family with this DIY-dinner challenge! You can start with the basics by hosting a pizza challenge. Give each family member a pizza crust as a blank canvas and set up a variety of toppings buffet style. I usually set up several kinds of cheese, veggies, sliced meats, and sauces to inspire culinary works of art. You can bring this family activity to the next level by making mom and dad play host to a culinary competition. Give rewards for categories like "most delicious," "most creative," and "most unique use of an ingredient."
RELATED: 5 One-Pot Meals to Make Together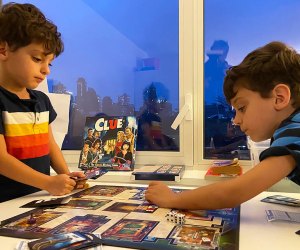 Match wits with a family-friendly board game. Photo by Sara M.
2. Play Some Family Games
Board games, card games, memory games, word games, strategy games…the game is afoot at this family fun night! Build your collection to keep the night interesting with this list of the best board games, or collect supplies and make your own. With a large whiteboard and erasable maker, you can play a few rounds of hangman, Pictionary, or tic-tac-toe. You can make the night more fun by serving special snacks. Plan a menu of kid-friendly finger foods or keep it on the theme and serve Meaty Tic-Tac-Toe or Cheesy Bullseye Crackers.
3. Camp Out Indoors
If you can't pitch a tent in your backyard, then set up camp in your living room. This family fun night is the perfect cure for cabin fever. Set the scene by making a campfire out of rolled-up brown construction paper logs and create flames with a few sheets of orange, red, and yellow tissue paper. Spend the evening telling campfire stories while munching on oven-baked s'mores. For a fun activity, use toilet paper rolls to create binoculars and go on a scavenger hunt around your house.
4. Produce a Family Talent Show
Your family's got talent! At the beginning of the week, set the state by announcing there will be a talent show on Friday night. Encourage each member of your family to put together some kind of performance. Tell jokes, play an instrument, put together a family dance routine, sing a song, act out a skit, do a magic trick—the possibilities are endless! This family fun night is a chance to let creativity soar. Give everyone enough time to put together their costumes and any props or materials they might need. On the big night, create a stage by decorating a special area of your home. Hang up a curtain, or just create a backdrop using white paper. You can even make programs to hand out to your audience.
5. Build a Family Time Capsule
Sorting through old family photos always gets everyone talking. Make a night of it by using those photos to start building a family time capsule. Spend the evening writing a letter to the future finders of the time capsule. Then, collect magazines, newspapers, school projects, a list of popular TV shows, and more. Organize the objects in a watertight container—a glass jar or a plastic shoebox works. Make sure you pick a date to open it and "hide" it in a safe space. Your future family will thank you for preserving these memories in such a meaningful way.
RELATED: How to Make Summer Camp at Home Fun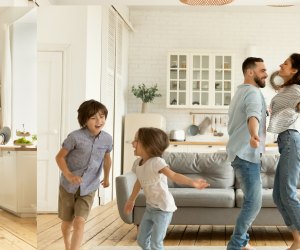 Stage a dance party in your living room for tons of family fun.
6. Orchestrate a Family Dance Party
Some nights, you just need to DANCE! A family dance party is easy and fun to put together. All you need to set up this family fun night is a killer playlist and your dancing shoes. If you want to make the night a little more special, add some decorations and special lighting.
7. Enjoy a Family Stargazing Night
Find a good location to throw down a blanket and view the night sky. Reclining lawn chairs make viewing the stars more comfortable. If you have one, set up a telescope, but "eyeball" astronomy or a pair of binoculars is just as much fun. Before you head out, familiarize yourself with a few constellations that will be visible. Each member of your family can make a Star Wheel so you can get a clear picture of what you are viewing in the night sky. One of my favorite activities is to make up our own constellations and their origin stories as a family.
8. Make Art Together
If happiness is homemade, then a family art night is sure to make your heart burst with joy. Spending creative time together as a family not only builds enduring memories, but you will also create beautiful works of art. Use large sheets of paper or drop cloths as your canvas, and set up paints, markers, watercolors, or anything else that gets your creative juices flowing. These large-scale collaborative murals are a great place to start.
RELATED: Crafts for Kids: 100 Awesome Art Projects for Creative At-Home Play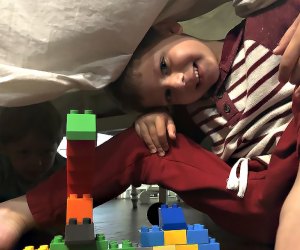 Everything is more fun when you do it inside your freshly built fort. Photo by Christine Taylor
9. Build a Family Fort
Make building and designing the fort part of the family activity. Grab all the pillows, blankets, and sofa cushions and build a fort big enough for your whole family. If you need a little inspiration, check out one of these easy indoor fort ideas. Once your fort is built, fill it with board games, snack food, sleeping bags, and blankets and snuggle up as a family.
10. Tackle a Family Puzzle
There is nothing quite like working together as a family to put together a large jigsaw puzzle. Set up a dinner of finger foods and snacks with your puzzle so you can munch while you work. There is a puzzle for every age, so, make sure you choose the right size pieces so everyone can get in on the fun. Children as young as 4 should be able to complete a large piece 20-piece puzzle, while children 9 and older can step up to the challenge of a 1,000 piecer. Pro tip: Set up your puzzle on a large piece of cardboard in case you don't finish in one night.
Click Here to Sign Up!
i