How to Make Summer Camp at Home Actually Fun (Free Printable)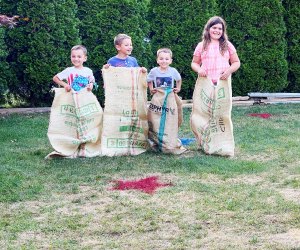 7/12/20
- By
Ally Noel
We all know that summer camp 2020 looks a little different, but the fun doesn't have to be canceled. If you're hosting "summer camp" for the kids at home or in your backyard this year—also sometimes known as mom-camp or dad-camp—we've got some hacks for you so everyone enjoys it and parents don't drive themselves mad.
Although it may look like all fun and games, the best summer camps allow time and the space for children to explore personal interests and build confidence while providing a loose routine. With a few simple guidelines, you can hack your way to a fun summer camp schedule with camp games, arts and crafts, and even a cool name for your brand-new camp.
And if you're still searching for a week or two of in-person or virtual summer camps in 2020, check out our chock-full Camp Guides.


Hack Your Way to a Fun Summer Camp Schedule
As a kid, I remember summer camp being a magical place where we just floated around from activity to activity. There was no schedule, no rushing about, and certainly no pesky rules to follow. Occasionally I noticed my beloved camp counselor holding her clipboard tight against her chest. "That's top secret," she'd say as I tried to sneak a peek.
When I became a camp counselor, I got my very own clipboard! I was so excited. I felt like someone had shown me this secret world behind the curtain. I also realized that the top-secret clipboard contained our daily schedule of special events, games, crafts, and other activities—and I now understand that my camp counselor was a magician. She made an intricately planned day feel spontaneous and carefree.
So, grab your clipboard, and plot your summer camp schedule here. We've also created two FREE printable schedules for you: one comes with suggested activities, while the other is a blank schedule template for you and your kids to fill in together.
On the first day of camp, come up with a name for your backyard summer camp. Bring it to the next level by giving everyone a blank t-shirt and having them design their own camp t-shirt.

Start each day with a morning ritual to set the tone for the day. For example, have your campers design a camp flag or write a camp song. Starting off each day with a camp routine will differentiate the start of the camp day from "just another day at home."

The duration of each activity really depends on the age of your campers. For younger kids (3-5), plan ½ hour activity blocks, while older kids may be able to maintain focus for an hour. Mixing up high-energy activities with ones that require more focus will set everyone up for a fun day of camp. For example, get everyone up and moving with a dance party, then snack time, followed by craft time.

Theme weeks will add some structure to your activities. Bugs, outer space, dinosaurs, Frozen, fairies, pirates, sports...the possibilities are endless. Add dress-up days, themed crafts, and games, and you are on the way to a successful week of camp.

Establish a snack and meal routine before your kids ask you for the gazillionth snack of the hour.

Plan your activities in advance, so you have the right materials handy at the right time. So important for keeping their interest. Keep all your materials in one location that can be stored away when camp is done. A rolling tub or cart is great for this.

Designate a weekly "field trip" if things remain open and safe in your area. Day trip it for a nearby hike, go for a swim, or visit the farm for fruit picking.
Establish an end-of-day ritual that will give a sense of closure for the end of the camp day. You can sing the same song at the end of each camp day, or have a round of funny knock-knock jokes.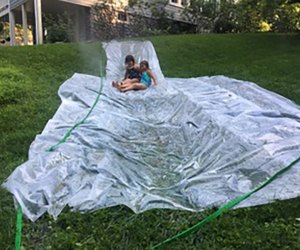 Water slides sold out? Make a DIY slide for your camp.
Summer Camp Games for the Backyard or Park
Line up plenty of time for summer camp games. Some can even be done indoors on rainy days or if you're short on outdoor space.
1. DIY Slip n'Slide
Plastic sheeting and a hose are all you need to turn your backyard into an epic water slide. If you want to take this activity to the next level, try adding a bit of dish soap.
2. Pool Noodle Baseball
Trade in your wooden bat for a pool noodle and your baseball for a water balloon—and you have Pool Noodle Baseball. You can swap a water balloon for a beach ball if you want to keep things a little drier.
3. Relay Races
From popular favorites like the three-legged race to egg and spoon, a little healthy competition can turn into hours of fun with relay races.
4. Tag
Freeze tag, link tag, shadow tag...there are an endless amount of variations of this popular childhood game. We love tag because it gets the kids moving and can keep them occupied for a good chunk of time.
5. Backyard Olympics
The official Olympic games may have been canceled this year, but you can still have a ton of fun at the backyard Olympic games.
6. Four Square
All you need is some chalk and a ball to play this classic playground game. Four square is great for kids of all ages and multiple abilities.
7. Water Balloon Volleyball
This is way more fun than a regular old water balloon fight. In Water Balloon Volleyball, kids have to work in teams to try to stay dry.
RELATED: 100 Summer Play Ideas for Kids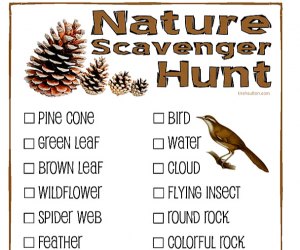 Go on a nature scavenger hunt. Image courtesy of TrishSutton.com
8. Scavenger Hunt
There is nothing quite like a good scavenger hunt to spark a sense of adventure. Try printing out one of these Nature Scavenger Hunts to start your adventure.
9. Bucket of Bubbles
A bucket of bubble solution and a variety of bubble blowers is an easy activity to do with a group of kids. Fill a small pool with bubble solution and try a hula hoop to make giant bubbles.
10. Capture the Flag
In its simplest form, the goal of Capture the Flag is to avoid getting tagged while trying to capture the other team's flag. As kids get older this game can become a battle of wills, trickery, and strategizing. The best part is that all you need to do is have two flags (bandanas or scarves will do) to have hours of fun.
11. Frozen T-shirt Race
When the weather heats up, this friendly competition will cool you off. Soak two t-shirts in water and freeze it overnight. See who can get dressed the fastest.
12. Water Balloon Pinata
Fill a balloon with water and hang it a few feet up. Using a plastic baseball bat, try to burst the balloon.

Get mixing for summer camp crafts.
Summer Camp Crafts to Do at Home
These classic summer camp crafts will get everyone into the camp spirit, whether you're weaving, mixing ingredients into a gooey mess, or just plain old crafting.
1. Tie-Dye
Is it even summer camp if you don't tie-dye something? Try one of these 30 unique patterns to take your project to the next level.
2. Dream Catchers
This simple dream catcher transforms an embroidery hoop, yarn, and beads into a beautiful work of art.
3. Godseyes
Another camp classic, you can use popsicle sticks or tree branches to create these weaving projects. This is an easy open-ended project. Kids can come back to this craft throughout the day or even week.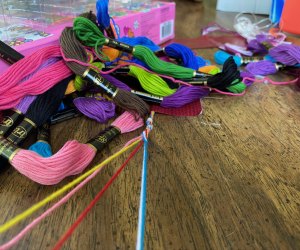 Friendship bracelets and lanyard crafts are classic summer camp activities that can be done at home.
4. Friendship Bracelets
Friendship never goes out of style, and apparently neither do these bracelets. The "Candy Stripe" or "Fishtail" are great beginner patterns.
5. Lanyard
Some call this lanyard, others know it as boondoggle, but either name conjures up memories spent in the craft cabin of my day camp. With a little plastic cording, you can make a boondoggle keychain for everyone in camp.
6. Friendship Pins
A little easier than knotting friendship bracelets, these pins can be created with seed beads and safety pins.
7. Slime
There are so many different ways to make slime that you could probably make one week's theme "slime week." Here are 5 of our favorite recipes.
RELATED: Giant List of FREE Printables for Kids (Worksheets and Activities)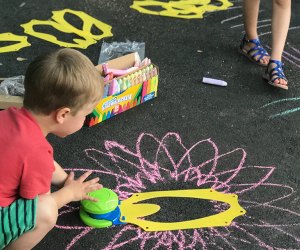 Sidewalk chalk gets everyone outdoors for a fun art project together.
8. Sidewalk Chalk
This project is great for open-ended art time. You can even make your own sidewalk chalk together by following this recipe.
9. Rock or Shell Painting
Collect rocks or shells to paint. Then hide them around your neighborhood or beach to spread a little kindness.
10. Duct Tape Water Bottle Holder
You will never lose your water bottle again when you make this awesome duct tape water bottle holder.
11. T-shirt Tote Bags
Upcycle an old camp t-shirt into a tote bag with this no-sew tutorial.

This simple solar oven is part science experiment, part snack break.
12. Solar Oven
Harness the energy of the sun to cook up a delicious batch of s'mores. This solar oven can be made out of a pizza box.
13. Bubble Painting
Bubble Painting is what happens when you mix a little bit of paint into bubble solution.
14. Edible Necklaces
It's a meal! It's a craft! It's both! Take your snacks on the go with this adorable edible necklace.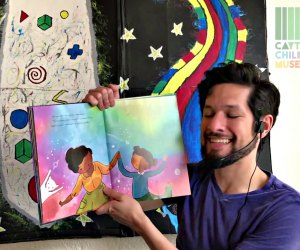 Enjoy a "recess break" with Cayton Children's Museum online. Photo courtesy the museum
Online Activities and Classes to Stream
There's no shortage of virtual summer camps, classes, and more online programming for kids right now. Given the depth of what's available, kids can explore all sorts of interests that they might otherwise not be able to. Work an hour of virtual sessions into your summer camp day and parents and caregivers can get a little break, too. You can break it into two 30 minute sessions if that works better.
1. Fresh Bites for Kids
Learn how to make smoothies, zucchini bread, and loads of other treats,
2. Rockness Virtual Music House Party
Join in on 1/2 hour musical singalongs for kids on Facebook Live, Monday through Friday.
3. Cayton Children's Museum Recess
Santa Monica's Cayton Children's Museum hosts weekday "recess breaks" with music, artmaking, stories, and more.
4. Dance Around The World
Introduce your children to dance styles and cultures from around the globe.
5. Clay at Home
Learn how to make pinch pots and more with these instructional videos.
6. Yoyo Fitness Fun
Get fit and have fun! Join in on Zumba classes and more.
7. The New Victory Theater Arts Break
Follow along with these great movement breaks that help you get the wiggles out.
8. Kennedy Space Center's Virtual Camps
The Space Center is hosting two inexpensive three-day STEM camps for school-age kids. Materials arrive by mail and there are in-person Zoom sessions, too.
However you organize your at-home camp this year, we're here to help! Check out all the outdoor day trips, indoor crafts and science experiments, games, movies, and virtual field trip recommendations we have across Mommy Poppins.
Photos by the author except where noted