100 Totally Free Printable Activities for Kids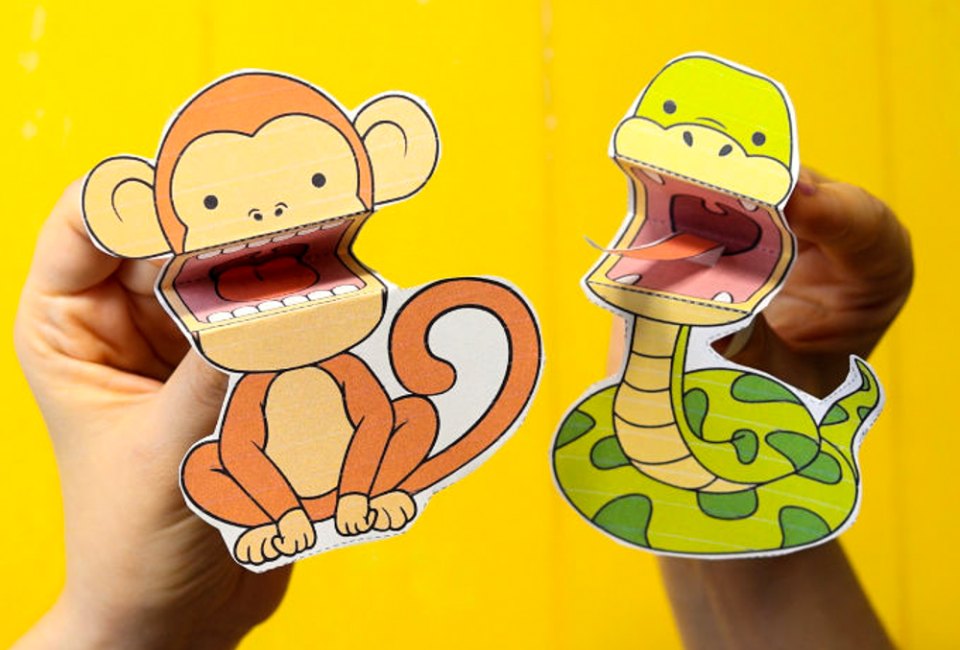 6/15/23
- By
Ally Noel
Printable activities for kids may seem a little old-school, but there's something to be said for good old pen-and-paper fun. While there are tons of great online resources for kids, it's important to take a break from screens sometimes.
We've rounded up 100 printables you can take with you just about anywhere. From printable coloring pages and paper dolls to craft instructions and STEM-inspired fun, these activities provide hours of entertainment. They also keep kids actively learning by developing fine-motor skills, working on critical thinking, and even inspiring some gross motor play workouts. And the best part is, they're completely free!
Bookmark this list of printable activities and come back to it anytime you hear the dreaded, "I'm bored!" You can also check out our guide to Boredom Busters for Kids for more ideas for screen-free fun.
Sign up for our FREE newsletters to get posts like this delivered to your inbox.

There are so many great printables that teach kids how to draw various pictures and patterns. Photo by Pixelshot, courtesy of Canva
Drawing Printables for Kids
1. Learn how to draw a cat.
2. Save the world when you design your own superhero.
3. These blank-face drawing prompts leave a lot to the imagination.
4. Be the star of your own comic with these blank comic-book strips.
5. Learn how to draw a box turtle with these easy step-by-step instructions.
6. Mandalas are a meditative activity that can take a long time to complete. Learn all about them with the Asian Art Museum's downloadable Mandala drawing activity.
7. Learn how to draw anything you can imagine with these instructional drawing guides.
8. Chill out with these creative doodle pattern tiles.
9. Build drawing skills with grid drawing puzzles.
Writing Printables for Kids
10. Use pictures to write your own story.
11. Print out your own envelope and write a letter to family and friends.
12. Print these fill-in-the-blank stories from Nickelodeon and exercise your funny bone.
13. These writing-practice printables are great for kids learning their letters.
14. Browse over 100 writing printables for early readers.
15. Put pen to paper with creative-writing templates.
16. Build penmanship (yes, that's still a thing) with amazing handwriting worksheets.
17. Flex those brain muscles with writing printables for preschoolers.
18. These writing worksheets work on skills like capitalization and punctuation.
RELATED: Water Games to Play All Summer Long

Printable activity pages can keep kids from saying the dreaded, "I'm bored!" Photo by Wave Break Media, courtesy of Canva
Printable Activity Pages for Kids
19. Download an activity pack from Puffin Books. These brightly colored and beautifully illustrated packs keep kids busy for hours.
20. Spend some time learning about yourself with this All About Me activity sheet.
21. Explore your home with this fun activity sheet.
22. SpongeBob fans will love Nickelodeon's Spongebob activity book.
23. These mind-bending mazes will keep your kids mesmerized.
24. This 10-page printable includes everything from a list of boredom busters to daily learning projects.
25. You don't need much to learn how to build a tent!
26. Make a time capsule with this printable time capsule activity pack.
27. Explore a variety of printable activities for preschoolers.
28. Look through tons of free themed printable activity packs.
Hidden-Picture Printables for Kids
29. These hidden-picture printables are perfect for long car rides.
30. Spruce Crafts has some beautiful seek-and-find printables.
31. These difficult hidden-picture printables are perfect for older kids.
32. Check out these simple hidden-picture printables.
33. These find-the-difference coloring pages are a two-in-one activity.
34. Enjoy these spot-the-difference puzzle printables.
35. Monthly themed hidden-image printables are perfect for holidays and classrooms.
36. Have double the fun with this hidden-image printable that doubles as a coloring page.
37. Try these animal-themed hidden-image worksheets.Scavenger Hunt Printables for Kids
38. Go on a scavenger hunt to find red objects.
39. Shiver me timbers! It's time to go on a pirate treasure hunt.
40. Take this printable to-go as you embark on a nature scavenger hunt.
41. Have fun inside and outside with these scavenger hunt printables.
42. These simple scavenger hunts are perfect for younger kids.
43. The pictures on these printable scavenger hunts make them perfect for early readers.
44. Browse over 50 free printable scavenger hunts.
RELATED: Free Coloring Pages for Kids to Download

No need to buy coloring books when you can print out free coloring pages. Photo by Ketut Subiyanto, courtesy of Pexels
Coloring-Page Printables for Kids
45. Color-by-numbers are a great way to recognize numbers and have a little fun.
46. These color-by-numbers printables are tons of fun for younger kids.
47. Crayola has oodles and oodles of free coloring pages to download.
48. Download and print this silly story you can color created by a licensed art therapist.
49. These color-by-numbers pages feature cute scenes and characters your kids will love.
50. Check out these free coloring pages for kids (and adults)!
51. With just a few markers or crayons, these color-by-numbers printables will turn into masterpieces.
52. These coloring pages are based on famous works of art.
53. Browse tons of coloring and color-by-number pages.
54. Color Me PhD has free science coloring books based on PhD-level scientific research. Don't worry, you don't need a degree to color inside the lines.
Printable Calendars for Kids
55. These adorable printable calendars have cute graphics themed for each month.
56. These printable calendars have fun themes like Star Wars, superheroes, Disney princesses, and more.
57. Print some blank calendars and fill in the dates. These will work every year.
58. This free printable calendar doubles as a coloring book.
59. Printable weekly planners might just be what you need to organize your life.
60. This weekly planner can break up your schedule into days or hours, and also has a section for goals and behavior tracking.
61. Look through a variety of printable calendars for kids.
RELATED: Crafts for Kids: 100 Awesome Art Projects

Put on a show with printable finger puppets. Photo courtesy of Easy Peasy Play
Printable Craft Instructions for Kids
62. Put on a show with printable finger puppets.
63. San Francisco's Museum of Craft and Design's MCD@Home program partnered with local artists to create a collection of fine-art projects to complete at home.
64. Enjoy soothing sounds when you learn how to make your own rain stick.
65. Browse beautiful themed printable crafts for kids.
66. Get crafty with these printer-friendly flower magnets.
67. Catch them all with these free Pokemon-inspired fidgets and bookmarks.
68. These adorable printable paper dolls are ready to be dressed in their printable outfits.
69. Learn to design your own paper dolls and doll clothes.
Printable Games for Kids
70. Make your own Blue's Clues guessing game.
71. Playing bingo is as easy as printing one of these game boards.
72. Design your own Snakes and Ladders game.
73. Toddlers love this Feed the Monkey board game.
74. Teach numbers with this Buggy Board Game.
75. Check out these cute printable games including Pin the Tail on the Donkey and Dots.
76. Try this flag matching game that will help your kids learn about countries across the world.
77. Learn early reading skills with this printable digraphs board game.
78. This rainbow unicorns game is great for practicing colors.
79. Arrange Magna-Tiles into an airplane, a duck, and other fun shapes with these magnetic-tile printables.
80. Take this printable License Plate Bingo game on your next road trip to battle boredom.
RELATED: 64 Easy Science Experiments for Kids to Do at Home

Kids can print out instructions to learn how to make their own slime. Photo courtesy of Liberty Science Center's Slime Time
Math and Science Printables for Kids
81. Learn the science of slime with Liberty Science Center's Slime Time.
82. Learn how to map and plan a vegetable garden with the New York Botanical Garden.
83. Brush up on math skills with Dad's Worksheets.
84. Learn all about monarch butterflies in this fully illustrated collection of butterfly activities.
85. School your kid on our planet's diverse habitats and ecosystems with the World Wildlife Fund's Biodiversity Toolkit.
86. Create a pollination station with Ranger Rick.
87. NASA's Climate Kids teaches children how to make a solar oven, a terrarium, a bird feeder, and more earth-friendly crafts!
88. Explore hundreds of free learning pages from Enchanted Learning.
89. Learn about 3D shapes with these printable activities for early learners.
90. Teach patterns using LEGO bricks with these printable LEGO pattern cards.
91. Kids can try their hand at Sudoku with these easy Sudoku puzzles.
92. This counting board game will help kids learn the numbers 6 through 10.
Printable Word Games for Kids
93. These themed word searches are sure to please.
94. Look through tons of printable crosswords for kids.
95. Browse a variety of printable word games including word scrambles.
96. Get searching with these word searches for each grade level.
97. These crossword puzzles for kids are themed around subjects like the solar system, verbs, and Minecraft.
98. Tree Valley Academy has adorable printable word searches with different themes.
99. Find a themed word scramble to match your interests.
100. Pick the perfect word puzzle printable for your picky kid.
This post was originally published in 2020 and has been updated with additional reporting by Amelia Eigerman
Click Here to Sign Up!
i