New York City Crafts: Four Places for Beading Fun or Birthday Parties with Kids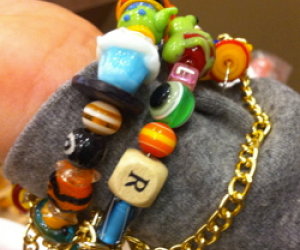 Beading is a really fun craft activity for kids of all ages and grown ups, too. In fact, it can be a great moms night out. Basic beading doesn't require any skill, but still gets your creative juices flowing as you piece together your own creation from a selection of beads.
We've written about hosting a beading party at home but there are several city spots that will host your party for you, too.
Brooklyn Bead Box – Carroll Gardens
244 Smith Street
Brooklyn Bead Box offers a large selection of beads. Parties are best-suited for children ages 6 and up and can be tailored to fit all budgets. Tell the shop how much you want to spend per child and they will help tailor a project to that price range. Parties can accommodate groups of up to 12 kids.
Brooklyn Charm – Williamsburg
145 Bedford Avenue
Brooklyn Charm parties let kids channel their inner designer, without having to do the work, as kids can pick out and design their piece and have an expert staff member assemble each bauble. As the host, you'll commit to spending a minimum of $200 in materials and the shop will waive their usual labor and assembly fees. Plan to toast the birthday kid elsewhere, though, as food isn't allowed in-store.
Lunessa Jewelry – Soho
100 Thompson Street between Spring and Prince Streets
This intimate designer-run jewelry boutique offers parties for children ages 6 and up. During the two-hour lesson, up to a dozen kids design and create one to three sparkly pieces from semi-precious stones, Austrian crystals, freshwater pearls and sterling silver using professional techniques. Lunessa offers two party packages and both include organic snacks, beverages and cupcakes, customizable email invites and thank you notes and pretty organza bags for guests to carry the baubles home.
Beads of Paradise
16 E 17th Street, Manhattan
Beads of Paradise is a gem of a store for bead lovers of all ages. Specializing in hand made and exotic beads of all kinds, just walking in is a treat. They do not have drop in beading, but offer a basic jewelry making class that will teach kids ages 8 and up everything they need to know to get started making their own jewelry at home.
For other great party ideas, see our Party Guide.
This post originally published in March 2012.