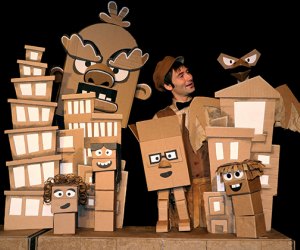 Penguins, Puppets, and Daniel Tiger! Fall Theater for NYC Kids
Autumn marks the start of a new theater season, but you don't need to shell out big bucks on Broadway shows to give your kids a memorable live entertainment experience in NYC. This fall, preschoolers will go gaga for engaging, page-to-stage adaptations of some of their favorite picture books and TV shows like The Ugly Duckling, Daniel Tiger's Neighborhood, and Mr. Popper's Penguins. Meanwhile, school-age children can catch a pair of steampunk-styled spectacles—Cirque du Soleil's Kurios and Twenty Thousand Leagues Under the Sea—plus avant-garde offerings at Lincoln Center and La MaMa. Best of all, 10 of our picks are $20 or less per ticket.
Click through to our listings for all the details, including times and locations.
1001 Nights: A Love Story About Loving Stories — Chelsea
Saturday, September 17-Sunday, October 16
Ages 5-9
Atlantic for Kids—the family theater arm of the famed Atlantic Theater Company—consistently mounts some of the best children's shows in town. But this musicalization of the Arabian Nights folk tales should prove particularly enchanting since it boasts songs by the guy who cowrote "Let It Go." That's right, hear early career songs from Robert Lopez of Frozen, Avenue Q, and The Book of Mormon fame. Originally produced in the late '90s, this reimagining of the original show is directed by Adam Koplan, and features puppets, lots of comedy, and a strong heroine who uses her creativity to save herself by spinning captivating yards for an evil king. $15 for children, $20 for adults
The Adventures of Seucy and Boto — East Village
Saturday, September 24-Sunday, October 2
Ages 3 and older
Here's a one-of-a-kind theatrical experience—make that four-of-a-kind. Loco7 presents four serialized installments of the adventures of a pair of pals set in the Amazon. The troupe uses puppetry, dance, and dialogue to tell its stories, which address South American culture and history, the immigrant experience, and urban life. Parents will love that kids gain some deeper enrichment along with their entertainment at this La MaMa Kids show. $11 per performance but see multiple installments at a discount
StinkyKids the Musical — Upper West Side
Saturday, September 24-Saturday, November 5
Ages 2-7
Vital Children's Theatre revives its popular, preschooler-friendly musical based on the mom-made plush doll/book brand. This hourlong tuner focuses on Britt, a 6-year old who's always getting into sticky situations. This time it's a wad of gum in her hair that may cause her upcoming outing with pals to be canceled. The comedic characters and situations are totally relatable for tots and parents alike. $25-$59.50
RELATED: Best NYC Fall Art Exhibits: Outer Space, Garbage Truck Bling, and More
Kurios: Cabinet of Curiosities by Cirque du Soleil — Randall's Island
Thursday, September 29-Sunday, November 27
Ages 5 and older
Aside from world-class circus artists and eye-popping aesthetics, you never really know what you're going to get with a Cirque du Soleil extravaganza. Personally, I prefer the shows that have themes and gorgeous visuals (see Ovo, Amaluna) rather than firm story lines (like Broadway's Paramour). Since it falls into the former category, I have high-flying hopes for Kurios, which marks the troupe's return to Randall's Island under its Grand Chapiteau big top after a six-year hiatus. The style is steampunk, so it's all gorgeous gears and goggles and Victorian garb, and judging from the video preview above, gravity is once again defied. This touring spectacle has gotten amazing out-of-town reviews, which makes me even more excited to see it. Also, now that the Big Apple Circus is no longer producing shows, Cirque will be the only game in town this fall. $44-$255
Twenty Thousand Leagues Under the Sea — Midtown West
Friday, September 30-Monday, October 10
Ages 8 and older
More steampunk-styled fun at the New Victory Theater. This page-to-stage reinvention of Jules Verne's 19th-century sci-fi novel plunges one of its modern-day fans into his favorite story, as he goes in search of a giant sea monster but ends up on a submarine with the volatile and secretive Captain Nemo. Jaw-dropping multimedia special effects bring their underwater adventures to life in stunning visuals that should impress even jaded, Marvel movie-watching tweens. This family show was a hit in its native Canada and is a fantastic way to introduce school-age kids to this iconic tale about man's place within the natural world. $16-$38
Pete the Cat — Corona
Sunday, October 2
Ages 4-8
Inspired by the whimsical kid-lit series of the same name, and adapted by celebrated family theater company Theatreworks USA, this hourlong musical follows the funky feline as he goes to live with the Biddle family. Pretty soon they're all singing his groovy tunes save for stressed-out Jimmy, who needs some guidance to tap into his creative side. Since Pete the Cat is playing at the Queens Theatre in Flushing Meadows Corona Park, be sure to budget in time to check out this attraction-packed green space before or after the show. $14
You're a Good Man, Charlie Brown — Upper West Side
Saturdays, October 8 and 15
Ages 3 and older
Peanuts fans of all ages should enjoy this charming musical revue based on Charles M. Schulz's timeless cartoon characters. Essentially a series of vignettes and songs, this revival is put on by Out of the Box Theatrics and includes awesome songs like "Suppertime" and "Happiness." If you catch the Calhoun School performance on October 15, you'll enjoy complimentary post-show milk and cookies. But note that it's also playing for FREE on Saturdays, October 8 and 15 in Frederick Douglass Playground on the Upper West Side. Calhoun show: $5 for children, $10 for adults
Squirrel Stole My Underpants — Flushing
Sunday, October 9
Ages 3-7
This quirky show at Flushing Town Hall really lives up to its silly name. Created and performed by Bonnie Duncan—a dancer, actress, puppeteer, and mom—this solo piece focuses on a young girl whose panties are stolen off a backyard clothesline by a naughty rodent. When she goes after him, a whole new world springs up from her laundry basket as she makes her way through unfamiliar lands. $8 for children, $13 for adults
RELATED: Best Events This Fall for NYC Preschoolers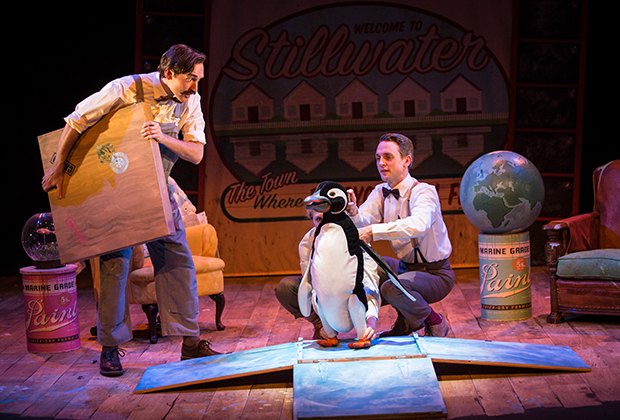 Watch as penguins take over the living room (and stage) in this retelling of the children's classic, Mr. Popper's Penguins. Photo by Helen Murray/courtesy New Victory Theater.
Mr. Popper's Penguins — Midtown West
Friday, October 14-Sunday, October 30
Ages 4-7
Forget that middling Jim Carrey movie. This stage adaptation at the New Victory Theater hews more closely to Richard and Florence Atwater's beloved 1938 book about a small-town family that is unexpectedly inundated with adorable but pesky penguins. With a vaudeville vibe, old-time tunes, and wonderful penguin puppets, this one-hour show is a great way to get your preschooler's flippers...er, feet wet when it comes to live entertainment. $25
This World Made Itself — Lincoln Square
Saturday, October 22-Sunday, October 23
Ages 7 and older
The new, cutting-edge season of LC Kids brings audiences G-rated performance art! Miwa Matreyek blends shadow play and projections in this mesmerizing offering, a wordless but wonder-filled journey through the history of our universe. A one-of-a-kind experience at Lincoln Center's intimate Clark Studio Theater that's better seen than described! $25
RELATED: Fall Fun Guide for Families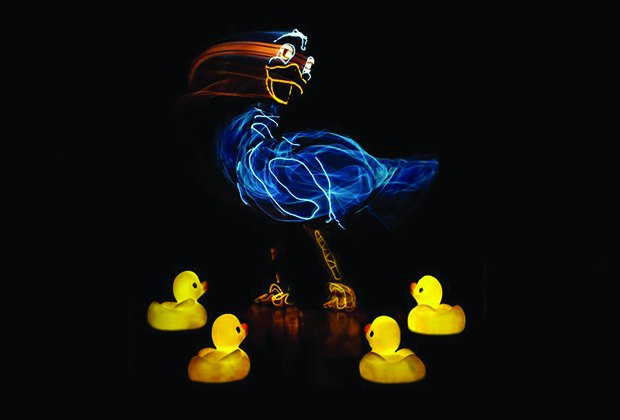 The Ugly Duckling performed in glow-in-the-dark perfection at Symphony Space. Photo courtesy of Lightwire Theater.
The Ugly Duckling — Upper West Side
Saturday, October 29
Ages 3 and older
This classic tale is brought to life, and wow does it dazzle. Lightwire Theater is behind this high-tech production, which features glow-in-the-dark 3D puppets and props that seem to float across the stage without assistance. If you're an America's Got Talent fan, you probably saw the company compete on the show a few seasons back. The eye-popping troupe deservedly made it all the way to the semi-finals. See Lightwire in action at Symphony Space. $17
Dot — Manhattan Beach, Brooklyn
Saturday, October 29
Ages 3 and older
Spanish physical theater company Maduixa Teatre used American minimalist artist Sol LeWitt's work as inspiration for a wordless show at On Stage at Kingsborough, that transcends cultural barriers. Laia works hard to keep her great white wall clean but when Dot arrives, she discovers how fun colors and shapes can be. Dot fuses dance, music, and high-tech effects to conjure a creative world where aesthetic possibilities seem infinite. $12
Odd Squad: Live! — Greenwich Village
Saturday, October 29-Sunday, October 30
Ages 4-10
Fans of PBS Kids' popular comedic spy show won't want to miss this live stage incarnation at the Skirball Center. Brand-new agents Owen and Ophelia ask all the tykes in the audience to bring their best STEM skills to help foil a series of villains like Father Time and Lady Terrible. With an original script by the series' creators and fresh songs by Soundcheck, Odd Squad: Live! aims to be equally educational and entertaining. VIP ticket holders enjoy a post-performance meet and greet with the cast. $29-$70
Paper Dreams — Midtown West
Friday, November 11-Sunday, November 20
Ages 2-5
From the same troupe behind 2014's Minimón comes this intimate experience for very young theatergoers. Performed in the cozy New 42nd Street Studios with families sitting on cushions on the floor, the show features a pair of performers salvaging stories and sketches from the trash, and bringing them to life via movement, projections, and audience participation. A celebration of imagination. $20
Cardboard Explosion — Upper West Side
Saturday, November 12
Ages 2-6
More paper-inspired fun, this time at Symphony Space. Pupeteer Brad Shur crafts kooky characters out of nothing but cardboard and paper in order to tell five simple stories about dragons, superpowers, animals, and other kid-centric subjects. Your children (and you!) will be blown away by this puppet master's limitless creativity using junk you probably have lying around the house. $17
Junie B.'s Essential Survival Guide to School — Corona
Friday, November 25
Ages 5-11
After its smash run Off-Broadway this past summer, Theatreworks USA brings this musical adaptation of the late Barbara Park's popular book of the same name to Queens Theatre in Flushing Meadows Corona Park. My daughter and I saw it back in July and it's campy fun, as the plucky yet prickly first-grader tries to be a bigwig in school, but often ends up in big trouble. The tunes are by the fabulous comedic songwriting team of Marcy Heisler and Zina Goldrich and they're much more intelligent and insightful than the usual children's musical fare. $14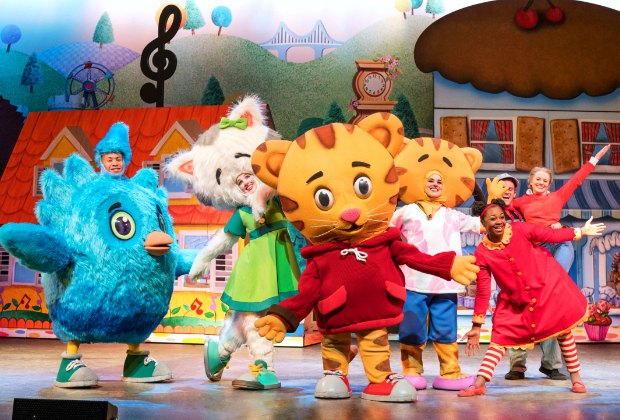 Catch everyone's favorite tiger in Brooklyn this Thanksgiving weekend. Photo courtesy Daniel Tiger's Neighborhood Live!
Daniel Tiger's Neighborhood - Live! — Flatbush
Saturday, November 26
Ages 2-7
Young fans of the PBS Kids TV show will eat this live stage version up like catnap...make that tiger-nip. Join Daniel and his pals as they introduce the audience to their beloved Neighborhood of Make-Believe via stories and songs. Another great choice for first-time theatergoers, plus it gives you a chance to marvel at the breathtaking renovation of the historic Kings Theatre. $30-$80
And if you're looking to splurge on a Broadway outing, there are a few new shows coming in that sound good for tweens and up: Holiday Inn (a stage adaptation of the classic movie musical of the same name), a return engagement of the over-the-top magic show The Illusionists featuring new acts, and an a cappella love letter to NYC, In Transit. Also, note that some of our favorite long-running Broadway shows for families are closing soon, including An American in Paris (through Sunday, October 9), Fiddler on the Roof (through Saturday, December 31), and Matilda (through Sunday, January 1).
Top image: Cardboard Explosion at Symphony Space's Just Kidding series. Photo courtesy of Puppet Showplace Theater.