Roald Dahl's Dark Poems Come to Life in Revolting Rhymes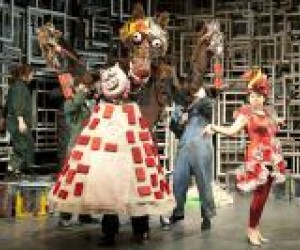 Ever since my mom read me James and the Giant Peach, I've been a fan of Roald Dahl. Charlie and the Chocolate Factory, The Witches, Matilda, I loved his fantastical stories and dark humor, which were so different than the happy, candy-colored kid lit I was used to.
Although he died more than 20 years ago, Dahl's sensibility seems amazingly contemporary, which is why his children's books endure today. But did you know that he also wrote poems, many of them skewed takes on old-fashioned fairy tales?
I admit that I didn't. But I do now thanks to Revolting Rhymes, a new 45-minute musical being mounted by Atlantic for Kids. Find out why this show will make you laugh—perhaps even more than your kids.
If I can get geeky for a moment (sorry, but theater's my big thing): Atlantic for Kids is the children's theater arm of the Atlantic Theater Company, which was founded by Pulitzer Prize winning playwright David Mamet and actor William H. Macy. This show was composed and directed by NYU Tisch School of the Arts professor Elizabeth Swados, who's a huge player in the downtown theater scene, and performed by her undergrad students. So it's no surprise that Revolting Rhymes isn't cookie cutter kids' theater.
Of course original doesn't always equal awesome. Happily in this case it does. Nine different tales—including Cinderella, Goldilocks and Little Red Riding Hood—are retold by Dahl, and boy, are his morals different! Cinderella picks a nice, working-class guy over Prince Charming, Goldilocks is brought up on breaking and entering charges, and Red proves herself to be totally self-sufficient, no rescue required.


The staging is brilliant. The energetic ensemble members rush around playing multiple characters, making incredibly quick costume changes and manipulating puppets, notably a huge crocodile, which seems to be made from chicken wire and recycled plastic bottles, and a Mummenschanz-like lion, with hands for its eyes and mouth. Puppet designers Molly Deale and Federico Restrepo deserve props for their amazing work.


Swados' melodies are eclectic and span multiple genres including jazz, rock and calypso. You won't leave humming any of them, but that's not the point. Dahl's words are the stars here. The songs go by quickly though, and sometimes it's tough to hear all of the lyrics, so it's worth reading his poems before you see the show (they're all available for free on this site). This means you'll know the punch lines in advance, but so much of the humor comes from the show's execution that you'll still have a great time and perhaps catch jokes you would have otherwise missed.
Although Revolting Rhymes is good for kids ages four and up, older children and adults will be the ones who get—and howl—at the black comedy. The pistol-packing Red Riding Hood, played by the hilarious Stephanie Hsu in a shiny red jumpsuit, is part of a running gag that confused my five-year-old, but two days later, I'm still giggling.
Revolting Rhymes plays through April 24 at the Lucille Lortel Theater, 121 Christopher St near Bedford St. $20. Strollers not permitted.
There are many other wonderful family productions playing around town. Check out our roundup of can't-miss spring shows, as well as our review of Vital Children's Theatre's Awesome Allie: First Kid Astronaut, which is great for the preschool set.
Don't forget there's a lot more fun in the Mommy Poppins Events Calendar.

Photos by Ahron R. Foster.