Interactive Puppetsburg Show at Brooklyn Greens
Brooklyn Greens
Submerge: NYC Marine Science Festival
Hudson River Park Pier 84

Cirque-tacular presents 'The Art of Circus'
BMCC Tribeca Performing Arts Center
Vital Theater's Awesome Allie Is Out of This World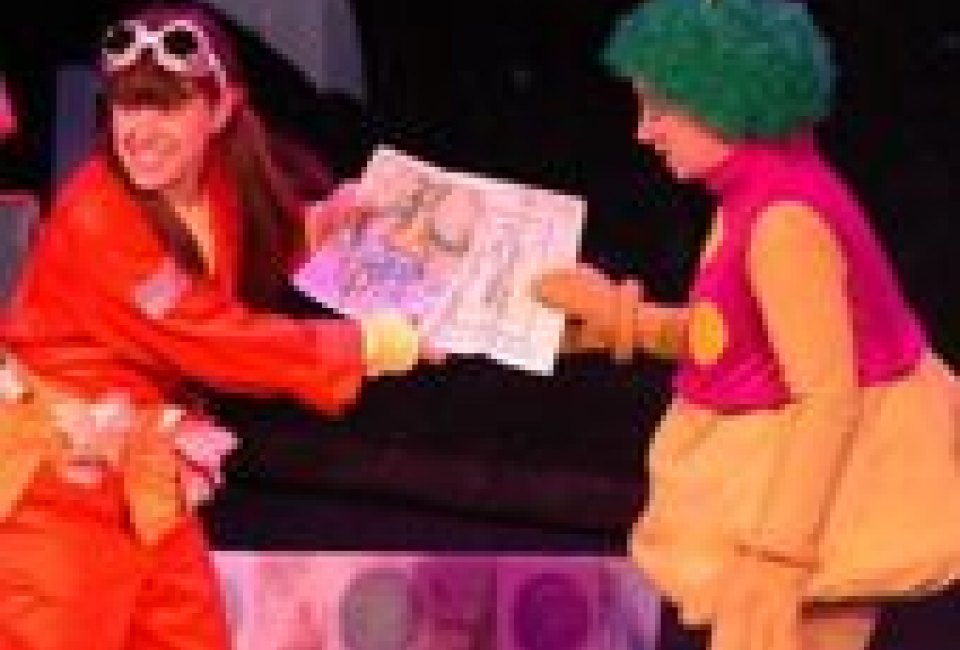 3/15/11
- By
Raven Snook
And that's certainly appropriate, since it's about a little girl who becomes the world's first kid astronaut. Unlike Vital Children's Theatre's long-running hits Pinkalicious and Angelina Ballerina, this loopy musical, which is best for kids six-and-under, isn't based on a popular children's book. Scott Elmegreen's script does a great job of conjuring up a realistically kooky kids' world all its own.



Allie (adorable Dara Hartman) is a lonely, space-obsessed kid who dreams of flying to the stars. Her fantasy comes true when an alien sends a mysterious message to the President (Chris Kind) requesting Allie's presence. On her journey she makes new friends and learns how to work as a team.
I know: All kids have had those lessons pounded into them since they were in the womb. But Allie's far-out details (dancing is what powers her bed-turned-ship; her first mate is a talking dog) really seem like they were spawned by a child's imagination, and broad humor (the Pres is a master bumbler, think Gerald Ford meets George W.) cracks kids up. (He was certainly my five-year-old's favorite part!) Parents should also enjoy the references to Sputnik (a post-show history lesson may be in order).
Drew Fornarola's pop-theater songs are pleasant, although the canned accompaniment sounds a bit cheap. (It's a problem with all Vital shows, sadly. An economic decision). But the informality of Vital's productions make them perfect for first-time or just plain young theatergoers.
The ticket prices are a not-outrageous $25 and the actors know how to deal with kids calling out. But chances are that won't happen. Like the other children in the audience, my daughter and her friend sat rapt throughout the hour-long tuner.
Stick around afterward to meet and take photos with the cast, and get their autographs. Sure beats waiting around to get Spider-Man's signature.
Awesome Allie First Kid Astronaut plays through April 26 at the Vital Children's Theater, 2162 Broadway at 76th St 4th fl. $25.
Places featured in this article:

Sign up for our free
newsletters.
Mommy Poppins is a family activity website that helps people find things to do with kids.
©
2023
MommyPoppins. All Rights Reserved.
mp-prod4-v4.32.99
Click Here to Sign Up!
i