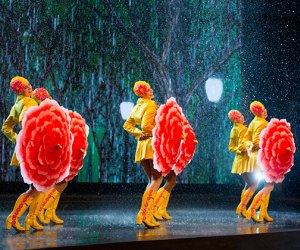 The Best Children's Theater in NYC This Summer
New York City's family theater scene is hotter than a heat wave. Some people might think the dog days of summer are a cultural wasteland and that all the cool openings won't start again until fall, but that's just not the case when it comes to kids' shows.
There are options for all ages, interests, and budgets, including a page-to-stage adaptation of a Junie B. Jones picture book, family-friendly outdoor Shakespeare, the return of a glow-in-the-dark extravaganza, and a brand-new Spectacular starring the Radio City Rockettes. Best of all, some picks are less than $25 per ticket, and three are 100 percent FREE! Plus, we found discount codes for the pricier ones.
Click through to our listings for all the details, including complete schedules and locations.
Victory Dance — Midtown West
Thursdays, July 14, 21, and 28
Ages 8 and older
On three consecutive July Thursdays, the beloved New Victory Theater presents a trio of dance programs aimed at young audiences. Each evening showcases three diverse companies working in a variety of styles, including ballet, tap, hip-hop, and traditional cultural forms. Performances run 90 minutes and are followed by post-show talk-backs. It's a fabulous way to introduce school-age kids to the magic of dance on the cheap: Tickets are only $10.
RELATED: 100 Free Things to Do with Kids This Summer in NYC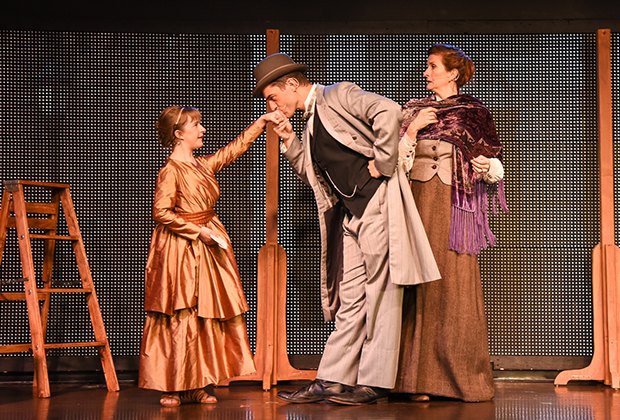 Liberty: A Monumental New Musical brings Lady Liberty to life for kids 8 and older. Photo by Russ Rowland/courtesy of the production.
Liberty: A Monumental New Musical — Midtown West
Through Sunday, July 24
Ages 8 and older
Hamilton isn't the only history-inspired musical in town. This heartfelt one-act tells how the Statue of Liberty came to stand in New York Harbor, and it's a pretty dramatic tale. Although the show explores some grown-up subjects such as immigration, xenophobia, and discrimination, it's all seen through the eyes of a teenage girl, who is Lady Liberty come to life. And while it's set in the late 19th century, the characters' struggles seem awfully timely this presidential election year. It's as educational as it is entertaining, and sure to inspire engrossing discussions about how your family came to the USA. $63 for adults, $27 for ages 4-12, but save money via Broadwaybox.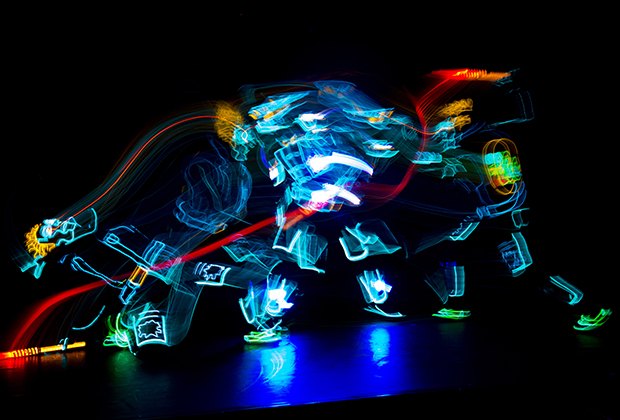 As the name implies, kids will have an illuminated treat at an iLuminate performance. Photo by Charles Sykes/courtesy of the production.
iLuminate — East Village
Monday, July 18-Sunday, September 4
Ages 4 and older
Back by popular demand. This high-tech, hip-hop dance troupe came to fame during its 2011 stint on America's Got Talent and subsequently toured in this wordless spectacle featuring athletic performers in incredible light-up costumes. While the plot is cheesy (an artist and his friends venture into another dimension to retrieve his magic paintbrush), the visuals are an eye-popping delight and there are lots of awesome special effects. Plus, you can pose with the cast afterward and check out the technology up close. My daughter and I saw the show twice (at her request) when it played at New World Stages a few years back. It's a great choice for kids who are more into looking than listening. $69, but save money via Broadwaybox.
New York Musical Festival — Midtown West
Since its inaugural 2004 edition, the annual NYMF has showcased more than 400 tuners—including a few that went on to Broadway, including Next to Normal, which snagged a Pulitzer Prize. But while the focus is on grown-up fare, the fest always features a few family-friendly musicals. Catch these three tuners before they move on to bigger and better things (and higher ticket prices). All shows are $27.50 per person.
Ultimate Man! — Tuesday, July 19-Tuesday, July 26: A comic book artist loses control of his characters as his creations leap off the page into reality to complain about their stories. A satirical take on the dilemma of selling out. Ages 10 and older.
Tink! — Monday, July 25-Sunday, July 31: Before she became Peter Pan's sidekick, Tinkerbell had some adventures of her own, including an unexpected romance with the first mate of the Jolly Roger! How will these star-crossed lovers impact the residents of Neverland? Ages 10 and older.
Camp Rolling Hills — Wednesday, August 3-Sunday, August 7: Celebrate the drama-filled days of summer camp as a dozen tweens embark on an eight-week, life-changing adventure. All the archetypes are present: the nerd, the jock, tomboy, and girly girl. By the end, they're sure to make friends and have lots of laughs. Ages 8 and older.
RELATED: Free Outdoor Movies Nearly Every Night This Summer in NYC
Adventures from Ezra Jack Keats: Skates & Maggie and the Pirate — Chelsea
Through Thursday, August 4
Ages 3 and older
In honor of the 100th birthday of late kid-lit great and Brooklyn native Ezra Jack Keats, TADA! Youth Theater is reviving a pair of mini-musicals based on two of his tales. Last performed by the troupe back in the '80s, Skates! is adapted from Keats' 1973 wordless book of the same name about two friends learning to roller-skate. The music and choreography have been updated from the original production, and yes, the entire adventure is performed on wheels. Meanwhile, my daughter and I loved Maggie and the Pirate when TADA! performed it a few seasons back. It's a fun, song-filled adventure about a young girl who makes new friends while searching for her lost pet cricket. Winnie Holzman, who adapted Wicked for Broadway, wrote the script and lyrics, and her wit and affinity for children are evident. TADA! shows only run an hour (great for short attention spans) and star talented local tykes ages 8 to 18. So they're perfect for kids who get a kick out of seeing their peers onstage. It's no wonder this is one of our July GoList picks. If your child is little, be sure to ask for a front-row bench seat. $20-$25 for adults, $10-$15 for children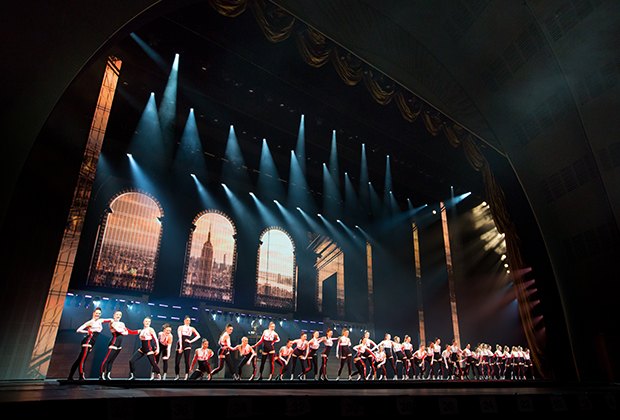 The Rockettes return in a show dedicated to New York City landmarks. Photo courtesy of MSG.
New York Spectacular — Midtown West
Through Sunday, August 7
Ages 5 and older
This over-the-top love letter to the Big Apple starring the Rockettes features the best of last year's iteration of Radio City's non-Christmas show: amazing, high-tech set pieces such as talking New York Public Library lions, a winking Statue of Liberty, and animated paintings at the Metropolitan Museum of Art, plus a less syrupy story (no angels or Whoopi Goldberg as the voice of God). Best of all are the Rockettes, who perform new, athletic, street-style choreography with the same exuberance and precision as they do their classic kick line. They are definitely the stars of the show, not the kid actors, who do their best with a nonsensical story about lost tourists visiting NYC landmarks to find their parents. High art it's not, but seeing the Rockettes in action should be on every family's bucket list. Why wait until the holidays? $39-$180, but save money via Broadwaybox.
Junie B.'s Essential Survival Guide to School — West Village
Wednesday, July 20-Friday, August 19
Ages 5-11
Every summer, national touring children's theater company, TheatreworksUSA, mounts a professional Off-Broadway show for family audiences—and gives away the tickets for FREE. I've been to many of the summer productions in the past, and they're always high-quality and entertaining. This year's show is a musical adaptation of the late Barbara Park's popular book Junie B.'s Essential Survival Guide to School, which follows the plucky first-grader as she instructs kids on navigating school using her amusing malapropisms. Tickets are given out on a first-come, first-served basis an hour prior to each performance (there is often a line, so plan ahead). Camps tend to take over on weekdays, so you're better off going on a Sunday or to one of the evening shows. There is no stroller storage at the theater, so don't bring one. FREE
Hip to Hip Theatre Company: As You Like It — Citywide
Wednesday, July 27-Sunday, August 28
Ages 7 and older
There's lots of FREE outdoor Shakespeare playing around town this summer, but some of the Bard's plays are more kid-friendly than others. It's always smart to start with a comedy, which is why Hip to Hip's mounting of As You Like It is your best bet this season. Streamlined to 90 minutes and presented alfresco in various Queens parks (with stops in the Bronx, Harlem, and Brooklyn, too), this forest-set rom-com features lots of gender-bending and mistaken identity. If you do decide to go, prime your groundlings by reading a plot synopsis, and enhance the experience by attending on a day when the troupe hosts a pre-show Kids & the Classics interactive workshop in which children go over some text and play theater games. Note: As You Like It is being presented in repertory with the much more adult Julius Caesar, so be sure to check the schedule carefully to see the right show. FREE
FringeJR — East Village
Saturday, August 13-Saturday, August 27
Every August, the New York International Fringe Festival takes over multiple downtown Manhattan venues with cutting-edge live performances—most of which are not good for kids. However, this year there are four FringeJR productions at the 14th Street Y created just for families. All shows are $18 for adults, $13 for children under age 13.
Where the Mountain Meets the Moon — Saturday, August 13-Saturday, August 27: Inspired by Grace Lin's picture book of the same name, this folklore fable follows Minli as she sets out from Fruitless Mountain in search of good fortune for her family. Along the way she has many adventures and meets friends and foes, including a chatty talking fish, a dragon, a magical king, and the Old Man of the Moon. Ages 8-12.
Amelia and Her Paper Tigers — Sunday, Aug 14-Friday, Aug 26: What do your kids (or you!) know about Amelia Earhart beyond the fact that she was a famous aviatrix who disappeared? Well, time to get schooled. This hour-long show teaches audiences about her life and legacy through music, puppetry, and circus arts. Ages 6-11.
Fairy Tale Christmas: The Musical — Wednesday, August 17-Saturday, August 27: Uh-oh, Santa Claus has been kidnapped! A motley crew of Fairy Tale Villains intend to force their enemies, the Heroes, to change the outcomes of their stories. Will it be happily never after? Ages 8-12.
Swashbuckling Sam and the Tale of Blackbeard's Revenge — Sunday, August 21-Saturday, August 27: Seven-year-old Sam is having a tough time at school when suddenly Captain Silver appears and takes her to his fantastical world. Sam goes on a quest to recover stolen pirate booty and find a hefty dose of confidence. Ages 5-10.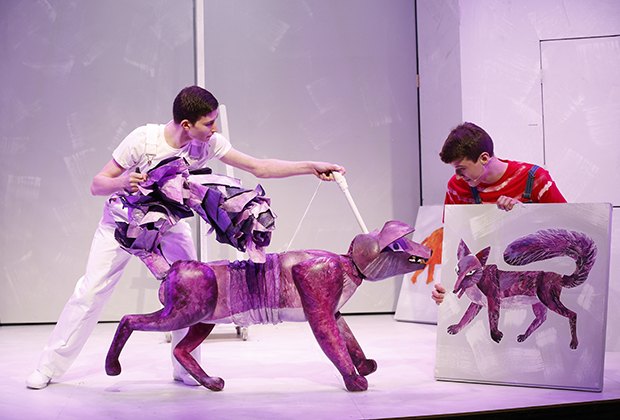 The Very Hungry Caterpillar is an ideal first theater experience for younger children. Photo by Carol Rosegg/courtesy of the production.
The Very Hungry Caterpillar Show — Midtown West
Through Sunday, August 28
Ages 2 and older
Earlier this year we raved about this interactive, hour-long show based on four of Eric Carle's popular picture books, and now it's back for an encore run. The Artist Who Painted a Blue Horse, Mister Seahorse, The Very Lonely Firefly, and the title tale leap from the page to the stage courtesy of four performers and more than 75 larger-than-life puppets. While there have been other kid shows based on the legendary author-illustrator's stories, this version boasts high production values, including lively visuals that capture Carle's unique artistic style. A perfect first-time theatergoing experience. Note: There are special autism-friendly and Spanish-language performances throughout the run. $49.75, but save money via Broadwaybox.
Puss in Boots by PuppetMobile — Citywide
Through Monday, October 31
All ages
While there are some wonderful, indoor puppet places in NYC, including Central Park's Swedish Cottage Marionette Theatre and Park Slope's Puppetworks, even those fairly laid-back entertainment experiences may be too demanding for toddlers. That's why I recommend parents of very young children start with PuppetMobile's hour-long productions, which are presented for FREE in NYC parks and playgrounds all summer long. This year's show is based on the old Puss in Boots fairy tale, as the loquacious cat tells his poor owner, Fergus, that he can better their lives, and sets out on his magical journey in some pretty nifty footwear. It's an easy and fun story to follow starring colorful marionettes. And if your tots start to cry you can easily escape, no money wasted. FREE
But wait, there's more! Although some of our favorite Broadway shows for families are closing soon (Finding Neverland ends on Sunday, August 21, An American in Paris on Sunday, October 9, Fiddler on the Roof on Saturday, December 31, and Matilda shutter on Sunday, January 1, and The King and I is already finished), you can catch FREE performances by many Main Stem productions on Thursday afternoons in Bryant Park through August 11. Bonus: On select dates, there will also FREE Broadway in the Boros performances: Friday, July 15 in Brooklyn's Fort Greene Park, Friday, July 29 in Queens' Flushing Meadows Corona Park, and Thursday, August 18 in the Bronx's St. Mary's Park.
Top image: The Rockettes kick off a dazzling New York Spectacular. Photo courtesy of MSG.