Free Family Musical Skippyjon Jones Snow What Is a Perfect Little Kid Theater Experience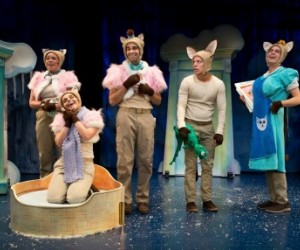 For my family, seeing Theatreworks USA's FREE seasonal kids' musical is as much a rite of summer as hitting the beach or the pool. And why not? For 27 years the national family theater company has been presenting high-quality productions every summer in a real Off-Broadway theater and given the tickets away!

This year's show is Skippyjon Jones Snow What, based on one of Judith Schachner's popular picture books about a quirky Siamese cat who goes on pretend adventures as his alter ego, Skippito Friskito, a sword-wielding, Zorro-like Chihuahua. Back in 2012, Theatreworks USA adapted the first title in the series to great acclaim so the troupe reassembled the same creative team for this sequel of sorts (it's not like you need to have seen the original show or even read the books to enjoy it). Although my jaded tween daughter is older than the target audience, Skippyjon Jones Snow What is so clever and jubilant that by the end she admitted it was the cat's meow. We've got the scoop on how to snag FREE tickets to this fun (and air-conditioned!) musical.

Skippyjon is not a fan of the whole "happily ever after" thing.
Skippyjon Jones Snow What (& the 7 Chihuahuas) is a feisty reimagining of Snow White and the Seven Dwarfs. As mama cat reads the fairy tale to her three young daughters, bored older brother Skippyjon sneaks off to his closet where he does all his best pretending. Soon he has transformed into Skippito Friskito and heads to the forest to find his Chihuahua pals, who enlist his help saving a literal dog of a princess, Nieve Que (aka Snow What), in a wonderful "Who's on First?"-style routine. It turns out rescuing the royal is fairly easy; overcoming notions about gender norms and learning how to make your own destiny are hard.

Officially aimed at children ages 3 to 9 (though I'd adjust that down a bit to 3 to 7), Skippyjon Jones Snow What is a great first-time theater experience for young children. It's only an hour and, though it doesn't have any audience interaction, it's extremely engaging with peppy, Mariachi-infused songs by Eli Bolin and Kevin Del Aguila (the latter a celebrated page-to-stage adapter), colorful costumes and delightfully broad performances, especially by Junior Mendez and Lexi Rhoades as the title characters. The only possibly scary sequence involves a life-size puppet dragon, but none of the preschoolers at the performance we attended were fazed, in fact, they giggled consistently throughout.

I should mention that while the books are quite popular, Skippyjon Jones has been criticized by some as reinforcing negative Hispanic stereotypes. While I understand their concerns, their ire is probably better directed at Donald Trump, plus the musical is careful to use actual Spanish words and accents, not mock ones. Skippyjon Jones Snow What celebrates the power of imagination, trying on different personas and the fact that, boy or girl, cat or dog, we can all write our own stories.
With imagination on his side, Skippyjon always saves the day!
If you're thinking, sounds great! But it's FREE so what's the catch? There's only one: Tickets are distributed on a first-come, first-served basis beginning one hour prior to the first performance of the day. Weekend shows are busy, but I've heard that weekday performances are often sold out with camp groups. So your best bet is to arrive early and prepare for potential disappointment. Also, no strollers are allowed in the theater so leave them at home!
Skippyjon Jones Snow What (& the 7 Chihuahuas) is playing at the Lucille Lortel Theatre through Friday, August 7. See our listing for the complete schedule. Tickets are FREE!
Photos by Jeremy Daniel