Cirque du Soleil's Ovo in New York City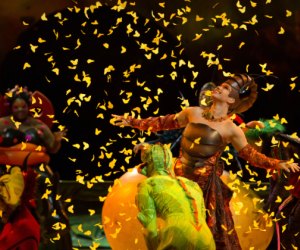 Note: This show returns to NYC in July 2017 at Brooklyn's Barclays Center, and to Long Island in August 2017.
Typically, this site is all about how you can enjoy the riches of the city without being rich. There are so many things to do that are inexpensive, yet amazing. But there are also some things that are worth dropping some dough on, cause they're just that fabulous. In my opinion, Cirque du Soleil is one of those experiences.
The new Cirque show visiting New York City through June 9th, Ovo, takes you into the world of insects. It's the perfect theme for a Cirque show allowing fabulous, creative, intricately detailed costuming, fun characters and a show that transcends language.
If you have never been to a Cirque du Soleil show, you are in for a treat. It is not like any other circus that you have ever seen. In fact, much of it is more like a dance performance than a circus. That said, each act displays the best technical circus skills dressed up in stunning artistry.
Highlights of Ovo are the three main clownish bugs who ring lead the show; each one reminded me of a favorite comedian, a Robin Williams beetle, a Jim Carrey fly, and an adorable chubby ladybug like Queen Latifah's Big Mama. While all the acts are technically amazing, the diabolo act is by far the best one I've ever seen. If you've ever wondered why people even do diabolo, this is why.
I was amazed at how much heart the performers put into the show from the opening dance number to the joyous trampoline finale. I don't know how they keep their energy up and stay in character even through the bows after the physically exerting performances they all give.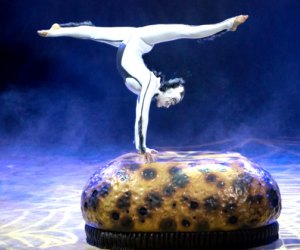 It's not a kid's show, but the kids I was with, aged 6-10, all loved it. Some younger kids might find it a bit hard to sit through and there is one moment at the very beginning where the lights go out completely with a loud sound that might scare a sensitive child, but getting to take your kids to see a show like Ovo is why you love living in New York.
Ovo was performed on Randall's Island when I saw it. You can extend the magic of your Cirque experience by hanging out on the park-like island for a picnic or some bike riding before or after the show. Randall's Island can be accessed by a footbridge that connects with the East River promenade at 102nd street. It is also about a mile's walk from the 103rd St 6 train stop and the Cirque site. Once you are on Randall's Island there are lovely pathways for strolling or biking and lots of ducks and other fun stuff to see.
Another fun way to get to Randall's Island is to take the Water Taxi which leaves from 34th St and the South Street Seaport. It's a hefty $15 for the tickets, but you can buy them in a package with your show tickets and save. Parking is also available on Randall's Island, but for me, getting to Randall's Island on foot was part of the fun.