Revitalized Wollman Rink Reopens in Central Park Promising More Access for All New Yorkers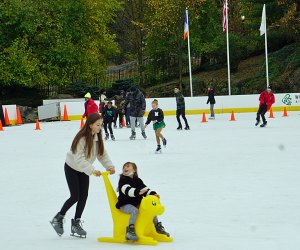 Wollman Rink, the iconic ice skating rink on Central Park's south end reopened to the public this week with a brand new operating team and mission to make the rink a welcoming destination for all New Yorkers.
Read on for details about what to expect at the beloved skating rink, one of our favorite outdoor skating rinks in NYC.
Subscribe to our newsletters to get stories like this delivered directly to your inbox.
Wollman Park Partners won a five-year bid to operate Wollman Rink, promising increased access for traditionally underserved communities and its dedication to that mission was on display during the rink's grand reopening ceremony.
Performing during the ceremony were community partners from Ice Skating in Harlem and Figure Skating in Harlem, plus the Wollman Academy Skaters and Skyliners Junior Synchronized Skating Team, who all find a home—and coveted ice time—at the rink going forward. Other community partners include the YMCA of Greater New York and the Boys' Club of New York.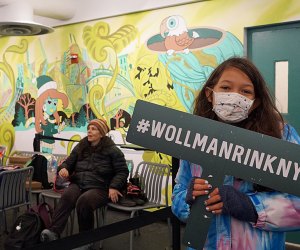 Murals from local artists add plenty of character and color to the Wollman Rink clubhouse.
The reopening ushered in a fresh new look to the clubhouse, with updated bathrooms, an on-site gift shop, the installation of smart lockers, and a revamped kitchen and concessions menu featuring eats from well-known Harlem restauranteur Melba Wilson. Local artists representing each of the five boroughs were tapped to give the space a fresh new look with bright, splashy murals covering the interior; even the Zamboni got an artistic touch.
As part of the operating agreement, Wollman Park Partners has promised to reinvest all its profits into the rink and the greater community, so more improvements are likely on the way. Its Wollman Rink Acess Program, or WRAP, promises discounted tickets to New Yorkers in need, with a $14 ticket netting admission, skate rental, and a hot chocolate. WRAP tickets are available at the box office on a first-come, first-served basis to community partners, plus New Yorkers presenting an IDNYC or New York Public Library Card.
RELATED: Bryant Park's Winter Village Reopens for Winter 2021

Take in the view of the skaters from above the rink—or pay the $6 spectator fee to get closer.
Opening day was marked by FREE tickets for all, which were snapped up online in mere minutes, and throngs of visitors to Central Park lined the fencing and the overlook to catch a glimpse of skaters—both confident and clumsy—doing their thing, as a festive soundtrack blared from the speakers. Ticket prices for the general public are as follows: Adults, $14-$23; children ages 11 and under, $6; spectators, $6; skate rentals, $11. Public skate sessions are held Mondays and Tuesdays from 10am-2:30pm; Wednesdays and Thursdays from 10am-10pm; Fridays and Saturdays from 10am-11pm, and Sundays from 10am-9pm. Tickets can be booked online in advance.
The reopening represents the latest chapter for the storied rink, which first opened in 1950.