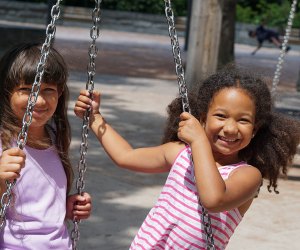 Destination Playground: East 110th Street Playground Is a Central Park Gem
As a Harlemite, the northern edge of Central Park has always held a special place in my heart. It's a little off the beaten path, far from the tourist draws in Midtown, but it's still teeming with activity and attractions, including one of our very favorite playgrounds, the East 110th Street Playground. This playground, which was completely rebuilt in 2013, is a prime romping spot for school-age kids, whether they are uptown residents or visitors to this scenic edge of the park.
Organized into four concentric circles, each with its own distinct play features, the playground has a great water feature, tire swings, big-kid strap swings as well as a swing for children with special needs, and a wooden play structure with lots of elements to climb, swing across, and conquer. Lovely landscaping dots the border, too, and a mulched path leading through the plantings is an easy draw for urban jungle explorers of all ages.
As you walk in you'll see the water play area, with sprays shooting up from the ground. It's user-activated to conserve water, and completely unpredictable—much to the thrill of the kids splashing! In cooler months, this area often turns into a raucous play zone for games of pickup soccer or wild scooter races, though technically the latter are against the rules.
RELATED: 13 Brain-Boosting NYC Playgrounds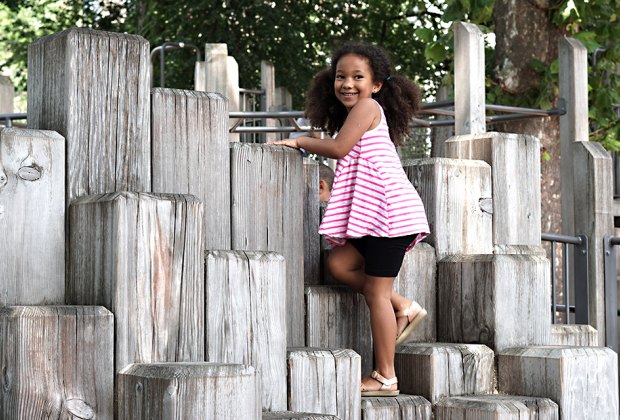 In the playground's second circle, you'll find a custom-designed wooden play structure with a cool old-school vibe. In addition to climbing columns of varying heights, kids can also swing on the monkey bars and rings, and swoosh down the twisty slide. This play space is dense and action packed, so it can be easy to lose track of kids during their play—there are very few good sight-lines to see the entire area, and also plenty of places for kids to hide. Both a blessing (for them!) and a curse (for you!), so visitors be warned.
The third section has tire swings, which offer the chance at a wild ride and a spill, though the well-padded, carpet-like flooring helps absorb any shock. A nearby area features six big-kid strap swings, which very few Central Park playgrounds can boast. There's also a high-backed plastic swing for children with special needs.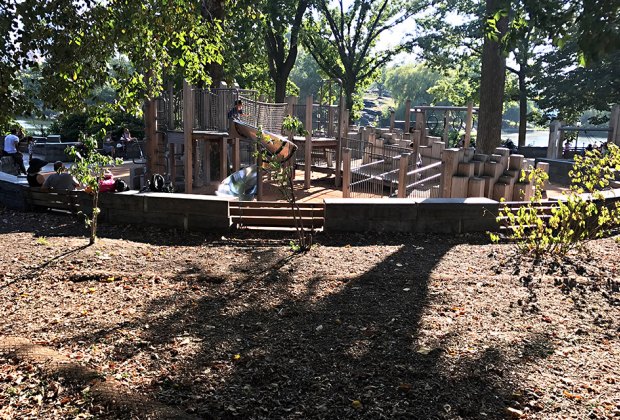 Abundant and mostly-shaded seating, plus gorgeous, unobstructed views of the nearby Harlem Meer make this playground well-loved by parents too. The nearby Dana Discovery Center offers year-round bathrooms as well as enriching family programs. Even though the playground is fenced in, it feels open. The landscaped border gives you the sense of being connected to the larger Central Park landscape.
Central Park's East 110th Street Playground is located inside the park at 110th Street between Lenox and Fifth Avenues and is really meant for school-age kids. The play can be a bit wild for little ones. If you have toddlers or preschoolers, consider checking out the Bernard Family Playground on 108th and Fifth Avenue or the West 110th Street Playground at Central Park West.
Find out about other NYC playgrounds in our Parks & Playgrounds Guide.
A previous version of this story was published in September 2013. Raven Snook contributed to its reporting.
Photos by the author